Arun Kumar: An Industry Veteran Offering Best Digital Solutions To Fill The Gaps Between Offline To Online And Online To Offline Omnichannel Customer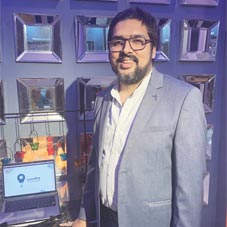 In order to generate customer value, a chief digital officer is responsible for helping a company to use digital information and modern technology, such as cloud, mobile and social media. Thriving in the digital arena also involves transitioning from an analog to a digital business model for conventional companies. This transition usually referred to as digital transformation, will bring significant changes to the infrastructure of technology, business processes, products, and job roles of an organization, and can therefore span several years. CEO Insights interviewed the Chief Information & Digital Officer of Mind Aviator Technologies And Services, Arun Kumar, which he enlightened us with the challenges he faced in his professional journey so far.
Kindly enumerate major points or factors about your professional journey.
Being an IT Graduate, I began my professional journey in the early years of my graduation. I am fortunate enough to have gathered hands-on experience from several verticals be it from hardware, assembling components, networking, embed systems, IOT and in digital aspects from multimedia architecture to programming language to technical Marketing. Later on, I established my own start-up that had around 100 employees working under, and it grew organically, and then due to some challenges, we had to close that organization.
After the phase of running a company for 10 years, I took a break for a year and then started my corporate journey. I have worked with some major clients like Microsoft and Nokia and many such leading companies of that time. Another factor that was beneficial for me to work well in my corporate roles was as I had experience in my own start-up, I was very familiar with functional knowledge, sales, marketing, and technology. I am good at handling any department given to me.
How your vast experience did garner across your professional journey helps you to chalk-out efficient business modules at Mind Aviator Technologies And Services?
Since I have been trained in technological aspects, I am very good at planning skills, I can comprehend through the demands of our customers what technology needs to be used, what kind of database needs to be gathered, and what strategies should be implemented in order to have a scalable business. Also, I believe that the blend of technology and marketing helps me to deliver the required results to my clients, and having a wide range of offline marketing knowledge is an additional benefit to me. We at Mind Aviator Technologies And Services, very well understand that we are offering technology-related services which have to increase the business and sales for our clients.
In your professional journey so far, which are the milestones that bestowed your utmost satisfaction - both as an individual and the CTO, CIO & CDO?
I can proudly say that till the present time, in my professional career I have guided more than 1000 individuals to achieve success in their career, especially in the IT and Marketing segments. I have built a strong relationship with my clients over these years and I love to keep that resistance forever.
When I started my professional journey, I had no idea about doing business and had not heard about terms like supply management, funding, and investment; but today all the services I have provided to my clients have attained complete satisfaction. I faced several challenges at a certain period but again, I rebuilt my company, and also have saved a few companies from losing their business.
As Chief information & Digital Officers, I am solely responsible for the oversight, vision, and strategy for the organization's digital technologies and this responsibility enables me to upgrade the IT infrastructure of the organization. I am creating, evangelizing, and implementing the company's digital vision with emerging technologies, and empowering my teams to deliver the greatest possible value to the clients.
I try to add values through progress planning, productivity enhancement, and alignment of technology initiatives to organizational objectives. Implementing data privacy policies and complying with data protection regulations. With proficiency in innovations, design solutions, and architecture for products, I build roadmaps to deliver large and complex enterprise projects.
Digital literacy & speed of communication are becoming the engine and fuel of modern business, At the same time cyber threats are accident-prone turns, on which We need to be careful
I am here to run the technology systems that could keep the lights on and set the company up for massive growth. I keep myself engaged in creating transformational actions which could drive strategic business plans, cultivate business integration strategies, set up cross-functional teams, adopt global methodology besides remaining competitive with adherence to compliance. I work to spearhead effective strategies that lead to profit maximization, cost savings, reduction in turnaround times, and positive business output.
Give some input on the company's recent revenue growth and future road?
During Pandemic we restructured the whole Mind Aviator Group, Where the initial focus & main revenue stream was Manufacturing & staffing, we shifted our goal towards digital initiatives.
The pandemic lockdown was implemented, still, we paid full salaries to all our employees. Post-Lockdown the rate of our productivity has drastically increased, We re-launched a product LocoWiz and within a few months in between pandemic and our recent revenue growth was around two crores, and for this current year, that is 2021, we have planned to grow 10x for LocoWiz and the group.
How LocoWiz is helping your customers?
LocoWiz Introduces a new layer of control and Management for the Brands, and individual dealers over data. LocoWiz is a hyper-local SaaS platform, to maximise the growth through local data optimisation and management. LocoWiz uses Cutting edge technology solutions for Local digital transformation.
Marketing + Automation + Local) = Hyperlocal Discovery & Reputation Management.
LocoWiz O-2-O customer acquisition Strategy, driven Locally results into most powerful customer engagement and revenue generation tool
(Automation+AI+ML)^(n (store location))=∆ Brand Performance
o2o means "Online To Offline" but also "Offline to Online"

Having a brand profile in ITeS & Online Marketing Services, mAviator launched an innovative product "LocoWiz" for SMBs & Retails to increase customer inquiries, visits, retention, engagement, and revenue generation. mAviator is the only company pushing FIRST-time customers and re-engage existing customers in local stores in India.

LocoWiz helps brands and retail networks capture hyperlocal web and mobile traffic and convert it into in-store traffic. With the aid of Analytic reports generated by our Data analysis tools, we help businesses to gain insights into customer online behavior and trend analysis after incorporating future uncertainties in order to achieve projected goals.

All SMB's in the world have a fundamental need for LocoWiz with the following benefits:
Brand / Digital Marketing Team
•Maintain Brand identity locally
•Acquire customer in 'Buying Mode'
•Extend your social footprint
•Easily respond to customer reviews
•Efficiently deploy local offers/promotions
•Track performance at a local level
Store / Branch / Dealership
•Trained into digital experts
•Drive discoverability of dealership
•Increase footfalls at each location
•Ability to track store level feedbacks
•Create a lock-in for dealers
•Access to local assets for collaboration

Consumer
•Correct, up to date, verified information
•Frictionles O2O journey
•Easy to connect, Locally
•Easy to navigate
•Easy to find relevant information
•Get a response to Reviews & Ratings

Publishers Platform (search engines, maps, social, directories, voice engine like amazon Alexa, SIRI.) •Correct, up to date, verified information
•Cleaning orphan, duplicate, spam listing
•Happy customers
•Easy to promote locally
•Easy to run ads
•Authenticate Information and contest

What are your views on Digital Marketing? How do you see the future of this sector in India? Specially hyper- local and reputation management.
Now every individual has accepted that digital is the future, also the physical availability of products and services will continue in the same way. Currently, when speaking about local businesses using digital platforms, only around 20 to 30 percent of these regional dealers are available on digital platforms. The demand for digital tools is also increasing, another major challenge that the companies come across while offering digital marketing services is data theft, henceforth I feel that cybersecurity needs a lot of improvement in the upcoming years.

Arun Kumar, Chief Information & Digital Officer, Mind Aviator Technologies and Services
Arun is an IIM C alumni, Master in Computer Application and Master of Business Management (IT & Marketing), Bachelors of Information Technology, with more than 15 yrs. of work experience in the IT, e-commerce, retail, Mobility, Education, NGO, Health & Manufacturing, Services, Travel, and Telecom domains. He headed various aspects of software, Web & Mobile application Product Management, Project Management, Engineering Management, Infra planning and implementation, scalability, SaaS & cloud solutions, Life Cycle Management, IT consulting, Development, Testing & Deployment of systems on various platforms, and environments with specialization in Team building & management, Public relationship, business planning, and intelligence.
Location: Delhi