Girish Joshi: An Innovation Champion And An Early Adaptor Of Emerging Technologies With Over Two Decades Of Rich Experience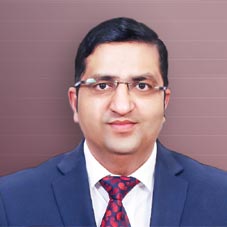 The digital platform is driving and shaping business models for every company across industries and companies must adopt the right technologies and solutions for driving the on-time digital transformation for survival and thriving business. The market dynamics are constantly changing with technologies and evolving digital business models and companies must pick and execute the right digital strategy for offering a competitive advantage, market leadership, which will drive its products and service innovation.
However, with more than 80 percent failure rate of digital initiatives in industries, it is important to analyze, learn and adopt the best practices from companies and leaders that are successful in driving and leading digital change. Driven ahead by client-centricity, Collabera is a leading engineering technology and total talent solutions provider, which is renowned for its ability for building relationships, and deliver solutions empowering the customers and their business.
Collabera provides engineering technology and talent solutions to the customers by designing, building, operating, and automating the technology which empowers their business. Building the tech workforce of the present as well as the future, Collabera affords best-in-class training and enable services for its customers located around the world.
Currently responsible for driving digital transformation charter covering growth, cost and efficiency optimisation for Collabera from technology side, Girish Joshi - Vice President - IT – 'Collabera India' is a recognised industry visionary, thought leader, innovation champion and an early adaptor of emerging technologies with proven track records in building large scale industry offerings, technology products, platforms and driving large scale digital transformations for companies.
Educated and Experienced, Girish Joshi is an industry veteran with over 23 years of technology and business experience from having worked in a range of start-ups, mid to large size technology organisations and few of the top fortune 500 technology companies. While his career journey started as a technologist, it soon expanded into other areas covering technology architecture, product development, product management, business development, consulting, innovation, strategy, leadership, emerging technologies, P&L management and Digital besides others primarily being responsible to drive growth, innovation and large scale digital transformations in different industries.
Some of the top names where Girish has worked includes Tata Group, Wipro Technologies, Mindtree, Mastek, Hewlett Packard Enterprise (HPE), DXC Technology and Collabera in business and technology roles across Banking, Insurance, Healthcare, Retail, FinTech, HRTech and other verticals for US, UK, Europe and APAC markets.
Girish pursued Bachelor of Engineering (Computer Engineering) from Mumbai University, MBA in Business Administration with specialisation in Finance from Symbiosis, Pune and Growth Harbinger certification from Harvard Business Publishing. Working with Collabera as Vice president Digital, Girish is currently responsible for driving and execution of digital charter for the firm from technology side. With his expertise in building digitally-driven business models, scaling it, driving change and adaption of it within enterprise, Girish is leading the digital charter for Collabera and is responsible for the build, growth and adoption of digital driven business and offerings for Collabera leveraging emerging technologies and technology platforms. In a one on one conversation with CEO Insights, Girish talks about his professional journey and his contribution towards the success of Collabera.
What's your role in the growth of Collabera? What are the strategies that you follow to manage your organization's service portfolios?
At my current role, I am responsible for driving growth, cost and efficiency optimization across our business value chain from technology and digital side. My group builds, own and modernizes technology backbone of Collabera while I am responsible for developing new futurist Digital platforms, scaling it and pushing its adoption across our company at enterprise level. We are responsible for delivering the best experience and value to our customers and business teams leveraging digital technologies. We drive digital technologies, build futuristic digital platforms, solutions and we're responsible for driving digital business models across the business value chain of Collabera.
Our digital strategies are aligned with our company's vision where we strictly follow a 'Client First' and 'Digital First' approach across our businesses. The strategies practiced at Collabera revolve around delivering best in class experience to our customers and business stakeholders, going all-in-on digital and executing digital at enterprise level. This is harnessed by our Cloud, Artificial Intelligence (AI) and Automation pillars that we use in our every digital initiatives across the company. At Collabera, we leverage various emerging technologies that help us drive innovation, build futurist digital platforms and solutions that gives a competitive edge to our business while helping in building sustainable digital business models for our firm.
What were the initial challenges that taught you the basic lessons of managing diversified functions of the organizations? Also, how did you manage to achieve the success that you had in the later phase?
The business model and culture of every organization is unique. The common mistakes that digital leaders who come from outside make in the beginning are often about not understanding the business models, the business dynamics and the culture of a company holistically. Tech leaders often try to bring the change or shake-up the organization too quickly to drive transformation without understanding the firm's dynamics, without getting enough buy-ins from key stakeholders and without building trust and relationships within the organization. This often results into pushback or lack of collaboration for large transformation initiatives.
Collabera provides engineering technology and talent solutions to the customers by designing, building, operating, and automating the technology which empowers their business
While most digital leaders are technology visionaries and early adopters of emerging technologies who want to rollout new mega digital offerings, solutions, and platforms across business lines to make a difference to the organization, they often fail to realize that other stakeholders and consumers in the organization are not ready or comfortable with such disruptive changes. Majority of company stakeholders and users are either pragmatic or conservative audience who are over protective or caring about their mainstream business and do not want it to change all of a sudden.
The fear of failure, disruption to business, missing on KPIs, anticipating additional workload without any gain, and other human biases drives such behavior that leads to objections, resistance or lack of support for large digital initiatives. This results into delay in completion of digital initiatives, sub-optimal results for digital initiatives and failure of it at times. The shortage of digital skills and talent within the organization is another area that hinders the progress in Digital transformation. Many times, digital initiatives that lack support from business units and key decision makers also die at the proof of concept or pilot stages and never scale at all.
I have been fortunate to have matured and flexible business audiences within our company who have adopted new digital models and new technology platforms at enterprise level with initial hiccups and little resistance. Digital is more about driving change at scale and requires adequate digital ambassadors, catalyst and change agents across organization to drive it both top down and bottom up. The agility, leadership, change management and stronger governance played a key role for success of our digital initiatives.
We augmented and strengthened our technology teams by partnership with technology vendors and startups. The agile based execution, feedback loops, interim milestones, teamwork and progress checks at regular intervals have helped in timely course correction, seamless executions and delivery of effective outcomes. Top executives sponsorship, allocation of adequate budgets, resources continuity and our unique culture has helped in successful rollout of various digital transformation initiatives at enterprise level for Collabera.
How has your rich experience and professional journey helped you to chalk-out efficient business modules at 'Collabera India'?
Owing to my prior experience and learnings over years in digital has helped me understand how best to navigate some of the key challenges that come along the path of digital execution so as to pragmatically drive maximum value for the large transformation initiatives. As a digital leader, it is important to understand the pulse of the organization, its business dynamics, digital maturity, technical competence, culture and strengths. It helps in building an effective sustainable digital business model that can offer an edge to the organization.
Large digital transformation initiatives rarely fail due to poor technology selections but often fails due to digital divide that exists at different levels within the organization, poor Business-IT partnership, capability gaps, poor leadership and poor governance which just makes it too fragile. Digital projects are mostly organizational change management initiatives and many companies often make mistakes in running them as technology only initiatives or as standalone program with poorly defined ownership model. At Collabera, we have developed, evolved and perfected a well-defined, result driven Business-IT partnership model using agile based execution for every digital projects which is helping us deliver the best value to our customers and business stakeholders.

We have executed various pilots, partnered with start-ups and technology firms and systematically picked our technology play in Collabera. Failure of pilot projects and proof of concepts in digital are part of the game. If one can fail fast and inexpensively and learn from it is what matters the most in the digital execution. We have adopted these learnings and discipline in our digital projects across Collabera. And this is helping us deliver the digital promise that we made to our customers and business stakeholders. My past experience, passion for digital and learnings over years has helped me in navigating this maze of digital a pragmatic manner.

"At my current role, i am responsible for driving growth, cost and efficiency optimization across our business value chain from technology and digital side"

How do you ensure to update yourself with the latest industry trends and technologies so that you could always steer your organization towards the zenith?
I am a vivid reader, writer and quick learner who regularly researches and tracks on market shifts, technology trends and industry changes and shares my point of view on various digital mediums for inputs and feedback. I have been following leading analyst companies, large technology giants and fortune 500 customers to tack new innovations, trends, technology development and market shifts in various industries. I continuously research and experiment with newer emerging technologies to explore its potential, limitations, assess its success stories.

Inviting and evaluating technology partners and startup players at regular intervals for discussion helps in assessing the pulse of technologies, its readiness, value propositions, best practices and trends in various industries. I often interact with my peer network, startups forums, Technology forums, business and economic forums to track the new technology development in other organizations. I regularly participate in technology events, seminars and webinars wherever possible to get the pulse of the market, industry and technologies. Some of these disciplines helps in making the right decisions for our company.

"Technology needs to deliver superior experiences through digital solutions that are powered by cloud, data and intelligent automation"

Digital technology effectuates constant change and it's the only way to stay ahead of competition in recent times. What kind of innovation/upgradation is currently happening in your organization?
There are various technology initiatives and innovations that we are working on currently in digital technology space for our company. Some of these include areas such as cloud platforms, application modernization, customer engagement, automation and data analytics. Collabera has been amongst one of the early adaptors of cloud and other emerging technologies within our industry and we are currently pushing its usage across our company globally, at Collabera Group level.

"Technology needs to deliver superior experiences through digital solutions that are powered by cloud, data and intelligent automation." as quoted by our groups' Global CIO, Viral Tripathi. And, I completely agree on the importance of the crucial role technology plays in driving the digital journey for any company. Building further upon this vision, the guiding technology principles that we use at Collabera are: Modern Cloud Architecture, 100%, Agile methodology and application of Design Thinking to every digital solution that delivers best experience to our customers and business teams, and this is helping us maintain an edge in the market.

Girish has been recognized as Top 500 Thought Leader in the world (2018) in Innovation, Technology, Leadership by ITL, Pillars award (2014,2015) for driving change, growth and innovation by Mindtree, and many more. From Developing Wipro's first Analytics solution in claim areas, its first rollout in Germany for one of the top financial services company to Successful development and companywide 100% adoption of first Core Digital Platform of Collabera and then Publishing his first book "Fading Humans of Digital World: Balancing crisis of Personal, Corporate and Digital world" on Amazon marketplace, Girish's journey has been a success story worth cherishing.