Meeta Gangrade: A New-Age Leader Invested In Catalysing Digital Innovation To Generate Exponential Results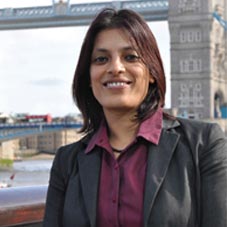 Standing out owing to her rich and varied strategic competencies, Meeta Gangrade is a new-age leader invested in catalysing the digital innovation of the company to multiplier effect. She is currently associated with the1to1help. net a leading organization in the Emotional Wellness space, a category which offers Psychological Counselling and comprehensive emotional well-being solutions to help employees deal with various work-life challenges like stress, anxiety and to cope with various changes and life-stages – marriage, parenting, relationships with better approaches giving longer term benefits.
Engaging in a distinctive interaction with CEO Insights, Meeta Gangrade reflects on her journey of emerging as one of the leading digital officers of the country
Tell us about your journey till now along with your educational and professional expertise.
After receiving my BE degree in Electronics and Communication in 2000, I commenced my professional journey with TCS – a company which was a pioneer in creating the Indian software services as a global offering. At a stage where I was growing fast, the entrepreneur in me decided to quit the larger setup and experiment with new ideas.
However, running out of funds, I later on joined a bay area start-up which then got acquired into HCL. As part of this acquisition, I got to work as an architect, pre-sales solutions lead and later on was part of a team that created new propositions and areas of investment for HCL. This role taught me how to rapidly scale and expand our Digital Delivery Capabilities and leverage several near shore and new age Agile and DevOps practices @scale for clients.
I worked with various organizations in different capacities for over 2 years, Againtha Cognitive Solutions to appreciate and apply AI, a low-
carb food company which was trying to build a new category and brand in India, and 1tohelp. net a company that needed to reinvent its offering in a category which was becoming extremely pertinent –Emotional and Mental health. I also co-founded an organization called 'Artyfy'., which is an organization aimed at recreating intimate experiences of Art and building creative models to 'Artyfy' spaces like apartments, schools, organizations through specific interactions to initiate people into appreciating art.
What are the various key strategic competencies implemented by you across various industries which moulded you to become a leading digital corporate professional?
I have typically approached Digital from a perspective of ensuring the technology landscape of an organization in reality represents the business model of the organization in a very significant way. If you are transforming your organization into a 'digital' organization, you possibly need the skills of re-imagining your business capabilities on the basis of digital offerings. I have built significant capabilities over the years to create and build frameworks of driving transformation and few competencies that have come to become very important such as
1to1help is the Pioneer and Market Leader in Employee Assistance Program (EAP) and Prevention of Sexual Harassment (POSH) services in India
• Business Architecture built on predictive models at the core
• Customer experience designed to rapidly change and learn and evolve from markets and customers
• Organization Change management which will fi nally determine the success of such endeavours.
Highlight the various offerings of 1to1 help which depict its uniqueness as a leading Psychological Counselling and comprehensive emotional wellness solutions service provider.
1to1help is the Pioneer and Market Leader in Employee Assistance Program (EAP) and Prevention of Sexual Harassment (POSH) services in India.1to1help.net started off by creating programs and offerings around emotional wellness for employees. Counselling, Therapy
and emotional wellness solutions need to be looked at very differently in India vs the west. We are a pioneer in creating pro-active and engaging content, gamified assessments and life stage-based interventions and continue to impact millions of lives.

We also have the best and most diverse set of counsellors in the country for those needing deeper interventions. Over the years of experience we have setup and created a very robust risk assessment engine which provides real time alerts if we sense risk to someones life. We are an organization that very early on leveraged our data to provide strong evidence based counselling. Over the years we have we have become extremely personalized and our focussed product offering is geared towards creating solutions at the cross section of a personal life stage, industry segment and work- stage an individual is in. How 1to1 help is leveraging the current technologies in the market to deliver premium services?

We are leveraging several Leading SaaS platforms to completely digitize and automate our value chain We are building custom modern Cloud Enabled AI based platform for our clients and company engagement. We have invested in data, risk detection systems, client recommendation engines and we are also creating hyper customized content for our users. However, we are in a space where confidentiality of data and quality standards need to be at the heart of everything we do. We are also the only EAP provider who is ISO 9001:2015 as well as ISO 27001:2013 Certified We currently support 500+clients and cover 2+ million lives through our team of 250+ counsellors across 60+ locations in India. We also provide services in the areas of Prevention of Sexual Harassment (POSH), Shift work Lifestyle Management, Healthy Maternity, Diversity & Inclusion, Diet and Nutrition and other wellness services.

Meeta Gangrade, Chief Digital and Operating Officer
A digital innovation and thought leader, Meeta Gangrade is currently working as Chief Digital and Operating Officer at 1to1help which is India's leading Employee Assistance Program (EAP) provider. She holds a rich experience across various geographies including Europe, APAC, US, and India. Having spent an extensive time in India along with last few years in Europe, Meeta has built out large teams across various geographies.