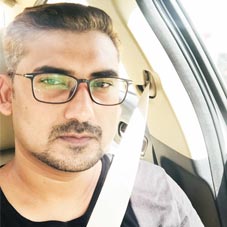 Prakash Kumar, the Chief Digital Officer of PrabhatKhabar, is a passionate leader who enjoys the dynamic process of building and strengthening brands using digital technologies. With Agility and Accountability at the core of his leadership style, he worked with some of the best companies like ValueFirst, DanikBhaskar, Zee Media, Askme.com CyberMedia, and others.
His professional journey is a blend of experiences from various industries for ten long years. Currently, he is leading digital growth and revenue scale at PrabhatKhabar - the fastest growing Hindi daily news media in Jharkhand, Bihar & West Bengal.
Prakash is an expert in strategies, analytics, and more. His skills are spread across managerial responsibilities from managing talented teams, mentoring and helping them adapt to the latest trend in technology, motivating employees to be accountable, and communicating inspiring ideas. He propagates a perfect balance between strategy and execution.
In conversation with CEO Insights, he shares his story, which takes us through a ride where he showcases the importance of being an open-minded learner and putting the employees first. He emphasizes the idea of treating employees as a family and having an open culture for the overall growth of the company. The following excerpt is an exclusive interview with Prakash that briefs his role as a CDO and his strategies that drive the business.
Brief us on your educational and professional background.
I am from Bihar and did my schooling in Patna. I completed my BSC(IT) in Delhi. I also pursued MBA from Xavier Institute of Social Service, Ranchi.
My career began from a Market Research firm, later I moved to the digital segment working in renowned brands like ValueFirst, DanikBhaskar, Zee Media, Askme.com CyberMedia, among others.
Throw some light on your roles and responsibilities at PrabhatKhabar.
I am completely accountable for my company's digital growth. In the fastchanging digital scenarios, I adapt to the latest trend and technologies. Learning and implementing newer technology will help us reach the pinnacle of our profession. I closely watch the competitors, learn the good and bad, take way only the good. As a leader, I also want my resource to be accountable, rather than doing a 9 to 5 job. My management has trusted me and let them explore things, I do the same with my team as well.
In the short span of 9 months since Prakash joined, PrabhatKhabar reached a 30Mn user-base witnessing 5x massive growth
What milestones of PrabhatKhabar bestows you with utmost satisfaction?
Our strength is the value we give to our employees. The company has a legacy of 35 years in the print media industry, now growing digitally as well. The viewership was just around 5Mn to 6Mn. In the span of 9 months, we reached a 30Mn user-base witnessing massive growth of nearly 500 percent. The dextrous troop of professionals I gathered is extremely capable of delivering excellence. I always focus on motivating the team as they are the asset for our growth. I letthem explore and learn from mistakes.
We provide open opportunities for our employees to rise and shine. The significant growth in user-base and profit illustrates our ability to combine revenue growth through execution, process improvements, effective training, and motivation. Our vision is to be at the top - not as a leading player in the market, but in terms of adapting to technology and strategies that enhance the overall performance. I have designed strategic building blocks that would propel the digital presence of PrahatKhabar.

In a decade of your journey, you have grown exceptionally as a leader. Share your opinion on the challenges people face in the initial stages of a career? Any tips to mitigate them?
Getting into corporate right after studies is not easy. We are not taught to cope with professionals in our education system. However, a good mentorship will help us grow in our careers. Firstly, we have to be disciplined and be open to learning, everything will fall in place.

Share some insightful words to the budding entrepreneurs and the future leaders
Do not do things just for the sake of doing it. Only if you have passion, go for it. If your motto is to rid of a 9-5 job and have something on your own, it will not work in the present era. It is important to have a USP that strengthens your brands and adds value to customers. And be future-ready to take great leaps to surprise everyone by delivering greater value, because customers are smart nowadays, they have multiple options in hand.

Prakash Kumar Chief Digital Officer, PrabhatKhabar
Favourite Destination: Goa
Favourite Cuisine: Any food cooked by his Mom
Carrying the experience and expertise of leading the digital fraternity of several renowned brands, Prakash Kumar has made Prabhat Khabar exceptional in digital-drive, futuristic culture, and huge online presence. With all the efforts and one-of-a-kind digital strategies, he established wide audience for the company in the Indian news media market.