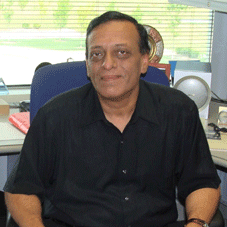 There can be no better time than now for HR to re-invent itself. This function must take the Covid-19 disruption of normal working as an opportunity to challenge its age-old paradigms and find creative ways to connect with people, invest in their development, and most important, help people succeed. No wonder, at Shipsy we call it the People Success function.
Over the years, the role of an organization's HR function (People Success function) has seen a paradigm shift. Moreover, the pandemic has posed new challenges. That said, HR leaders are expected to play a pivotal role that goes well beyond managing routine HR operations. Companies depend on their people leader's skills and commitment to developing a strong winning team.
An ideal example of such commitment is Arun Kumar, Chief People Officer of Shipsy.
Shipsy provides a comprehensive software suite that helps logistics and supply chain companies in-crease operational efficiency and service levels using actionable insights.
As Chief People Officer, and member of the company's core leadership team he sees his key role as that of a mentor and People's leader who keeps Shipsy at the forefront of best people's practices. He works closely with leadership to ensure company vision, success and people's aspirations are always connected.
In the four decades of work life, he built high impact teams across diverse product lines and geographies. As a person with a high technical and extraordinary leadership skills, he genuinely believes successful companies train their people's mindsets to get 'big' things right.
Below are the excerpts of CEO Insight's exclusive interview with Arun Kumar, CPO, Shipsy.
Brief us on your educational background and your professional background
After graduating from IIT Madras, I went on to complete master's in management (PGDM) from IIM Calcutta, majoring in Behavioural Sciences.
All along what inspired me most was the selfless dedication and commitment of great teachers, and I kept asking myself the question "what if corporate managers were like that?"
After working for several years, seeking deeper in-sights into leadership mindset, I went back to school, this time Kelley School of Business, Indiana University, Bloomington.
I started my work career at BHEL, a top 10 global power equipment brand. What I found most interesting was how complicated processes and machinery came together so well.
The next stint of over a decade was at another major brand- Eicher. Here I realized how important it is to build a business with fundamentals: uncompromising ethics, strong learning environment and great culture. It is here I saw some of the finest HR professionals at work, and the impact they made.
For over two decades, in US, I was with Bridge-stone, world's # 1 Tyre & Rubber company. It is here I observed how multi-cultural teams work together and produce amazing results. A great work culture was the common thread across all Bridgestone companies.
Managers should not believe people work for them. On the contrary a manager's mindset should be he/she works for them and take full ownership of their total wellness. This way people can focus on managing their work and not worry about managing their careers
Last several years, as an Advisor at McKinsey & Company, I closely saw how systematically business-es are transformed, and how high-performance teams quickly get aligned to a common deliverable, and consistently deliver sustainable value to clients.
Four years ago, almost this day, I took up an opportunity to mentor Shipsy, a technology startup.
What different roles have you been undertaking at Shipsy?
As a mentor, and CPO, I am required to wear many hats. The most significant role is that of bringing about a change in mindset of leadership, so every teammate sees them as role models. Culture change always starts from the top, and that is where personal accountability starts.
What were the initial challenges you overcame in your current role?
Setting up processes: in the start-up world, everything is from zero to one, not just incremental. Processes must be set up, buy-in from all stakeholders obtained and processes must be constantly refined for scalability. Another challenge is growing the team yet maintaining the agility of a startup.
Building a managerial pool: start-ups tend to grow more horizontally than vertically thus providing opportunities for strong individual contributors to grow. The challenge is when the team size grows, and reporting structures become necessary. Training first-time managers on soft skills is vitally important for a start-up to scale. People's priority is their own development, and the organization priority is getting work done. So how does one balance the two? Most managers stay focused on managing tasks, and projects, and leave individuals to develop on their own. At Shipsy we implemented the Helix organization. Here, a teammate has two managers, one focusing on task achievement and the other on capability enhancement.

Creating organization-wide alignment: In the early stages of a start-up, team size is small, and everybody knows one another well, people have broad roles, and are required to do anything and everything. As the team grows, departments are formed, roles must be clear, and alignment through the hierarchy is essential.

How do CPO-Leaders help in increasing employee productivity? And what strategies are you consolidating to build a strong connection with the people?
CPO-leaders must create a basic framework around which all processes have to be built. At Shipsy we formed the three-pillars: a strong learning environment, a collaborative work culture and a fair reward & recognition system.

For productivity to be high we have a five-step process.

First, we constantly work on improving role clarity, where every member of the team is clear of his/her role and how it connects to the overall company aspirations.

Secondly, we follow a robust planning and review process that ensures we meet our commitments and deadlines.

Thirdly, an effective performance review system has enabled us give and take timely feedback and hold important conversations on learning and upskilling needs of our teammates.

Fourthly, our rewards & recognitions process is driven by acknowledging and rewarding the right behaviours and outcomes because people's productivity is driven by culture at the workplace.

Fifthly, digitization and HR process automation has helped build analytics, and give us some interesting insights.

Highlights
• Led and served on board of companies in US, India, and China
• Awarded President's and CEO awards at Bridgestone Americas
• Invited to address students at Harvard Business School
• Inspired teams in various geographies to deliver outstanding performance