Ashika Group: Addressing Personalized Investment Needs of Diverse Investment Groups Under Single Roof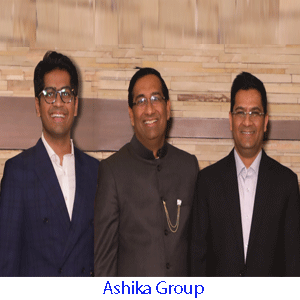 Being in a regulated business, a financial institution's success depends on its ability to adapt to the changing regulatory landscape as well as the policies brought about by the government time to time. A master in this art is Ashika Group, a premier financial services provider, which offers a plethora of packages & products under one roof leveraging expertise in stock broking and NBFC business. Incepted in 1994 as a Merchant Banker and OTCEI dealer by Pawan Jain (Chairman & MD) and his brother Daulat Jain (Joint Managing Director), Ashika Group was the Number One all India in terms of number of issues advised in 1996. Year 2000 was landmark in itself, as one of the group company, Ashika Credit Capital Limited got listed in the Calcutta Stock Exchange(CSE)and in the same year, Ashika Stock Broking Limited also started operations as a trading member with NSE in the Cash/F&O Segment.
Having established a commanding presence in Eastern India, today, Ashika is satiating the personalized investment needs of more than one lakh varied investor groups, spread across 550 locations in over 15 states, through a group of diligent, diverse and experienced team of professionals. In an exclusive conversation with CEO Insights, Chirag Jain(CEO, Ashika Capital Limited), a dynamic professional and an All India Rank holder Chartered Accountant from ICAI, delineates Ashika Group's offerings, aspirations and values.
Kindly give us some insights on the way you run the organization.
Authority with accountability, right skill-sets and attitude along with employee integrity brings out the best in any organization. We strongly adhere to the principles/policies and right technological framework and congenial work culture for the skill sets of each individual to thrive in a professional manner and thereby leading to overall growth of the organization. At Ashika, everyone is responsible for running their own
departments to the best of their abilities. We believe in empowering key personnel in respective departments and providing them with best of opportunities to come up with innovative ideas and hone their skills.
We are well informed of the changing dynamics of the financial landscape in India and thereby are coming up with innovative product, leveraging technology at our branches
Please tell us about your offerings with key emphasis on your flagship offering.
We provide wide-ranging financial services comprising of equity, commodity & currency trading, internet trading, depository, IPO distribution, MF distribution, bond distribution, research and advisory, merchant banking, investment banking, corporate lending. Margin funding and Loan against Shares (LAS) within the broking unit are our flagship offerings which leverages platform of broking business to complement and scale up the NBFC business. We have invested in our Online trading platform – 'Ashika', and have also invested in systems and processes to provide ease to investors in the likes of e-KYC, e-Marketing, online customer care, WhatsApp and so forth. We have also launched an App called 'Ashika Infinity' for the convenience of our clients so as to allow them to access their back office and other market data at the click of a button on their phones. We understand the transition of the economy from physical to digital and also from informal to formal, the pace of which can be debated but we are strongly committed to the emerging trend and position ourselves in this regard and grab the larger share of the addressable business opportunity.
What are your strategies to counter the constantly changing financial scenario and leverage the positive aspects for the growth of Ashika Group?
The key to success is to constantly stay abreast of the latest happenings in the technology and regulatory space. We are well informed of the changing dynamics of the financial landscape in India and thereby are coming up with innovative product, leveraging technology at our branches & at our franchise platform by which we can
scale up our business in all verticals. We also collaborate with the Stock Exchanges in organizing programs to raise investor awareness as well, since it helps in creating a brand which stands for what's right.

As the government's focus on digitization and increasing smart phone penetration is expected to change the payment landscape, Ashika Group has also launched its very own mobile application to provide investors the ease of seamless digital transaction. We are investing in technology to minimize manual intervention and provide ease to investors, along with our in-house robust backend supporting team to service the offerings. The Group is also committed to ensuring compliance with the best practices in Corporate Governance and regulatory landscape.

Kindly throw some light on your future roadmap.
We aim to be amongst the top brokerage houses in India and launch our offices in every state with latest products and service offerings. Together with the existing bundle of financial services, product offering and technological CAPEX, we would also like to make our mark in the NBFC(LAS & margin funding business) and also in the rapidly expanding, under explored wealth management industry. We are also a category I merchant banker and will be shortly launching our Category III AIF and create a mark in the asset management business. Our goal is to be a globally recognized financial service provider leveraging the best of technology, people and ideas. We aspire to reach our vision with integrity, honesty and fairness to all stakeholders including clients, employees, business associates, regulatory authorities and the society.

In the end, our core philosophy that stands the test of time, which has helped us the most is our tagline – "Growing and Sharing with YOU".

Key Management:
Chirag Jain, CEO, Ashika Capital Limited
Graduated in Commerce from St. Xavier's College & a qualified Chartered Accountant with distinction, Mr. Jain has garnered experience with his stint in the equity broking division for 6 years. Mr. Jain is a member of Global Shapers, a WEF-backed group for young individuals and the Managing Trustee of Gyanada Foundation, a non-profit initiative.

Offices: Kolkata & Mumbai