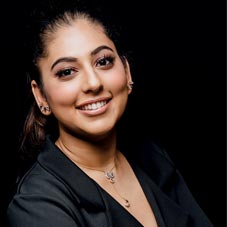 One of the youngest and quirkiest of all, Ashmika has set a brand that curates flawless designs specific to the Gen Z population. To the generation of idiosyncratic minimalists who want things to be unique yet loved by all, she is a perfect partner. Be it for colleges, offices, or any occasion, a single piece from Ashmika would suit all your accessorizing desires. She is known for elegance, creating unimaginable pieces that fit you every day. In the jewellery industry which is boomed with experienced and classic designers, "Ashmika says that she is a 21-year-old founder backed with eleven years of experience."
Interestingly, the little Ashmika at the age of 10, started experimenting with diamonds & designs. From joyfully assisting and giving inputs on her mom's collection to launching her product line at the age of 18, this young entrepreneur has come a long way. The brand is Ashmika's passion for creating something that just lights up your moments with designs that are one-of-a-kind. CEO Insights engages an exclusive conversation with Ashmika Gupta to know how is her brand influencing the Indian fashion scene.
Brief us on your educational and professional background
I completed my BSc in business and management in 2020. I am also a certified jewellery designer. I am currently pursuing Data Science in business Analytics as well. While I was still studying, I assisted my mom who is a jewellery designer, and my dad who is a diamond merchant. This made me understand the business side of work better. Having the privilege of
getting years of experience in the industry has fuelled my passion for jewellery and appreciation for great craftsmanship.
This has made me create, build, and share my vision with all. I am inspired by the people around me. What shocked me was people's perception on jewellery hasn't changed over the years. I see a lot of my friends wanting to accessorize themselves but do not enjoy the current designs or look of the jewellery. Everyone looks at jewellery as an investment rather than a mode of self-expression, I wanted to change that mindset.
My challenge is to change the outlook of my audience that currently looks at jewellery as an investment burden, to a perspective that embraces the carefree self-expression that can be provided by my creations. It is all about making ordinary people, carefreely extraordinary. As a child, I could never really fit into one box. And that is exactly what I want my jewellery and every collection I make to depict. My first four collections are inspired by those around me, my surroundings, and a lot of the emotions I went through in the last few years.
Ashmika is all about giving you the freedom of self-expression and making ordinary people, carefreely extraordinary
Enlighten us on your one-of-a-kind Collections
Our accessories are a mode of expressing ourselves. So, I believe that they should be relatable to what we are. My collection focuses on 21st-century teenagers. I think it would be safe to say that we all have a rebel inside of us, and that is exactly what my first collection DAUNTLESS focuses on. It's an ode to the fire in every person. My second collection QUE SERA SERA is for every moment that you want to live to the fullest, where you are going with the flow and finding happiness in the smallest moments. Recently, our society has taken
humongous strides in breaking the shackles created by stereotypes. Whether it was something as big as the decriminalization of section 377 or the large spread acceptance of diverse cultures within our existing communities. LAISSEZALLER is a tribute to every minute spent, every cry and every voice that has to lead us to the world we live in today.

My final preliminary collection is based on something I have found along the way, something that I will keep searching for and something we all seek, bringing me back to my opening question, "Who am I?" GNOTHI SEAUTON which translates to know thyself is a phrase used by the Greeks to remind one of the importance of self-discovery. My gallery is just built to make customers were the same piece be it at work or a gala dinner party. Apart from the collections, we offer charm bracelets where a customer can design and choose their charms right from animals to social causes, and decide on the gold type. Although I am an online retailer, I offer customization. We also have small men's line right now.

Illustrate the Growth and Roadmap of the company
We started operating in September 2019. As of now, my company's growth has been tremendous. I saw my highest number of sales during the lockdown period and it just continued from thereon. Since then, the growth graph has been a forward slope.

In the future, we will be establishing a few offline stores and also diversifying into gold jewellery. I am working on having an analytical edge in my company where I'm looking at using data analytics to support my designs. And, I think that will be something very new for the industry itself.

Ashmika Gupta, Founder, Ashmika
Wise Words
Conduct surveys and market research on what interests you. If that is a perfect idea, do not hold back. Break all the gender, age stereotypes and go for it because that will take you a long way and it is much better than following the herd. Follow your gut and use the advantage of data, that is what I did and it worked for me.