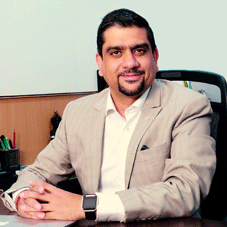 India, a country of over one billion people, is suffering from an acute shortage of healthcare professionals. With a low doctor to patient ratio, i.e. 1:1600, a majority of the country's population struggles to receive access to quality healthcare. This problem does not only persist in the rural areas but pervades through semi-urban and urban areas as well. However, over the past few years, technology and internet have joined forces to pave a road for telehealth and mHealth solutions that hold the potential to increases doctor's capability and capacity which would help deliver healthcare to a larger chunk of the population.
A trailblazer in the telehealth space in India has been Apollo Tele Health Services, the largest and oldest multispecialty Telemedicine network in South Asia. With its foundation being laid down in 1999, this division of Apollo Hospitals, one of India's premier healthcare provider, is being led by Vikram Thaploo, CEO Telehealth, Apollo Hospitals. A management graduate with vast experience in the retail and hospitality industry, Vikram leverages his connect with the consumers to build products and solutions that enhance healthcare accessibility across rural, semiurban and urban pockets of India.
In a detailed interview with CEO Insights, he speaks to us about the potential of telehealth services AskApollo, a unique integrated platform and the innovative projects that his team is working on currently.
You head the Telehealth division at Apollo Hospitals. In your opinion, how has this vertical gained traction in the market and what advantages do telehealth and mHealth bring to the table?
Telehealth and mHealth are all about bringing accessibility and affordability to healthcare. The past 10 years or so have seen a sharp fall in the cost of broadband services, smartphones and self-use medical devices, which has made it possible for the masses to access healthcare remotely.
Other than increasing penetration and affordability, telehealth services have also brought about standardization of services. Now, it is very easy for a patient to go back
to a conversation that they have had with a medial health professional to check if the diagnosis was right, if the right questions were asked, if the doctor asked for the right tests to be done and more. Factors such as these have made telehealth an important and foolproof method of delivering healthcare.
IT is critical for companies to put the best product forward in the market while also ensuring that it is affordable and accessible.
Tell us about your innovative platform, AskApollo and its various features that make it one-of-a-kind product in the market. Also, how has the journey from ideation to mass adoption been?
We at Apollo Tele Health Services have always experimented with multiple formats of telehealth, such as running clinics in private public partnerships with the government or running franchised teleclinics. AskApollo is our flagship product in the mHealth segment, which integrates all the services that were already available through the Apollo ecosystem through a virtual medium. The platform which is currently used by over six lakh users allows people to do voice, video and email consultation,lets patients book an appointment with Apollo, ask for medicine delivery at home, ask for diagnostic pickup from home and ask for counselling session.
Gradual adoption of mHealth owing to the pervasiveness of technology and internet has helped AskApollo become one of the world's largest medical response centers from where doctors perform telehealth services. The platform is home to various general physicians, specialists and super specialist doctors and connects all doctors from the Apollo ecosystem to the common user. Developed by a superlative team of tech experts, AskApollo has been benchmarked with the best global players.
You have had an expansive career that has spanned over two decades. What has been your key takeaway from your past work experience? What is your guiding philosophy in terms of running the TeleHealth operations at Apollo Hospitals?
My past work experience has largely been in the field of retail and hospitality, which has kept me in close quarters to consumers who are the bottom of the pyramid. As a consequence, I have developed a deep understanding of consumer behaviour and consumer psyche. In its purest form, mHealth is also retailing of healthcare, since the end consumer has the choice to pick
an option. There fore, it is critical for companies to put the best product forward in the market while also ensuring that it is affordable and accessible.
At Apollo, we believe that when people with a common purpose come together as a team, that helps move the wheels along, and our collective objective at Apollo is to bring good healthcare to the common man. My team works on the philosophy that only patients who really need the hospital should come to the hospital and we strive hard to keep patients out of the hospital as much as possible. The team works on a pro-active basis and want to shift the focus from illness to wellness.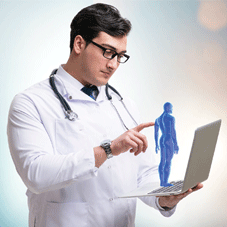 Apollo Hospitals has been a pioneer in the telehealth segment in India. What is your take on innovation and what are some projects that your division is working on currently?
Interestingly, India's telehealth journey was facilitated by Apollo Hospitals Group's not-for-profit organization, Apollo Telemedicine Networking Foundation(ATNF)when in 2000, Bill Clinton inaugurated the first Rural Telemedicine Centre in Aragonda, AP. Staying true to its spirit, the Apollo brand has always been associated with being the first mover to usher in a new product or machine into the Indian market.
Our ingenious research wing, Apollo Research & Innovation for which my vertical i.e., remote healthcare does a lot of research work for is constantly work with new innovators and startups. We are currently working with the Government of Telangana and World Economic Forum on a project called Drones in Healthcare. Launched last year, the project is working on medicine and blood delivery through drones. Next, we are eying a project for organ transport through drones for which we are collaborating with the Ministry Of Civil Aviation.
Key Management
Vikram Thaploo, CEO - Telehealth
An innovator at heart, Vikram, who has prior experience in the retail and hospitality industry, understands the pulse of consumers very well. Leveraging this acquired skill and his post graduation in healthcare from ISB, Hyderabad, he has been leading the TeleHealthcare division at Apollo Hospitals for almost a decade now.
Offices:
Hyderabad