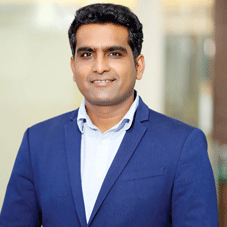 The increasing awareness on healthcare in India is a positive sign. Both individuals and government have put major efforts in making the nation healthy.The government's National Health Program and several startups emerging to serve this need via various modes which were absent earlier, are applaudable. As a highly-tech focused company, KlinicApp perfectly fits the need through its unparalleled diagnostic servicespowered by cutting-edge technology that provides users an amazing experience consistently.
Founded in 2015 by a group of five experts, Satkam Divya (CEO), Shwetabh Walter (Chief Product Officer), Parvendra Singh(CTO), Amal Sardar(Director - Mobile) and Sandeep Saraf (COO), KlinicApp today is present in 20 cities PAN India. With strong presence across West and North India, the company has served more than 1.33 lakh customers by conducting more than 6.5 million tests. Speaking to CEO Insights largely to uncover the features of KlinicApp and its future is Satkam, who is an IIM Lucknow alumnus. Here are the excerpts:
Q.KilicApp is your second venture post Rupeetalk. Tell us about your experience founding KlinicApp and your journey so far.
A. Yes, KlinicApp is my second venture, which I established post Rupeetalk was acquired. I hold experience working at ICICI Bank, Times and Policy Bazaar as the Director managing their mobile commerce and online marketing, apart from working in startups for more than 12 years now. I have been on both sides of the table and have seen, done and understood what works, what doesn't. This experience has been tremendously helpful in shaping my current startup.
Though the journey so far has been challenging, working along my other four co-founders, who complement each other's skill sets and pedigree,
is truly commendable. From the struggle to find the right talent, to unearthing the knowledge of diagnostic tests for our online products, and raising funds, it's a roller-coaster ride every day.
Our tech-enabled platforms have replaced intermediaries and provided us with huge cost benefit, which we pass on to our customers via affordable path-tests
Q. How is KlinicApp positioned in the current mHealth segment of India, and how are you leveraging the growing opportunities in the country?
A. Our business proposition is unique, as we are not an aggregator of labs but end-to-end service provider. Our quality of service, price, range of tests and presence across locations, are second to none and hence experiencing around 10 percent growth every month. Since we are a tech-driven business, we are not only able to create a good margin and sound base of repeatcustomers in this large, unorganized and growing market, but our techdriven logistics further enables us in tapping any new development on the emerging business side.
Leveraging the growing opportunity further, KlinicApp has a team in place to work on future business opportunities, which keeps a sharp eye on the development happening on the core diagnostic side and delivery of the same.
Q.Please explain the services offered by KlinicApp, and its benefits.
A. We as an e-diagnostic company offer various blood tests and health packages at home as per the customer's needs. Our app is extremely user friendly and is designed keeping in mind the broad audience where old generation to less qualified people can use it. One just needs to book their blood test or a health package online with their preferred location, and opt for either online or offline payment as per their convenience.
We customize our health packages (from basic health package, diabetic screening, hormonal profile for women, pregnancy panel to
premium health check-up and more) as per our customer's need and today's lifestyle changes. Our always accessible app facilitates discovery of suitable tests and packages out of the wide range of 1050 tests and more than 50 health packages, loyalty discount coupons, and real time status of blood sample collection apart from providing all historical reports at one place. Once the booking is done, our phlebotomists collect the sample and transfer it to our partnered NABL certified labs. We make the reports available on the app just within 24 hours of the test.

Our tests are priced affordably(one nation one price) and are at least 40 percent lesser than the branded ones. Further, our tech-enabled platforms have replaced intermediaries and provided us with huge cost benefit, which we pass on to our customers via affordable pathtests. We offer standardized services, which is completely SOP driven hence once a test is booked, it allocates on realtime basis, thereby ensuring faster delivery and communicating the status through the app till they get their reports.

Q. What is the blueprint mapped for KlinicApp?
A. We work extensively on digital technologies and mobile apps, and will soon be incorporating AI in disease prediction to suggest tests based on location, lifestyle, demography and others, and IoT in sample tracking for seamless service. We are also working on interactive reports that will let the users know the meaning of the parameters provided in the reports and how to improve them by consulting a doctor on the right time.

We have rolled our sleeves to strengthen our current business in existing locations and spread our wings in newer places soon, apart from having our own flagship collection centers to ascertain high quality service. KlinicApp will invest heavily in technology and logistics too.

Key Management:
Satkam Divya, Founder & CEO
An IIM Lucknow alumnus, Satkam has held various key roles in major companies and startups. He channels this experience towards creating the simplest healthcare app that offers world class services.

Office:Gurugram