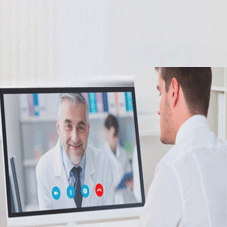 It's an undeniable fact that the outrage of technology over the past two decades has transformed the healthcare realm into a whole new world. But it has also encouraged a mass of telemedicine providers to adapt into a more convenient market place model, where they end their responsibility after connecting patients with the partner doctors. This has culminated in an inevitable end result a toss of responsibilities and lack of quality customer experience. It's a hard-truth that getting a good, proven medical practitioner to address your medical condition more often than not has become a matter of luck! Breaking this status quo and setting new benchmarks in the telemedicine industry, vHealth by Aetna has established a novel healthcare ecosystem, which is much more than telemedicine.
vHealth possesses a large pool of full-time in-house doctors, who are specially trained by its Swiss-based partner, Medgate AG (Europe's largest telemedicine provider). With its doctors groomed under world class training & clinical protocols, this PAN India service provider excels in the empathetic healthcare, backed up by its robust infrastructure and capabilities that span across a 1600 partners strong network.
Spearheading this new revolution in telemedicine is Manasije Mishra, Managing Director, vHealth, who has a broad vision towards democratizing quality healthcare across the length and breadth of the country. Through an exclusive interview with Manasije, CEO Insights delves into the interesting story of vHealth.
Your company has built a huge partner-network over the years. How much control do you have over the customer-experience
provided by this network? How do you use this network to provide patients with the maximum benefits?
We have complete control over the process. Along with our well trained doctors, the network helps us to handhold a patient throughout the treatment cycle. For instance, if you need a blood test, we can send our team to your home (across 1500 cities in India). If you have trouble buying a medicine, we can deliver it to your door step within four hours. We can also book an appointment for you with a specialist and provide cashless payment option with a discount.
Setting new benchmarks in the telemedicine industry, vHealth has established a novel healthcare ecosystem, which is much more than telemedicine
The chronic diseases are on an upsurge in India, not to mention that it takes long treatment cycles. How do you ensure the persistence of your services?
Our team follows-up with you till they ensure that you feel better. We are evolving constantly towards treating patients who suffer from chronic diseases. There are a lot of people who suffer from Lifestyle diseases, Kidney problems, and Lung disorder. They need constant guidance & motivation, and not just the treatment. We have Dietitians on-board, who are trained to make a real difference to the lifestyle and the health of chronic patients. We have a long history of people responding to our coaching, changing their lifestyles, reducing weight, and improving diabetes control & BP levels. Today, our endeavors are also channeled to preventive care, using the data collected over the years.
In your experience, what do you think it takes to establish a good relationship with the patient and serve them better?
We need to listen to their problems and understand the feeling behind it without rushing. That way, we have been able to diagnose some of the really difficult medical conditions. For instance, once a patient connected to us,complaining that
he is unable to enjoy his food. When the doctor probed into his history, the patient explained about having a small boil sensation previously in his stomach, along with weight loss due to not having food properly. He had seen some doctors before, but only to have an instantaneous relief. As he continued to talk, he revealed that he had a history of using tobacco. But when the doctor connected the dots, it sounded a little bit serious. The doctor referred him to an ENT surgeon with a request for biopsy. Unfortunately, the biopsy report showed that the patient had cancer. We immediately referred the patient to an oncologist. The patient remained in touch with our doctor for the entire treatment cycle. Today, since his cancer was diagnosed at an early stage, he has recovered completely. The time spent listening to him, conversing with him, and investigating paid-off.

What's the kind of role played by technology in this holistic healthcare process?
Technology plays an instrumental role. We have been able to provide our patients with an excellent user experience and interface, which is back lifted by our cutting-edge CRM system. We allow our patients to take better control of their healthcare process. It's a continuous learning and evolving process. Our feedback system helps a lot as well.

What's the future roadmap set for your company?
It's a good feeling that people are really happy about our services. We have been growing at an over whelming pace with a good base of loyal customers. We currently have 1.85 million members in our platform, and we want to have four million members by the end of next year. We are also doing a rural India healthcare project to bring quality primary care to the under privileged people of our country.

Key Management:
Manasije Mishra, Managing Director
He spent the early part of his career in banking with HSBC, decorating various roles. He later moved onto the health insurance segment, before completing his transition to the healthcare realm. His experience helps him to imbue vHealth's services with a sense of customer experience.

Corporate Office:New Delhi