More and more Indian consumers are now latching-on to retail therapy and how! Owing to Internet proliferation, rising incomes and increase in aspirational lifestyles for middle class Indians across major and smaller cities alike, the Indian fashion retail market is skyrocketing. A study by CARE ratings concluded that Indians spent Rs. 5,408 billion on buying clothes in 2018 and the apparel market grew at a CAGR of 13.8 percent in FY18. Building on this trend, a plethora of retailers and brands have made inroads in the Indian market, with mid-range brands enjoying a lion's share. Audaz Brands, a fashion retail company that owns and operates retailing of De Moza across offline and online stores, is fighting it out to bring to the Indian consumers quality and fashion forward clothing at affordable pricing. Focused on completing the everyday basic range for the modern Indian women and girl, the Bangalore headquartered company renders a wide range of bottom wear solutions for every occasion and lifestyle.

Brainchild of Agnes Raja George, Founder & MD, Audaz Brands benefits from his years of industry experience across various retail stores. Hailing from Cuddalore, a quaint town in Tamil Nadu, Agnes rose in ranks from being a sales executive in Lifestyle, Chennai to heading a leading fashion retail organization over a span of two decades. Having played key roles in strategic planning, merchandizing and brand building allowed Agnes to understand the nitty-gritties of retail industry and also identify the gaps in the industry. In an extended conversation with CEO Insights, he spells-out how Audaz Brands is making the most of the opportunities that prevail in the Indian retail landscape and providing the consumers on trend yet affordable products.

Over the last few years, various players have made way into the Indian retail market. How is Audaz Brands creating a niche space for itself in this rather cluttered market space?

The average Indian consumer's fashion consciousness is evolving rapidly. With digital avenues making consumers aware of national and international trends, people across all sections of the country are today looking for fashion forward options across product categories. We realized that while most brands focus on top wear, the market for in vogue bottom wear for women was a comparatively less explored space. Therefore, we have built a wide range of women's bottom wear options for casual, active and ethnic lifestyle. Other than offering the basics, we keep in mind the fashion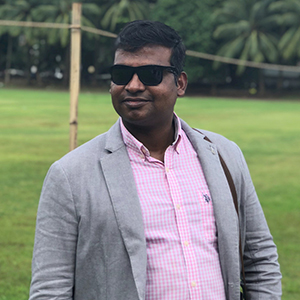 conscious consumer and provide fashionable options that one might see on social media.
We realized that while most brands focus on top wear, the market for in vogue bottom wear for women was a comparatively less explored space
Our casual range includes denims, jeggings, palazzo pants, culottes; the ethnic range is made-up of basic classic churidaar, ankle length leggings, pants, and skirts; and in terms of active wear, we have various yoga pants, leggings, yoga tops and track pants among other options. Our flagship offering is our high quality viscose legging, which is a Liva product. Priced in the mid to premium range, all our products are made with superior quality and in line with market trends.
Staying updated with fashion trends is crucial for any clothing retailer. How does your team ensure this?
Keeping-up with trends is an important part of designing. So, we have a team of designers that conducts regular market research and comes-up with what kind of trends should be added in the season. We also make use of various tools to spot trends online, in order to provide our consumers with the latest style options.
We are part of various associations such as RAI (Retailers Association of India) and other major fashion retail and technology forums. Our team periodically attends events and conferences to take stock of what is happening around the industry and we also travel excessively across markets in India and internationally to identify newer opportunities, innovation, technologies and markets that can be explored.
Tell us about Audaz Brands' production, sourcing and quality checking procedures.

Although we do not own any factories of our own, our garments are manufactured at technically superior and fully compliant production facilities. We purchase fabric from reputed mills, which is then sent-over to four different factories where the clothes are manufactured. My co-founder, Hussain Basha, is an expert at quality and production. Together, we have put in place a clear process right from fabric testing to final inspection.
In terms of distribution, we have over 150 Points of Sales across the entire country. Our products are also available at leading stores such as Central and Brand Factory, along with major online stores such as Amazon, Myntra, Jabong and Snapdeal, among various others.

How has the company's journey been so far and what's in store for Audaz Brands' future?

We started out as a small startup in 2017 and have grown tremendously since. Although 70 percent of our footfalls come from brick and mortal outlets, we aim to strike a balance between traditional and online retail.

Keeping innovation as our top priority, we have just introduced a new legging made of modal, a superfine fabric which has anti-microbial qualities and is also more comfortable and durable. We have infused scent in the fiber so that the fragrance lasts upto 15-20 washes. We are also looking to launch skirts and leggings with pockets soon, as it is an overlooked feature in most women's clothing.
I would also like to see Audaz Brands touch the Rs. 100 crore revenue mark in the next two years and Rs. 500 crore mark in the next six years. Additionally, we hope to increase our headcount from 150 to 1000 in the upcoming five years.

Key Management

Agnes Raja George, Founder & MD

Agnes began his journey in retail in 2000 with Lifestyle Store and has since handled roles of various capacities, including strategic planning, merchandizing and brand building. Building on his vast industry experience, he has been steering Audaz Brands since inception and takes care of design, marketing and distribution.

Offerings: Women's, Girl's & Boy's Clothing

Stores: Bangalore, Chennai, Mumbai, Hyderabad, Pune, and Trivandrum