Wayne Dyer, the celebrated American motivational speaker and self-help author, said, "If you change the way you look at things, the things you look at change". This philosophy has propelled various entrepreneurs to build enterprises and brands that have disrupted the very status quo of their respective industries. Ravi Modi, Founder & Chairman, Vendant Fashions, the parent company of brand Manyavar and his journey to building the most successful Indian ethnic wear brands for men can be cited a shining example of the aforementioned philosophy.
Successfully undertaking the journey from a traditional family owned business in Kolkata to today owning 550+ stores and having a strong presence across 202 cities across India, U.S. and UAE, Vendant Fashion's success can be attributed to Ravi's unique business model and a keen eye for market gaps prevalent in the industry. In an exclusive conversation with CEO Insights, we pick his brain to decode the makings of Manyavar, the catalyst in men's ethnic wear segment in India.

Manyavar is today considered as the largest player in the Indian ethnic wear segment, especially for men. Take us through the brand's odyssey since its very genesis.

Manyavar began its journey in 1999 with the aim to fill the huge void in men's ethnic wear segment. At that time, ethnic wear was largely overlooked by the big players and wasn't even viewed as 'fashion'. In fact, it wasn't even considered a category! I started-out with just Rs.10,000 capital and forayed into men's ethnic wear segment, starting from wedding wear to now offering celebration, festive and casual wear too. Today, we have evolved and so has the market. Manyavar has been a catalyst in the growth of this category.

The idea was to bring Indian wear back to mainstream apparel wear, changing the perception of restricting Indian wear only to weddings. Being the catalyst that grew this category, we became synonymous with wedding wear and developed the celebration and festive wear category too. We have had proud moments when we created entirely new categories in ethnic wear like fusion wear.

Kindly throw some light on the wide variety of ethnic apparels that you provide for women, men and children.

Manyavar's collection showcases an exceptional range of sherwanis, Indo-westerns, kurta jackets and fashion kurtas specially curated for every occasion, which is also a fresh approach to men's ethnic fashion. It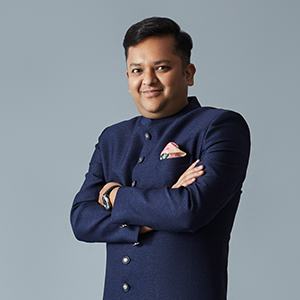 is a mix of regal elegance and edgy refinement, to fit all traditional yet contemporary looks. Ranging from structured silhouettes to antiquated zardozi embroidery, the range is specially curated for the modern man.
Being the catalyst that grew this category, we became synonymous with wedding wear and developed the celebration and festive wear category too
Mohey, from the house of Manyavar, has its flagship category of lehengas. We have a very balanced collection in terms of colours and fabrics – there are beige and ivory lehengas on one end of the spectrum which is balanced well by dark deep brooding colours such as burgundy, rust, old rose and wine. Employing varied embroidery has further added to the collection's diversity. Not leaving behind the juniors, Manyavar also has kid's ethnic and fusion wear line, which is a delight to the little ones.
Tell us about your vast retail networks and the customer support that you offer to enhance their shopping experiences.
We are widely available in India through a network of exclusive brand outlets (EBOs), multi-brand outlets (MBOs) and shop-in-shops (SIS). We're also present overseas in U.S. and UAE, and are building our retail presence in key international markets. Our penetration beyond the metros too is really strong in tier-II and tier-III cities.
For us, customer service does not begin and end with just handling customer grievances or issues. Ensuring that the customer's needs are fulfilled with maximum efficiency is of utmost importance too. We have a dedicated team of customer support executives that provides 24/7 assistance.
Consumers can contact them via online channels, help desk or toll-free phone numbers. Hence, if a customer requests for a product which is out of stock in a particular store due to size or colour unavailability, we have a robust online management system which tracks the required piece in the nearest stores and an inter-store transfer is carried-out immediately with four hours.

Fashion retail as a category is highly dynamic with trends changing constantly? How does team Vedant Fashions ensure that upcoming fashion trends are incorporated in its collections constantly?

As new trends are originating season after season, so are the wedding and celebratory ensembles. To this end, Manyavar constantly updates its category lines and collections; the Virat Collection, an exclusive collection featuring our brand ambassador – Virat Kohli, being one of them.

We regularly forecast trends, which results in us ensuring that we are always quick to introduce fashion trends; be it the introduction of new offbeat refined colours which were originally never seen in a groom's colour palette such as pista greens and soft peaches, or unique product characteristics such as edgy and unique cuts with asymmetric hemlines and double-breasted styles along with statement modern prints.

How do you envision the brand's future?

Manyavar aims to be one of the most respected ethnic wear brands globally. We remain optimistic about our sector and will expand quite fast this year as well. We believe there is a huge market for great quality and transparently priced ethnic wear. Aiming for 15 lakh sq. feet of retail space across 300 cities and over 700 stores, including 150 flagship stores and 50 international stores by 2021, we are gearing-up to reach our targets.

Key Management

Ravi Modi, Founder & Chairman
A first generation entrepreneur, Ravi has been the driving force behind building Manyavar into India's most recognized ethnic wear brands. Hailing from a traditional cloth merchant background, Ravi infused his family's business acumen with an innovative approach to a largely forgotten category and thus built a bootstrapped successful venture.

Offerings: Men's, Women's & Children's Ethnic wear

Offices: Kolkata