The Indian retail sector has always been one of the strongest arms of our economy. With rapid urbanization, altering lifestyle and rise of the Indian middle class, the industry will be worth a whopping $1.3 trillion by 2020, concluded a study by BCG. Having undergone a massive evolution over the years, the Indian retail sector has transitioned from traditional shops to make way for large multi-format stores in malls that offer consumers with a global experience. This new age shopping format is highly reliant on astutely designed in-store consumer experiences. Renam Retail, a devout display and retail fixture manufacturer, is committed to delivering perfect in-store solutions to its clients by utilizing creatively driven, grounding-in various store environments and precision engineering. Experts at creating high quality custom displays and managing complex projects involving multi material inputs, Renam Retail's experienced project team has managed roll-outs for some of India's largest retailers and global brands, executing quality projects involving multi material inputs.
Powering the organization is Jay Shah, Director, Renam Retail. Drawing from his vast experience in the Indian retail landscape, Jay emphasizes on basic principles such as synergy, expansion and continuous learning in order to strengthen Renam Retail's standing in the industry. In an in-depth conversation with CEO Insights, Jay elaborates on the changing face of the retail sector and how Renam Retail is aligning to the demands of the market while keeping the quality of its services intact.

Take us through your journey in the retail sector, and what have been the various lessons that you have imbibed on the way?

My journey with Renam Retail began as an individual venture, which later paved my path to becoming an integral part of the Renam team and owning-up to the professional responsibilities of being a Director.

In my professional career, I have managed various roles, starting from Project Coordinator, Production Manager, and Purchase & Operations Manager. These diverse roles across the retail chain have not only helped me in expanding my horizons, but have also aided me in understanding the very intricacies of the industry. My diverse experience also equips me with the ability to find prompt and practical solutions to counter most of the challenges that may befall my path.
Over the years, I have noticed that each and every project is unique in its own way, owing to which we must undertake a holistic approach. Having imparted these learnings across to my team as well, we have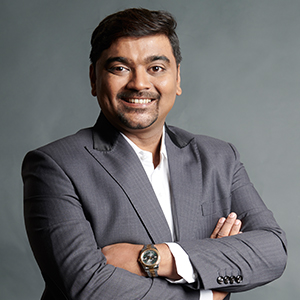 We partner with globally recognized retail brands that continue to reach Indian retail fixture market and are equipped to produce, stock and ship to clients and franchisees across the globe
equipped them to meet the challenging demands of customers and countering each challenge with utmost care, commitment and dedication.
Tell us about the various services offered by Renam and what in your opinion is the biggest strength of the company?
Renam Retail provides complete in-store furniture, combining various types of materials for our customers that help them to enhance the value of their product offering. Armed with best-in-class machineries in this industry for every type of raw materials we work with, it allows us to get the best in terms of quality, quantity and timeliness.
We partner with globally recognized retail brands that continue to reach Indian retail fixture market and are equipped to produce, stock and ship to clients & franchisees across the globe. Laying emphasis on building long-term successful partnerships, we ensure that the camaraderie between our clients and vendors is maintained regardless of the ever-changing market dynamic.
As competition rises in the market, maintaining the highest quality of services and products has become more critical than ever. How does Renam Retail ensure the quality of its products?
In order to elevate the quality of our fixture manufacturing, we have invested in building our infrastructure and processes such as our factory which has a working space of 1,50,000 sq. ft. Owing to
our in-house manufacturing facilities, we can provide our customers their desired quality while also ensuring fast output. Additionally, we have put together a team of professional designers and engineers who are not only highly qualified, but also possess deep experience across all critical departments. Most importantly, the Renam family is dedicatedly working towards periodically upgrading their area of expertise, thus keeping-up with the high quality output that our clients expect of us.

The entire retail landscape has undergone a massive transformation over the last two decades, more so in the past few years. With consumer demands changing frequently, how is Renam Retail aligning itself to the market trends?

With the ever growing retail consumer market, the industry is blooming, and we are focused on strengthening our core engineering and design teams, who can come-up with more feasible option for our clients, which are both premium and cost effective. At Renam, we continue to evolve every day to meet the dynamics of various class of products, keeping in mind customer's requirement. Laying emphasis on finding unique solutions, we are focused more on new innovations to upgrade our existing technologies and skilled manpower.

Looking at the current economic growth, the Indian consumer market will triple in the next 10 years. Hence, our focus remains solely on increasing our domestic market share. However, we are also working towards extending our arm to the export retail market. Keeping these targets in mind, Renam spends majority of its time and efforts in up-scaling our capacity/infrastructure to become a successful domestic and global partner.

Key Management

Jay Shah, Director

A retail industry expert, Jay has amassed experience while working in diverse roles such as Project Coordinator, Production Manager, and Purchase & Operations Manager. Building on the various lessons learnt on his journey in the industry, Jay is powering Renam Retail's gradual rise in the display and retail fixtures market.

Office: Mumbai

Offerings: Store Fitouts, Retail Fixtures, Point of Sale, Displays, Shopper Marketing, Shopper engagement technology, warehousing, engineering, prototyping, GC, & Design