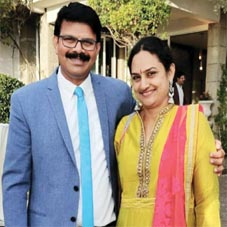 Sarathi Reddy, the brain behind the ideation of Team Wealth Management, schemed to develop an ecosystem that is more client oriented than one that only pitches towards products. Having spent a couple of years in the sector-working in a bank, he attained a complete comprehension and understood how the leading Banks and Mutual Fund setups in India function.
These institutions were more product-centric and were bereft of certified as well as experienced professionals. Sarathi and his wife reckoned that organizations in this field need to be more inclined towards the client's requisites to aptly administer their finance and wealth issues. In consequence, they decided to structure things upright and build a firm that is purely customer-centric/ tailor-made.
Team Wealth Management endeavours to compose and select the best investment ideas and solutions for its clients, assuring them complete wealth protection and creation. CEO Insights engages an exclusive interview Sarathi, Managing Director to know more about his company.
What are the major aspects of your company's excellence in offering wealth management services?
We started the firm in 2006 with an objective to build a wealth advisory and management company that serves as a one-stop-shop delivering top-notch solutions in this space,
safeguarding and increasing the financial possession of clients within the country and also overseas.
The investments we work on are predominantly in Mutual Funds, Stocks, and long term insurance plans. Our outside India operations are also for catering to the Indian community that is NRI Investment to India. We started in Chennai and spread our wings to Bangalore, Hyderabad, Singapore, and the US.
Highlight the USP of the company. What differentiators make you stand ahead in the market?
Firstly, we do not push any products and do not represent any brand. We try to understand client's goals and commitments and help them with a proper need-base analysis on their existing portfolio. For example-For anyone, these goals could be the milestones like a Child's Education or the Child's Marriage or it could be Retirement. So, we do a tailor made portfolio presentation that includes proper milestone planning that becomes the best suitable for them. If given an opportunity we would like to interact with clients for giving a perfect solution.
Team Wealth Management aims to be a reliable wealth manager, helping the clients to reach their investment and asset goals with need-based services
When we talk about USP, every company offers the same in different names and schemes. What makes a company stand out is, their expertise. When I quit my job and started the firm, many of my colleagues from the previous workplace joined me. Their rich expertise and exposure and strength in different verticals did help us mould the company and become a team that is 140+ members strong today.
I take care of marketing, sales, and revenue. My wife who is the director
looks after the operations and transparency. Our team of experts has tabulated decades of experience. The teams' strong suit of Relationship Managers empower clients to manage and develop investment portfolio construction that is best-fitting and well-informed.

We have a set of client distributed to distinct Relationship Managers for better customer service. Our team assures effective and secured measures to guide and grow our client's wealth. However, by implementing a positive and transparent practice and work culture, we have, we have gained the trust of the clients.

What opportunities do you foresee in the current wealth management industry and how are you moulding your company for the same?
Though the country is seeing a surge in its wealth bracket, there is still not much financial awareness on how and where to direct one's investment. Many earn a lot of money, but they lack the discipline of savings. Every household, every client wants to save but they are not hand-guided on how discipline can make them have peace of mind and freedom of meeting their financial goals. We try and emphasize on giving them basic knowledge and basic habits of saving, so that they get a huge benefit. Once they see the benefit and lead the mileage on that, definitely they refer us to friends and well-wishers.

Bandi Sarathi Reddy, CEO / Managing Director & Bandi Sucharitha, Reddy Director - Operations, Team Wealth Management Services
The Director's Note on the Journey of the company
The 16 years of our journey has been rewarding. The bright minds of the company have succeeded in bringing about great forward movements. Initially, it was tough to make people trust us because they used to trust big names (banks) in the niche. We did a lot of ground work to win over that trust of the client. We grew in terms of operating across geographies and earned 500+ gratified clients. It is through references we look at doubling the clientele.