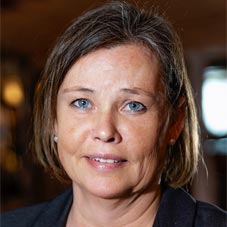 A result-oriented professional, Berit never hesitates to undertake a new challenge across any field, always explores a way to overcome it with her passion for performance, and eventually delivers best results. She has worn multiple hats in the pharma sector across manufacturing, customer service, quality and information systems for over 27 years. This long-standing experience has bestowed her with a range of capabilities and knowledge in different verticals of pharma industry and exposure to different nationalities, cultures and people across the globe, thereby moulding her into a global leader with excellent communication, collaboration and customer service skills. Delve into the following excerpts of an exclusive colloquy between Berit and CEO Insights to know more about her professional and personal journey.
Walk us through your educational and professional background prior to joining Bluefish Pharmaceuticals.
I pursued B.Sc in Pharma at Uppsala University and The Manufacturing Professionalism Programme at University of Warwick. My professional journey kick-started as a Pharmacist at United Nations, followed by diverse roles at
AstraZeneca, Manager CMC & Labelling QA/QC at Pfizer, and Board Member at Svenskt Projektforum. I went back to AstraZeneca in 1999 and held various roles, wherein Head of Planning was my last role in 2015. All through this journey, I learnt a great deal about multiple structures, processes, projects and professionals in the pharma industry across the globe.
How has your journey at Bluefish been so far?
With a long tradition of industrial entrepreneurship, Bluefish Pharmaceuticals was established by Karl Karlsson at Sweden in 2007. It was in 2015 that I plunged into Bluefish as its COO and later took-up the role of CEO in 2017 when Karl left the company. Since then, my main aim has been to supervise and control all strategic and business aspects of the company, while focusing on enhancing its turnover. I ensure to update myself on the latest processes and regulations in the pharma industry. Yet, the biggest challenges we face are cutting down costs and managing our relationships with vendors since we are a virtual company. Thankfully, we have proven to be a stable partner for them and gained a high service level of 95 percent, which is quite unusual in the generics pharma industry.
Berit never hesitates to undertake a new challenge across any field, always explores a way to overcome it with her passion for performance, and eventually delivers best results
Brief us about the idiosyncrasies of Bluefish.
Bluefish Pharmaceuticals outshines as one of the most progressive generics pharmaceuticals companies in Sweden. We have a wide spectrum of quality medicines within all major therapeutic areas, which are accessible at affordable prices. I've worked at its Development Lab in India for two years and developed our own products which have fetched tremendous success. Unlike traditional marketing, we perform virtual marketing, wherein our wholesalers and distributors proactively promote our products.
Being a small-scale company, we easily adapt with emerging advancements in the industry and
also try to stay smart in our endeavours. Recently, we introduced a lot of IT systems to enhance compliance security and reduce errors. We are also working on a few AI based solutions and a new ERP system which will be a game changer for us.

What are your thoughts on the current pharma industry?
The pharma industry is evolving at a faster pace with introductions of biological & chemical medicines at expensive prices. Hence, the generics industry has more scope of development with its affordable medicines. Even companies that used to reduce the prices to scare-off the crowd have changed their strategies to stabilize costs according to the market scenarios. At Bluefish, we are aiming to strengthen our position in the industry and increase business through our trustworthy partnerships.

How do you stay abreast of the advancements in the pharma industry?
I'm extremely fortunate to have strong relationships with many leaders and professionals in the pharma industry and also from verticals like IT, sales & marketing and others. We regularly meet and discuss about the industry's trends and advancements as well as on our WhatsApp group. I'm also a member of multiple pharma associations, forums and groups, which help me in being updated and voice over my thoughts. Apart from this, I read a lot of pharma related newspapers and newsletters to hone my ken.

Berit Lindholm, CEO, Bluefish Pharmaceuticals
Holding a strong technical and pharmaceutical background, Berit is taking Bluefish Pharmaceuticals to incredible heights through her ability to execute and deliver results, motivate self and teams, and her strong interpersonal skills.

Favourites:
• Hobbies: Reading books, skiing & attending small social gatherings
• Cuisine: Italian and Indian
• Travel Destination: Italy and India

To the Budding Leaders:
If you aspire to pursue the career of your choice, you mustn't be shy. You need to speak-up, build your confidence, network with people in the industry, learn from your peers, and stay in touch with your old universities. Try to learn as much as you can. When you leave from a good company, make sure you leave on good terms with them. Most importantly, always trust yourself and be yourself!