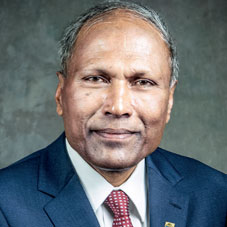 CiVentiChem is a premier contract R&D services company based out of Research Triangle Park of North Carolina. As the President and CEO of CiVentiChem, Bhaskar Venepalli is responsible for growing CiVentichem' business internationally and for starting a sister company, CiVentiChem India Pvt Ltd, in Hyderabad, India, which has since been fully integrated into CiVentiChem worldwide. CiVentiChem works extensively with pharmaceutical, biotech, biopharma ceutical and life sciences companies. Bhaskar has extensive knowledge of the contract R&D business including medicinal chemistry, lead optimization, drug development, manufacturing, regulatory expertise, and market launch of APIs. In this exclusive interview with CEO Insights, Bhaskar throws light on his journey venturing out on the global stage and his approach to success in life.
Please walk us through your profes sional journey and entrepreneurial journey.
I received my primary education from our village with population of about 1000 people. I secured degrees in BSC, MSC and PhD from Osmania University, Hyderabad. I am the first person to graduate with these degrees from our region. I also obtained an MBA from the Simon Business School, University of Rochester, NY.
My career in academics and research includes the publication of 34 research papers in international journals and six patent filings. My Ph.D. is in organic chemistry, and I have completed my postdoctoral studies at Southampton University, England and the Rockefeller University, New York. I am elected as a Fellow of the Royal Society of Chemistry, England, a Fellow of the American Chemical Society, and have won numerous awards for academic/business achievements.
What is that one principle that
helped you achieve success in your profes sional journey and ushered you to be a CEO today?
I have always believed in finding and delivering a solution that fulfills the customer's unmet needs. Everything we do should be with utmost integrity, honesty with the aim of caring for your employees and customers.
What are the services offered by CiVentiChem?
CiVentiChem has been providing simple solutions for complex chemistry problems for over 25 years to pharmaceutical, biotech and other life sciences companies worldwide.
As difficult as the ongoing pandemic has been for hu manity, it propelled innovation to form new companies in our space hence we see opportunities to grow our business
We are a chemistry based company with our core competency in complex organic synthesis. We specialize in solving the most challenging problems for our customers in the chemistry.
We are proud to be leaders to serve in the innovators space for pharma and biotech companies. As difficult as the ongoing pandemic has been for humanity, it propelled innovation to form new companies in our space hence we see opportunities to grow our business.
In your journey so far, what milestones bestowed you with utmost satisfaction both as an individual and a CEO?
Being a first generation entrepreneur, coming from a farming family and having grown up in a small village, I wanted to build something on my own and create employment opportunities for fellow chemists both in US and particularly in India. I feel fortunate to have accomp lished these goals. This will remain my biggest achievement, legacy, and mile stone, without a doubt, next biggest achievement being my community service.
Tell us about your association with other institutions and entities. Also, how do you stay abreast with the latest in the market.
I have been working as a mentor/career counselor with
American Chemical Society (ACS) for the past 20 years where in we help fellow chemists to seek better careers. In addition, we established 'Osmania University Chemists Alumni Association' to help chemists from Osmania University. I also serve on the boards (Board of Trustee) of North Carolina Agriculture and Technology university(North Carolina A&T University), Greens boro, NC as well as on the board (as Board of Director)of North Carolina Biotechno logy Center located in Research Triangle Park, NC. I am also involved in many community and civic service activities. I serve as a trustee (served past Chairman of the board) at Sri Venkateshwara Temple of North Carolina, Cary. Additionally, I
serve as a founding board member of TAHTS, a non-profit organization set up to serve the community here in North Carolina and past chair and current board member of North Carolina Indian American Political Action Committee (NC-INPAC). These roles help me to meet other successful profes sionals/leaders, help our community grow and develop in the US, learn new trends and find ways to help others.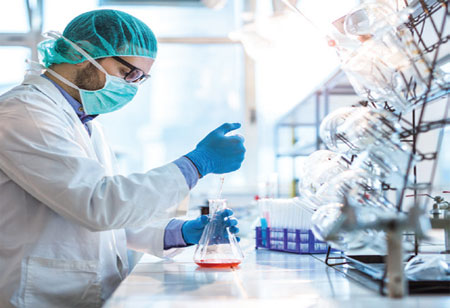 What are innovations and up gradation is currently happening in the company? How are you aligning with rules & regulations and certifications to meet the require ments of the USA government?
Expanding our capacities(acquired a new plant outside Hyderabad)and capabilities (plan to make this into a cGMP site) with the goal to make US FDA approved products.
What will be your advice for other international leaders who aspire to shift their area of operation to USA?
Be true to your self, keep commitments, maintain integrity, believe in your people.
Bhaskar Venepalli,CEO, CiVentiChem
After completing Ph.D. in Organic Chemistry Bhaskar started working as a manager in a chemical company. He has exhibited success in Custom Synthesis, Contract Manufacturing and CDMO industries and has worked for pharmaceutical, agro chemical and specialtychemicals companies.