Ranjeet Banerjee: An Innovative Leader in Cold Chain Focused On Creating A Purposeful Impact On Society

"Ranjeet's core capabilities lies in managing complex global operations, develo ping & driving strategy and innovation, in leading global teams and P&L management"
Headquartered near Boston, Massachusetts, United States, Cold Chain Technologies (CCT) has been an industry leader in thermal assurance packaging for life sciences for more than 50 years. Founded in 1967, the company has emerged over the years as a solid player and a global leader in thermal assurance packaging. Cold Chain Technologies is also one of the frontrunners partnering with vaccine companies around the world to make sure Covid vaccines are distributed effecti vely. Thus far, Cold Chain Technologies products have been used to deliver more than 300 million vaccines to date.
Ranjeet's core capabilities lies in managing complex global operations, developing & driving strategy and innovation, in leading global teams and P&L management. "What I enjoy doing the most, is to understand an industry space, especially in lifesciences and healthcare, understand the biggest opportunities and unmet needs to innovate and put together a strategic plan with the leadership teams and other members of the organization," says Ranjeet. His ability to strategize and take that strategy to the next level which is something real, measurable and delivers actual value to the society, that makes Ranjeet stand apart in the Cold Chain domain.
Navigating Through the Barriers of Cold Chain Logistics
The Life Sciences industry today faces considerable challenges in the form of growth of drugs, biologics, & vaccines, and many of these require thermal assurance packaging and digitalmonitoring. Such products have to be carefully trans ported all the way from the pharmaceutical plants to patients. Rigorous quali
fication is needed to be done to make sure that the product is compliant.In addition, there is assurance that needs to be built that the drug or the vaccine does not get spoilt during transit.
That's where Ranjeet comes in with his vast knowledge and expertise to spearhead the operations at Cold Chain Technologies. As a company,CCT does all theR&D, testing, manufacturing and qualification of the solutions.
"Ranjeet's core capabilities lies in managing global operations, developing and driving strategy and innovation,in leading global teams and P&L management"
Ranjeet's ability to scale up operations, to design products that are high quality, reliable, that meets the needs of the industry is something which he has been focusing on with Cold Chain Technologies. His experience in leading global teams, understanding and driving innovation, and aligning the organization to deliver innovation in a fast and effective way by bringing out the best in CCT teams to address the challenges has resulted in Cold Chain Technologies become a trusted partner of choice for global clients when it comes to designing critical solutions for the Life Sciences segment in Cold Chain.
In a pandemic, people get minimal amount of time to react, yet, the work has to be of high quality, with very reliable solutions. Those are some of the areas where Ranjeet's management and leadership skills have been put to play at CCT.
We are seeing new customers come in, and as they are growing their pipeline of drugs, we are growing along with them
Actively Supporting Covid Vaccine Distribution by Building Deep Capabilities
CCT solutions include designing, testing, and manufacturing products for thermal assurance packaging. What Cold Chain Technologies (CCT) does very well is that it is probably the only company that truly provides comprehen sive end-to-end solutions. Right from working with Life Science partner companies in designing and testing the products to comprehensively meeting their needs for online tracking system through inhouse data platform, CCT Smart Solutions, wherein the location and the temperature of the products can be tracked, which can give alerts before something goes wrong.
All the way from design to testing to manufacturing to tracking and tracing, alerting to helping customers, there is end-to-end assurance and integrity in Cold Chain transits. That's what Cold Chain Technologies does, probably better than anybody else in the world.
Over the years, the company has built deep capabilities in certain areas and constantly adding new capabilities when it comes to digital
technology."We are starting to use AI and ML technologies to help us in decision support. These are things we are working on, as well as becoming more global," mentions Ranjeet.
As a result of its continuously evolving capabilities, CCT under the leadership of Ranjeet has emerged as one of the most trusted partners in cold chain solutions for the Covid-19 vaccines through the support the company provided during the Pandemic. "We are potentially one of the largest manufacturers of products that have been extensively used for cold chain transportation of Covid vaccines," reveals Ranjeet.
A Global Leader in Cold Chain Innovation & Beyond
Life Science products are not contained within a geography, they move from pain A to Point B, where Point A could be Asia, or Point B could be the US or vice versa. Ranjeet makes sure that CCT has the scale and capabilities cross functionally to support the growing needs of this industry and provide the much needed assurance. At the moment, Ranjeet is heavily involved in adding new capabilities rapidly to ensure that CCT has, along with its bespoke thermal design capabilities, equally strong digital capabilities such as data analytics and the use of actionable insights, as well as designing more sustainable products. Ranjeet and his team of experts at CCT are working on the launching of reusable solutions, they are also designing products that are using sustainable materials, so that's another big area Cold Chain Technologies under the leadership of Ranjeet Banerjee have ventured into.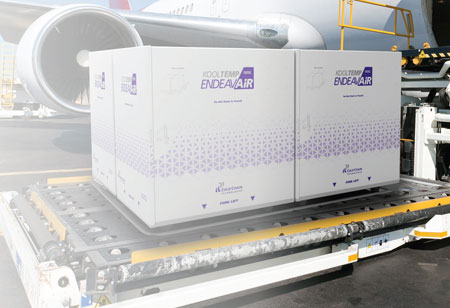 For the upcoming future, Ranjeet sees a lot of opportunities brewingup in the US, as well as outside the US. "We are seeing new customers come in, and as they are growing their pipeline of drugs, we are growing along with them," says Ranjeet. Ranjeet Banerjee's leadership acumen has led to a significant global presence for Cold Chain Technologies.
In very recent times, the company has seen many customers coming in from different geographies, be it from the Asia Pacific, India, or Singapore, China and Korea. In Europe, CCT is growing rapidly as well. The company has built up a solid partner ship there with DuPont for Tyvek® for Life Sciences transportation.
Under the guidance of Ranjeet,Cold Chain Technologies is also working on a collaboration which will put together thought leaders in the Cold Chain domain from across the world. Here, Ranjeet is focusing on new needs of the industry when it comes to in transit condition monitoring. He is leading the new initiative and has been pooling together partners. The idea of the collaboration to look at the new ways to transform the Cold Chain industry. It includes Pharma companies, distributers as well as regulators to understand what the compliance bar is.