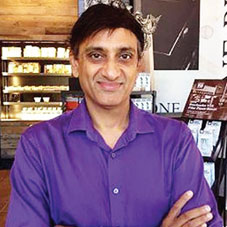 As an adherent learner who is eager to channelize his knowledge and expertise to craft trails of success for individuals as well as organizations, Dr. Sam Swapan Sinha is an eminent source of inspiration for many thriving professionals. Through his brain child Strategism, which has efficaciously gained a distinguished reputation of being a competitive business consulting platform is assisting leading as well as startup companies on issues of strategy, organization, management, financial management, marketing, clean tech, and technology management. Carrying a rich experience and spanning three decades as an Agile enthusiast, business, and life coach in the heart of Silicon Valley, California, Dr. Sam Swapna Sinha is currently navigating his firm through new age challenges to achieve bigger penetration and success across the B2B and B2C market.
CEO Insights magazine engages in an exclusive interaction with Dr. Sam, who is a believer in lifelong learning and is often lauded for his distinctive coaching methods.
Tell us about your journey as an entrepreneur. Elaborate on the roles and responsibilities undertaken by you at Strategism.
I started my career by teaching project management before moving over to agile and business analysis. Soon I started catering knowledge across the latest technologies such as data science, blockchain, artificial intelligence and so on. As learning and teaching are my passion, that's how the company got started and now we have branched into consulting as well. We not only train people but also help them get jobs because a lot of people who approach us, not just for learning, but also to improve their career prospects. We have helped them to get placed across the globe. Starting as a trainer, now we have almost 23 trainers who do all the training in different technologies. Via our consulting vertical,we help find solutions for our clients and provide them the right resources, developers and project managers and data scientists and blockchain experts.
Being the Founder & CEO of the company, I look after the day to day operations of the business and ensure that business is flowing smoothly from end to end. Starting from operations to sales, marketing, HR, and finance, I give my undivided attention to almost every vertical. Even if I remain submerged under my responsibilities for Strategism, I also carry on giving back to the world as a business coach, life coach, keynote speaker. Passionate about everything I do I always maintain a positive attitude towards life.
Developing the right mindset and working seamlessly with unper turbed focus trying catapulted me to the next level in my career
What are the major challenges faced by you in your professional journey so far and how did overcome those to evolve as a business leader?
Although the journey has been very much challenging, at the same time it is also exciting due to the versatility it offers. Offering a plethora of opportunities to keep myself occupied my journey as an entrepreneur has certainly compelled me to increase my limits. Working for almost 15 years with various organizations before I started my company, I had the mindset of an employee, which was the biggest challenge for me. By challenging myself continuously, I fixed it. Developing the right mindset and working seamlessly with unperturbed focus trying catapulted me to the next level in my career.
Can you tell me about the most exciting projects you have undertaken so far? What are the most crucial lessons that you have learned in the business?
The most exciting lesson that I've had in my illustrative journey of 13 years with this company, is the moment where I hit the first million dollar revenue. Creating a billion dollar business in American the market was the biggest challenge. Under taking the growth and expansion of the company from scratch to the first landmark was the most exciting and unforgettable project for me. After that, I just started creating a quicker model.
So how are you adapting to new tools or technologies to revolutionize your services to be at par with current industry standards? And what are your intentions to innovate your offerings further?
As technology improves dynamically
every day, I spend 3-4 hours daily in self learning so as not to become obsolete. I try to learn about new tools and the latest technologies such as artificial intelligence, neural networks, quantum computing and so on. Playing around with all these latest technologies, I try to learn new things and stay relevant with my clients and customers. Providing them impeccable solutions as per their demands, we not only stay relevant but also ahead of the curve. We like to stay at the forefront of technology continuously rather than in the mainstream business. We challenge ourselves continuously by reinventing and catapulting ourselves to the latest of what is going on in the marketplace.

What is your future roadmap? Are there any current innovations or predictions happening in the company, which might be reflected in the future?
As a trainer, teacher, coach and mentor, we are constantly investing across MOOCs, which is gradually emerging as the next big thing. Competing with other co-players in the market, we are targeting the financial aspects of the industry to make the courses easily available for large masses. None of them are providing any exciting or fantastic products, and with a high attrition rate is students barely finish their classes. People sign up very quickly but they lose interest after some time. Addressing these issues, we are building a platform called smarter learner. We are trying to create a very engaging, interactive and visual platform where after signing up students would not leave but would want to get glued to it. We expect that this should get us to a good space in the online education sector.

Dr.Sam Swapna Sinha,Founder & CEO, Strategism
Dr. Sam is a California based professor, CEO, entrepreneur, investor, trainer, life coach, mentor, philosopher, and social activist. He was born on November 15th, 1965, in Meerut, UP, India. As the CEO and founder of Strategism which is people's favorite, Technology Training, and Staffing firm established in 2008 in Fremont, CA, he has mentored thousands of students, professionals, senior corporate leaders, practitioners, leaders hailing from Fortune 500 companies to start-ups. He is an acclaimed writer with four books out in the market with the latest being World War III: Corona. A member of the Forbes Technology Council Dr. Sam is a keynote speaker, Youtuber, and a part of several think tanks. He strongly believes in giving back to society and plans to run a non-profit in a few years.