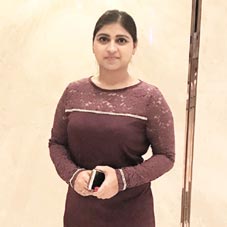 It is said that when a woman takes charge of leading a company the team will provide better solutions. Women tend to be faster in thinking, developing rapport with people around and are more likely to provide timely services. We've seen women establishing themselves as entrepreneurs owing to these strengths and hard work. Bhavika Wadhwani is one such woman. She is the Founder and MD of ByAndLarge, a successful venture in the corporate gifting space and Marketing & Advertising solutions (ByAndLarge.in) CEO Insights interviewed Bhavika Wadhwani about her journey and the journey of ByAndLarge.
What were the major challenges that you encountered during your professional journey and how did you manage to overcome them?
For most of entrepreneurs, funding is the major challenge, I was able to handle this by saving funds from my earnings and reinvesting to multiply the capital. I am fond of stock trading and earned a substantial sum which was added to the capital. There was nothing in particular that I found challenging in my journey.
Kindly elaborate on the various Consultancy services offerings your company is rolling out to its clients? Highlight its USP?
We first began with wholesaling of corporate gifts and thengradually ventured into branding, re-branding, exports and offset and now well established as Marketing & Advertising consultancy.
We've also planned to expand into more segments. I also dream of starting a manufacturing unit one day. USP ? We at ByAndLarge are trying to make the whole process as smooth and convenient it can be.
Work is a pleasure to me, and hard-work the ultimate luxury
Tell us about the overall journey of ByAndLarge. How has it nurtured itself over the years? Illustrate the growth it has observed in terms of clients and geographical presence?
At the age of 23, I had saved around 40 thousand that I had earned from the stock market, using such small capital commenced the journey of ByAndLarge. Started with a small scale business of wholesaling pens and pen drives, in this journey of five years, we have dealt with more than 600 corporate clients and delivered 35,00,000+ products. We have a portfolio of 7000+ gifting products covering 200+ brands. ByAndLarge has delivered more than 13000 bulk orders successfully.
Enlighten us about the factors that have helped ByAndLarge achieve the pinnacle of success, and what
impact has it created on the market?
As quoted by Arthur Ashe "success is a journey and not destination", I would just say, I am on a rewarding journey and enjoying every bit of it.

In your professional journey so far, which are the milestones that bestowed your utmost satisfaction - both as an individual and as an MD?
According to me, my biggest achievement is that my employees are happy to work at ByAndLarge, work-life balance is something I make sure my employees are able to maintain. We set deadlines which are manageable, in a few exceptional cases we work late nights and weekends, but I ensure employees are well rewarded for their hard work.

Similarly, I get enough time to attain my passion also. I do have a sort of interest in understanding people and their behavior, hence, studied psychology and got certified as a Depression Counselor. Adding to this, I am also a speaker, guest lecturer, an investor and will be producing a short film very soon (ByAndLarge Productions).

Bhavika Wadhwani, Founder & MD, ByAndLarge [BAL Corporate Services]
Bhavika Wadhwani has completed her PGDM under Cyber Law at National Law School of India University, Bangalore. Also, Bhavika Wadhwani is a certified Depression Counselor. Currently, Bhavika is the Founder and MD of ByAndLarge.

Know more: BhavikaWadhwani.com ByAndLarge.in