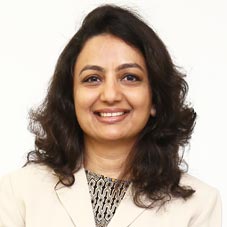 Number of women-led organizations is abysmally low in India where the corporate world is dominated by men. However, there are a fewremarkable women who are chasing their dreams and ambitions, starting new ventures, and rising to the top of the entrepreneurial hierarchy. They are succeeding in spite of immense challenges and societal prejudices, and standing tall and apart in the corporate world. One such ambitious and admirable woman is the bold and beautiful Bindu Hariyani, a stewardess of leadership and force of success behind the INI Group that includes INI Design Studio and INI Infrastructure & Engineering.
An architect by training, and a Business Strategist by profession, Bindu is the Founding Director of the INI Group. With over 25 years of experience in architecture and business management, she has a proven track-record of superior results in a variety of challenging and multicultural environments globally, Showcasing excellence right from a gold medal in academics, to being a successful facilitator of a multi-dimensional design and engineering firm, Bindu is an epitome of courage and determination.
CEO Insights engages in an exclusive interview with Bindu Hariyani to explore the endeavours in her journey.
Brief us on your personal and professional journey.
I received myBachelors in Architecture from the Maharaja Sayajirao University of Baroda. I was fortunate enough to be a gold medallist of my batch. I also earned a Masters in Information Systems Management from Robert Morris University of Pittsburgh, and an Executive MBA from the University of Pittsburgh.
Before starting INI, I was a partner in Hariyanis Architects, Interior Design, and Planning. Later, I worked for 12 years in the U.S and explored in various verticals ranging from a financial institution, non-profit organization, to the corporate promotional product industry, where I served in different management roles. My work was primarily dedicated to business process management, analyzing practices, and data to advise board of directors on business efficiency, productivity, and minimizing inefficiency using current technology.
That is how my role as a consultant evolved. Upon my return to India, I joined Burt Hill India as a business partner in 2007, continuing with Stantec in 2010, to the present formation of INI.

Walk us through the journey of INI. How has it nurtured itself over the years? Illustrate the growth it has observed.
We were 3 individuals when we started this office in 2007, and now we have grown to over 170 employees with multiple office locations in only14 years. It demands total commitment and dedication to build and nurture a company from its inception. You shape the vision, build a team, execute business development and marketing strategies, set up offices, make financial projections, build the technological infrastructure, nurture the desiredculture, and undertake every little task that is crucial for a new firm to thrive, even if it means washing dishes. You do your best and give it everything you have, often working days and nights.

INI started off as a subsidiary of a US-based architecture firm. Bringinga rich architecture and engineering portfolio with us was a valuable asset to start afresh in India. However, we immediately realized that India would require different strategies that brought the global outlook into local perspectives. We started working on buildings projects primarily, but slowly and carefully expanded to larger urban level and infrastructure projects.

As our portfolio expanded, we started operating from different locations within and outside India and got the opportunity to work with esteemed clients such as the JSW group, Shell, Biocon, and government departments like Ministry of Tourism, GoI, and the Tourism Departments of states like Andhra Pradesh and Gujarat. In 2015, we acquired ownership of this business from the parent U.S. company. In 2016, we also acquired a legacy engineering practice to add the MEPF engineering expertise to our umbrella.

Well-managed and well-set-up processes have proven to be very adept at anticipating market trends, capitalizing on new technologies, and using lean structures to outpace the competition. Our growth pattern is organic as well as through planned merger and acquisitions. In past 14 years, INI has successfully designed more than 20 mn square feet of healthcare infrastructure, over 13 mn square feet of commercial and corporate buildings and approximately 70,000 acres or master planning and urban design.

Elaborate on the variety of consultancy services and offerings that your company is rolling out to its clients? Highlight its USP.
With its rich expertise dedicated to excellence in design, INI team has a strong record of successfully delivering sustainable designs to our clients with integrity, team spirit, and best practices at a global level.
Our concepts integrate architecture, engineering & infrastructure, urban design, master planning, landscape design, and interior design. We incorporate cutting-edge innovation to portray energy efficiency and sustainability in all of our projects. We offer turnkey design and execution services under one roof including project management consultancy We have produced award winning design for our clients. Our focus is as much on business thinking as on design thinking, and we strongly believe that a business without profit cannot sustain itself to do good work.

Share with us a few tips on managing personal & professional life.
You will never produce your best if you are not satisfied with all aspects of your life. Managing your professional and personal lives are critical to making the most of everything you do. In this aspect, thinking critically about how you spend your time and energy is necessary for balancing both. . The driving forces which keeps me inspired is wealth of creativity, passion, vision, and values each individualcontributes to INI.INI invests in its employees' intellectual growth and encourages new thinking and ideas. Moreover, the culture of INI is more like a family. When one member needs time for personal commitments, others step in to share work responsibility, taking on tasks such as meeting with clients, pursuing deadlines, sharing workload, or field visits. I firmly believe that competing effectively in a service industry depends on our collective learning, experience, expertise, and commitment. Enabling a sense of ownership through moral and professional commitment is the key to INI's growth.

Bindu Hariyani Operations Director & Founding Partner INI Group
Being a registered architect and having earned an Executive MBA from a globally-ranked program, Bindu's expertise is invaluable in the operations of INI. Her backgrounds in architecture and business has brought senior-level experience and leadership in executive decision-making, policy direction, strategic business planning, and financial & personnel management.

Corporate Office & Other Locations
Ahmedabad, Atlanta, Mumbai, Pune, London, Vizag, Rajkot

Selected Recent Recognitions & Milestones of the company
• IGBC- Green Champion Award, Architecture Practice leading Green Building Movement in India", 2020
• CWAB Top Architect-2020 (National Architect)
• India's Best Design Studio Award, 2018By Pool Magazine
• Best Stadium Structure in Steel (Runner Up) SSMB Awards, 2018
• India's Best Design Studio Award, 2017 By Pool Magazine
• Best Low Cost Housing Project of the Year, Realty Plus, 2017
• The Economic Times & Saint Gobain Smart Green Awards 2016