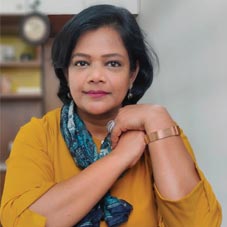 A21st century woman never shies away from conquering the world in her own terms and actively participates across the various domains of the industry. The industry is currently witnessing a stiff rise in women executives across the corporate arena by the virtue of their talents and expertise. Many niche domains of the industry including the consultancy sector which has been considered as unsupportive arenas for feminine competencies are now gradually welcoming the women leaders with open arms. Determined to remodel the consultancy domain with new age skills, Kavitha Rao is celebrated for her unique initiative known as 'Learners Route Talent Development Firm'. A Corporate Talent Development Firm that adds value in terms of Skill, Attitude or Knowledge to enhance business outlook, business transactions and performance levels. Learners Route is emerging as a leader in the corporate talent development field under the able leadership of Kavitha Rao.
In an exclusive interaction with CEO Insights, Kavitha Rao highlights her journey as a successful leader in the consultancy sector.
What were the major challenges that you encountered during your professional journey and how did you manage to overcome them?
No journey is complete without challenges. Hundreds of cups of coffee, long waiting hours at airports, design and redesign human learning interventions for small and big groups, tens of team meetings, checklists, on stage bloopers, emotional thanksgivings, moments of despair and gratefulness, adrenaline rushes before the start of workshops, meticulous follow-ups with learners and hundreds of book flips have added up to the brand name of Learners Route. When I started this entrepreneurial journey, I was warned that I should rethink as I did not have any business
development background or a huge network. But when you have a good product and sincerity on your side, everything else falls into place. I overcame challenges by ensuring quality and flexibility in our service offerings and not to get compromised with speed and volume.
Tell us what keeps you going- what is that driving force or inspiration. Also brief us how you keep your- self abreast with the latest trends and technologies in your domain.
Keep your clients close, keep your team members closer' has worked for me. Having 95% of your team stick with you from the first day of business to now is a testimony to the culture that has been put together piece by piece. In today's interconnected world, after our breath, technology is the next integral part. As a consultant, I am constantly looking at connecting and adding value to our training clients. This drives us to explore and partner with the latest technologies that can help absorb and make the learning interesting for clients. As a consultant, I also spend hours learning. The more I learn the more I realize how less I know, which acts as a driving factor for me.
Our products and services moved from conventional to blended versions of learning and then to digital and live versions very quickly by ensuring learning through training, assessments, and simulations
Tell us about the overall journey of Learners Route. How has it nurtured itself over the years?
Business has its own way of expanding like Ginger.
More than 25000 people have been added value to, through training, assessments or coaching in the last 5 years. On the first day at Learners Route, I drew the business plan on an excel sheet envisioning our organization to make meaningful value addition to skill and knowledge levels of people in different cities, for different age groups. Every year brought with it new sets of challenges. The first two years were spent on establishing our credibility.
Our products and services moved from conventional to blended versions of learning to digital and live versions very quickly. Now after 5 years, it's a worthwhile reality with thought leadership and immersive learning sessions. Our learning products and services are used within and outside of India. The one single ingredient is sincerity and collaboration in the path to being enablers in growth and development for individuals and corporates.

Although the onset of the pandemic has blurred the boundaries between countries, it has also opened new possibilities across platforms for all of us in this industry.

Kindly elaborate on the variety of Consultancy solutions and offerings your company is rolling out to its clients? Tell us about the impact it has created on the market?
The human mind is our foundational resource and what better use of our time than Knowledge sharing that is helping other people and businesses.

Our products and services moved from conventional to blended versions of learning and then to digital and live versions very quickly by ensuring learning through training, assessments, and simulations. We deliver high impact Learning products and solutions to corporate through inventive and flexible services which are our USP.

Some key values that have helped us steadfast are calm intelligence, earnestness, and respect for all alike. Secondly, maintaining the trust of people who trust our service is the magic mantra.

Kavita Rao, Founder & Director, Learners Route India
Kavitha Rao is the Founder Director of Learners Route India - an Award-Winning Knowledge, Training, Talent Management organization, which architects of world class Manager and Leader Development Initiatives for Corporate Houses across India. Kavitha Rao, by qualification has Masters Degree in Medical Psychiatry along with HR Diploma from California University. She is an Organization Learning & Development Professional with over 18 +years of professional experience in the field of Talent Management both in India and abroad.

Hobbies: Reading, Meditation, Spiritualism, Deep conversation with tribes