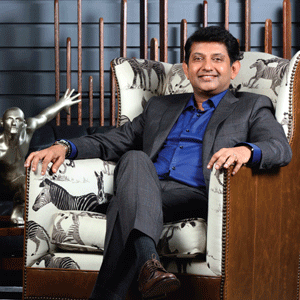 The Indian real estate sector which had been in a state of flux for the past few years is today witnessing a rise in demand for residential, commercial and retail space across urban centers throughout the country. Contributing to this phenomenon are factors such as rapid urbanization, rising household incomes, the growing economy, along with government initiatives such as 'Smart Cities' and'Housing for All'. While the demand for real estate is on an upward swing, the sector is also undergoing a series of fundamental reforms on regulatory and macroeconomic fronts such as implementation of the Real Estate (Regulation and Development) Act, implementation of a low interest rate regime, as well as reforms on Goods and Services Tax. As a consequence, the traditionally fragmented and unregulated market is now making way for consolidation and rise of corporate & organized players.
Although there has been a slowdown in the overall housing market, corporate players are doing better than ever and are gaining market share. Armed with the resources and financial flexibility to withstand near term challenges and scale up execution levels as required, corporate players have emerged as the game changers of the Indian real estate sector. In order to capitalize on the immense opportunities for organized players going forward while building on its legacy of trust and credibility, Birla Estates Pvt. Ltd., a 100 percent wholly owned subsidiary of Century Textiles and Industries Ltd.(CTIL), the flagship company of the B.K.Birla Group of Companies, has forayed into the real estate sector.
"Customers are increasingly becoming more aware and discerning. Therefore, organizations with demonstrated capabilities of providing a superior customer experience through focus on both product and service will have an edge over competition," explains, K.T.Jithendran, CEO, Birla Estates. Armed with a strong, well-established brand, a dynamic team with significant real estate experience, a strong pipeline of owned projects and strong sales & execution capabilities, Birla Estates has been setup with the aim of unlocking value from the existing land parcels held by CTIL. Head quartered in Mumbai with regional offices in NCR and Bangalore, the firm's focus is on urban locations such as Mumbai, Bangalore, NCR and Pune. Functioning with the vision to transform the perception of the Indian real estate sector by delivering an exceptional experience and creating value at every level for every stakeholder, Birla Estates is gradually charting its success story in the Indian real estate sector.
A Well Chalked-out Growth Strategy
A well thought out approach is often pertinent to build sustainable growth momentum, and Birla Estates is no stranger to this mantra of success. Founded in 2016, the firm has put in place its short term and long term goals, while also charting out its market strategies. Birla Estates'initial focus is on creating a strong brand name through development of premium/higher mid income residential housing in identified land parcels owned by the Group as well as through Joint Venture with landowners. In order to do so, the firm is looking to leverage a capital efficient, asset light model to source Joint Venture deals.
Birla Estates has a well established commercial portfolio with two grade A commercial buildings located in Worli, Mumbai with six lakh sq.ft. of leasable area that are fully leased out & occupied, and command a premium over other commercial projects in the micro market. The company is now working on developing over 200 acres of land owned by CTIL. These parcels are located in prominent micro markets of Mumbai Worli/Prabhadevi/ Kalyan, Pune - Talegaon, and Bangalore Whitefield. With a keen focus on design, customer centricity, technology and execution excellence, Birla Estates is building a niche for itself in the rather saturated real estate industry.
Sustainable & Tech Savvy Homes
For the longest time, the Indian construction industry had been run using archaic methods, which were
neither cost effective nor ensured safety and quality. However, keeping up with the digital revolution that has engulfed the entire world,the construction sector too has widened its horizons by leveraging tech trends such as robotics, Artificial Intelligence(AI) and Internet of Things(IoT). "The construction industry requires well coordinated design documentation using large numbers of skilled labour force working in safe site conditions. For all of these, technology applications such as collaboration tools, visualisation tools, project tracking and monitoring tools are very pertinent," explains Jithendran.
Birla Vanya's success can be attributed to the fact that the project echoes the very values of brand Birla trust and transparency, coupled with customer centricity
Technology can be very useful in saving time and costs, besides achieving quality. Birla Estates is reaching out to the many startups operating in this space to capitalise on their progress. The firm already makes use of Building Information Modelling(BIM) for designing its projects and is also exploring how this 3D model based process can be advanced into construction stages for storing the building information to be utilized for future operation and maintenance. Birla Estates plans to turn its focus on offsite construction where AI and IoT can play a major role, and is exploring smart city and building applications for its existing commercial offices.
While taking a tech foot forward, the company is also committed towards creating sustainable developments by utilizing energy management, water conservation, rain water harvesting, renewable energy utilization, provision of car charging points and CO monitoring, among others. "Our projects are targeted for minimum Goldrated sustainability and we already have two Platinum Certified Green Office buildings to our credit in Mumbai," informs Jithendran. Adding another feather to its cap is the company's recently launched project, Birla Vanya, Kalyan, which is a Pre-certified Gold Building project under the Indian Green Building Council (IGBC).
Birla Estates has also developed
Life Designed, an approach based on deep customer insight, created through thoughtful and innovative space planning and delivered through high quality execution. Ensuring that every solution and product of the firm is Life Designed, Birla Estates ties up with the best-in class execution partners to deliver a high quality product to its customers every single time.
Birla Vanya: Echoing Values of Trust & Quality
A testament of Birla Estates' customer centric, tech savvy and green approach to real estate development is Birla Vanya, Kalyan, a project designed around the life and lifestyle of Kalyan consumer, and provides beyond the common amenities associated with residential projects. A LifeDesigned project, Birla Vanya tells a tale of Birla Estates' emphasis on design and customer centricity. "Design for us is not just something that looks good, but something that also performs well, involves people, and interacts with them. Our research indicated that children's overall development, open spaces and security were the critical needs of our customers," explains Jithendran. Consequently, the project was designed with seven acres of green, thoughtful play and edutainment solutions for children, including a play school, separate play area for different ages, and multi-level security.
A labor of love of several world class partners, notably Architect Hafeez Contractor, Coopers Hill, Godrej and Boyce Mfg. Co. Ltd amongst many others. Spread across 21 acres and housing over 30 amenities such as daycare for children, day dispensary and clubhouse, among others, Birla Vanya has good proximity to renowned educational institutes such as B.K. Birla Public School, Lourdes High School and B.K. Birla College of Arts, Science and Commerce. The project's proximity to social infrastructure like Shahad railway station, Metro Junction Mall and Fortis Hospital also make the project a desirable destination for home buyers.
Birla Vanya makes for a smart purchase option for end users seeking a quality product from a trusted brand in and around the Kalyan catchment as well as for
investors keen on investing in an upcoming smart city. "The launch of our first phase was very well received by our customers; more than 400 apartments were sold within three days of launch with 80 percent of launched inventory being sold within the first month," exclaims Jithendran.

Building On the Birla Brand Legacy

Birla Vanya's success came as no surprise to the industry since the project echoes the very values of brand Birla trust and transparency. Birla Estates is carrying forward the legacy of brand Birla which has always been synonymous with nation building. For over 100 years, the Birlas have created engines of growth that have built the nation, from leading presence in several core businesses to world famous institutes of academic excellence, culture, and arts, among others. The company's foray into the real estate business is one more step in the Group's contribution towards building the India of the future. Birla Estates brings the B.K.Birla Group's vision of creating products comparable to international standards through better quality, latest technology and continuous innovation to the real estate industry.

"Birla Estates ensures that the buying process is less stressful by providing various support services to ensure smooth and seamless experience from the purchase decision to property possession"

Birla Estates also benefits from the Group's proven capabilities in the manufacturing domain, strong cost management & procurement capabilities, process orientation and superior execution quality. When applied to real estate execution and operations, these factors will enable Birla Estates to deliver high quality products to its customers.

This focus on quality, inherited from Birla Group's industrial lineage, is coupled with strong consumer understanding and insights which help the firm set new benchmarks in customer experience. "We believe in carrying-out extensive quantitative and qualitative research before starting work on any land parcel. These insights have helped us create the right product, right pricing and more importantly, go beyond amenities to create thoughtfully designed urban spaces keeping not just today but customer's tomorrow also in mind," expounds Jithendran.

Other than product delivery, Birla Estates also believes that in order to deliver exceptional service throughout the customer journey, the organization needs to be structured to be able to cater to the customer needs and queries with agility. The firm has thus built frontline teams that are empowered with adequate training and authority to take care of customers without constantly asking for approval. Focused on becoming a truly customer centric organization, Birla Estates has built a culture that its individual teams align their respective operations with the needs of the customers and work towards ensuring exceptional customer service.

Focused on the higher mid-income to premium segment, Birla Estates understands that first time home buyers in both customer segments have limited knowledge of the buying process and the various steps that need to be followed. The firm ensures that the buying process is less stressful by providing various support services to ensure smooth and seamless experience from the purchase decision to property possession. By maintaining transparency, the company makes certain that its customers get a complete understanding of the product features, costs involved, payments and other procedures, thus eliminating future dissonance due to lack of awareness.

Keeping its customers' needs as top priority, Birla Estates is gradually strengthening its position as the most preferred real estate developer. In the long term, the company is focused on developing world class residential, commercial and mixed use properties and envisions to be amongst the top three real estate companies in India.

KEY MANAGEMENT:

K.T. Jithendran, CEO
Armed with a degree in civil engineering from the Indian Institute of Technology and having completed his Post Graduate Diploma in management from the Indian Institute of Management, Jithendran has over 25 years of experience in the real estate development sector. An industry veteran, he has handled various functions of marketing, sales and human resources.

Offerings: RealEstate, Commercial and Residential Development

Offices: Mumbai,NCR,& Bengaluru