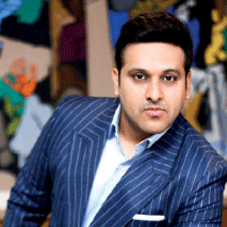 Due to the ever increasing demand for topnotch residential homes among customers, the real estate developers are currently striving to excel beyond the mere provision of homes towards creating valued and holistic living experiences for them. One such deeply committed real estate company is EKTA World that has been developing memorable residential projects for its customers in Mumbai, Pune and Nashik, since its establishment in 1987. Today, EKTA World is a pure and essential organization that stands out with the sole goal of creating refreshing living experiences for customers, while engraving a positive impact on the society.
The MD & CEO of EKTA World, Vivek Mohanani currently oversees the company's entire operations under the assistance of his beloved father Ashok Mohanani(Founder). Vivek has passionately explained volumes about his company's magnificence with CEO Insights.
How has the introduction of RERA, GST, and other initiatives in India impacted the real estate industry?
I personally believe that Real Estate Regulation & Development Act(RERA) is the best initiative that the Indian real estate industry has witnessed so far. This is because RERA has built a proper relationship between developers and customers, while everything is becoming more organized than ever before. Also, GST, Benami Property Act, REIT's and other initiatives are contributing to the seamless growth of the real estate industry in India.
Brief us on your company's journey so far. Also,what motivated you to join EKTA World?
The journey of EKTA World has been phenomenal so far! From developing standalone buildings during inception, we have soared high in our business due to the presence of great opportunities and understanding the ever evolving customer needs. Lake Homes in Powai(2004) was the stepping stone in our pursuit of developing bigger projects for community
living. Even in manpower, we have grown from mere 30 to 325 today.
In 2002, I joined EKTA World after completing my education, as I was very inclined to start my career right from the foundation. I kick started my journey with a standalone project in Kandivali, spanning 100,000 sq.ft.of area, and managed to successfully accomplish its entire operations. Later in 2004,I took over the complete residential project of Lake Homes(two million sq. ft.) right from the master plan, which was a much bigger responsibility. Today, I'm elated to have gained rich experiences in structuring, engineering, construction and a lot other domains, while taking responsibility of the entire company.
Our motto is to always create lot of unique amenities for our projects
How is EKTA World devoted to transforming local landscapes with global lifestyles through its residential projects?
We have three main categories across our residential projects, which intrinsically defines our overall system. The first category is affordable, with projects priced around Rs.50 lakh across the most sought after locations like Virar and Nashik. The other category is midluxury (our sweet spot) across Goregaon and Powai, wherein our latest launch Lake Riviera, has witnessed immense traction. We also have uber luxury projects, which include standalone buildings priced at Rs.5 crore & above, especially for HNWIs. These projects are poised across Bandra, Santacruz and Chembur, Dadar.
Our motto is to always create lot of unique amenities for our projects. One such project was Lake Superior(2008) in Powai themed on the concept of 'Villas in the Sky'. Since people in Powai were eager to experience the feeling of staying in a villa in the sky, we unveiled our 22-storeyed apartment wherein each floor had sunken garden and parking area. Even across our ongoing project EKTA Parksville in Virar, spanning across 16 acres is the first 15 storey marvel along with a podium. We have created different phases such as Central Park (with playing equipment for children), and Lincoln Park (with spaces for cricket, badminton, chess, basketball & others for teens). This project is a big boon for people who are in the lookout for landscapes with outdoor recreation.
Lake Riviera is another project where we tied up with Jean Claude Biguine Spa (Paris)to provide spa and salon facilities to our customers, right across their residences. Altogether, we provide semi furnished apartments with imported marble to modular kitchen, AC, home automation and many other features, akin to that of a high end building.

What are the various technologies and processes that you deploy across your company's operations?
In our EKTA Tripolis project, we have deployed Kumkang, Aluminum shuttering technology from Korea. We are also working closely to procure LEED Gold & Platinum certifications to develop green buildings. Even with regards to pricing, we have various schemes for each customer based on their requirements. Especially for customers who have to pay both rent and home loan EMI, we are coming up with a new rental scheme wherein we will be paying their rent for a specified period on their behalf. This way, we are innovating on novel schemes that can add value propositions to our customers. Moreover, we have well-knitted processes and systems at our company along with effective ERP software.

How do you stay conversant with the industry trends? Also, do you have any plans on diversifying your business?
We always ensure that our R&D team is abreast of the trends by letting them travel across the globe to learn newfangled technologies. For instance, we often use prefabricated steel columns & beams, which enable us to construct much faster than the conventional mode, with only a marginal incremental cost.

Yes! We will be diversifying into office spaces with our own rental models for corporates, and into the education sector. 'We Innovate, We Achieve' that's how we sail ahead!

Key Management:
Vivek Mohanani, MD & CEO
Vivek is the linchpin of EKTA World, responsible for its end-to-end operations besides moulding it into the most desired realty brand in India.

Location: Mumbai

Ongoing Projects:Verve EKTA Luxury Collection, EKTA Invictus, EKTA Tripolis, Panorama, EKTA Trinity, EKTA Parksville and many others