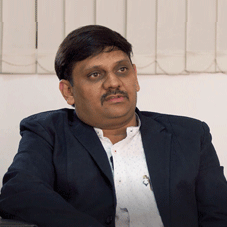 The IT industry in India is at an interesting juncture. With the exponentially increasing technology use cases, including the changing customer experiences and the emergence of smart city projects across the country, the roles of and expectations from the IT automation solutions providers are constantly redefined. The need of the hour is customized solutions that are at the cutting-edge of technology powerful enough to penetrate through the target markets and revitalize the overall experience. Over the past two decades, New Delhi-based Bits & Bytes Integrators Pvt. Ltd. (BBIPL) has been exemplary in developing requirement-based sophisticated automation solutions using a wide range of kiosks across various industry segments.
BBIPL's Common Use Self Service (CUSS) kiosks have been quite revolutionary in the Aviation industry, as they mitigate the passengers' waiting time by automating the boarding pass printing. Its portfolio that spans across 50,000 kiosks across the country also includes solutions projected towards smart city such as any time utility bill payment kiosks, Passbook printing kiosks in banking industry, RFID & Barcode solutions in automobile industry, and large format display kiosks in retail industry. To explore BBIPL's anecdote further, CEO Insights engages in an exclusive conversation with Amit Jain, Founder & Managing Director, BBIPL.
The competition in the IT solutions industry is huge. What enables
BBIPL to win the competition?
A complete team of technocrats differentiates us from our peer group. We are backed by a strong team of more than 100 dedicated professionals, with over 500 man years of experience, culminating in a complete range of IT excellence that helps us in providing on-demand business services. Being extremely organized with the responsibilities decentralized to different functional heads helps as well. They are equipped with a state-of-the-art automated in-house development facility, wherein we develop everything starting from the design to the final product according to the requirements of the customers.
We are backed by a strong team of more than 100 dedicated professionals, with over 500 man years of experience
On the other hand, in addition to our SOP, we source from OEMs directly, and thus ensure intact quality. We have close knit relationship with tech leaders like Intel, Digital Check Corp.(US), Custom Spa (Italy). We further complement our portfolio with a team of service engineers, who encrust over 80 percent of the cities in India. In addition, we also provide our clients with a standard three year on-site support, which can be extended up to seven years.
What inspired you to embark on this journey, venturing into such a populous and competitive arena?
Right after my college, in 1999, I went on a trip to Singapore. That was my first international trip and something that really attracted me was the abundance of kiosks over there. The idea of venturing a business in India pertaining to kiosks hit me from there. In truth, at that moment in time, half of the world and 90 percent of Indians didn't know what a kiosk was. Hence, the initial three years of my journey was projected towards acquainting people with the concept of enhancing their businesses with
kiosks. The outrage of global digital revolution that followed really helped my endeavor, while the emergence of touch screen took it to a whole new level. Today, we don't have to acquaint people with the benefits of automation. The influence of technology on people is immense, which helps us grow by 20-22 percent every year.

What are the opportunities that you foresee in the industry and how do you plan your future accordingly?
The opportunities ahead of us are huge, thanks to the union government's digital vision and the initiatives like digital India. The pace of market growth is quite overwhelming. Five years down the line, I expect the industry to grow at least three folds.

Today, Robotics and Artificial Intelligence are the hot cakes in the market. Hence, we are developing a gen-next AI enabled kiosk. Going forward, we constantly update ourselves with the latest trends. Apart from that, international expansion is also on the cards, and we want to evenly spread our presence in both the markets.

Key Management:
Amit Jain, Founder & Managing Director
An Engineer(B.Tech - Electrical) with an MBA in Information Technology, Amit started BBIPL right after his academic career was over. He is an exceptional leader, who has spearheaded the company into savoring an exponential growth over the past two decades.

Corporate Office: New Delhi

Product Categories:
•Banking Kiosk
•School Automation Kiosk Solutions
•Any Time Payment Kiosk
•Smart City Automation Solutions
•Food Ordering Kiosk
•CUSS Kiosk for Aviation Sector
•Large Format Kiosk for Retails Industry
•iPad Kiosks/Tablet based Kiosk Solutions
•Digital Signage Solutions
•Next Gen AI & IOT based Kiosk Solutions
•Customized Kiosk