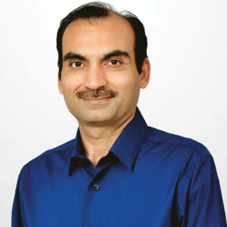 Take any industry in India today, be it IT, banking, finance or education, sedentary lifestyles among professionals are what they all hold in common. Well, the new trend is a nine hour workday, which has wiped out the traditional eight-hour workday, leaving professionals with various posture related ailments like cervical spine, upper & lower back pain, spinal dysfunction joint degeneration, rounded shoulders, and many others. Hence, a good posture is what they ought to maintain that not only reduces their back pain, but also improves their appearance, confidence, productivity and overall well being.
This is exactly the kernel of focus for Dipitr, a fast growing technology startup that seamlessly designs and develops innovative products in healthcare technology and wellness space for millions of people worldwide. Breathing the motto 'Building Next Big Things', the company takes pride in presenting India's first wearable 360 degree Posture Corrector and Posture Trainer Strack, which can significantly improve your posture, confidence and productivity in just two weeks of time. Thus, Strack not just treats posture related ailments, but also prevent them from occurring.
Strack is the brainchild of Amir Valani (Founder & CEO, Dipitr) who has elucidated a great deal about his firm Dipitr as well as Strack, during an exclusive colloquy with CEO Insights.
What inspired you to plunge into a niche concept like posture care?
Well, the foremost reason was that almost four years back, I lost my father who suffered a lot of problems due to severe back pain. Sitting continuously from 9 AM to 10 PM every day at his job for almost 40 years took a toll on his posture as well as health and thus, resulted in a gap at his L5-S1 (lumbosacral joint). He had two options then to either use implanted device or a wheelchair for the rest
of his life. He went ahead with implant, but that did not last long. This is what triggered me to become an entrepreneur and devise a solution to prevent back pain. Dipitr is my third startup, prior to which I worked at various hitech firms and managed a couple of startups that bestowed me with enormous B2B sales experience.
By connecting Strack to our free app, you can track your posture, number of times you slouch in an hour, how much time you sit straight, and a lot other aspects, real time
Brief us on the idiosyncrasies of Strack as compared to other devices in the market.
Prior to establishing Strack, we performed a lot of research on posture care and realized that almost 50 percent of the corporate employees in India were facing some sort of spine related issue. We also understood that the main reason behind these issues was bad posture or slouching. On the other hand, the traditional posture corrector belts available in the market were very inconvenient, tight and had no mechanism to track the posture. Also, finding the right size and fit among these belts has always been a tedious task.
Thus, to resolve these problems, we came up with Strack, a tiny wearable device (less than 15 grams) that delivers 360 degree posture care with builtin posture correction, training, tracking and management functions. By connecting Strack to our free app My Strack, available on Android/iOS, you can track your posture, number of times you slouch in an hour, how much time you sit straight, and a lot other aspects real time.
What different variants of Strack do you offer and where can your customers avail them?
Strack comes in two variants Adhesives (which contains reusable medical grade adhesive, but requires reordering every month and priced at Rs.5629) and Magnets (Flagship Product), which can be used for good and comes with one extra magnet, micro USB to charge and a plush cherry case. Strack (priced Rs.6,699) is available on e-Commerce platforms like Amazon and Flipkart, employee benefit
portals like BenefitHub Vintage Circle and others as well as our website. We also offer Strack to corporate employees wherein they pay 50 percent of the price and their firm pays the rest. Besides, few of the corporates even gift Strack to their employees during festive times.

Cast some light on the post sales support that you offer.
Firstly, we offer one year warranty and 14-day money back guarantee for each Strack, besides real time support on our website and mobile app for users through our dedicated staff. Leveraging our partnerships with 50+ physiotherapists from retail chains and hospitals, we offer free consultation to anyone who is suffering from posture related anomalies. Since we co-create Strack along with them, they also constantly provide us feedback on improving the posture rather than the product, while many of them genuinely recommend Strack to their patients.

Walk us through yourcorporate plan.
It includes free Physio Consultation worth Rs.500-750 for interested corporate users (twice a year) and also Better Posture workshops conducted by our physio therapists for corporate employees to impart healthy habits at workplace.

What is your take on innovation?
Currently, we are deploying Artificial Intelligence across Strack to personalize it based on each customer's posture, shape & size of their back or their requirement for prevention or curing an ailment. We allow customers to tailor-make their Strack, while we focus on adding more features to enhance this aspect. In the years to come, our emphasis will be on treating posture and back related anomalies of different brackets of people through our innovative wearable and non-wearable devices as well as accessories for existing products. By large, we aspire to build the world's first posture ecosystem!

How do you stay abreast to achieve the above innovations?
By learning about the trends in AI, wearable and IoT spaces and also networking with top physiotherapists!

Key Management:
Amir Valani, Founder & CEO
Amir is a passionate serial entrepreneur with a deep rooted vision of creating a better tomorrow for everyone using technology.

Offices: Bangalore & Texas
Product: Strack with Adhesives & Magnets