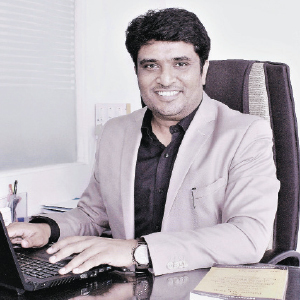 The significance of procurement and protection of Intellectual Property Rights (IPR)is surging with this fast-paced technology-driven era brimful of creative ideologies and inventions. While more and more inventors /entrepreneurs in India are in the hunt to secure their IP or to license those rights to a third party, the IP infringement cases (for instance, Intex & Ericsson) are steadily increasing. Excelling as a one-stop advisor of these issues, Brainiac IP Solutions plunged into the IP realm in 2010 to handhold individual inventors, institutes, universities, colleges, SMEs and MNCs to protect their inventions across India and the globe.
Harbouring a work experience on patents from one of the oldest patent law firms and a U.S. Law Firm, Suneet B Sabale (Founder & CEO) established Brainiac to minimize turnaround time of clients on R&D in different technology domains and safeguard their inventions from outrageous thefts. The following excerpts of an exclusive conversation of Suneet with CEO Insights illustrate Brainiac's portfolio of IP services that can prevent any sort of criminal IP infringement scenario.
How do you leverage the potential opportunities in IP realm? Kindly tell us about the philosophies you abide by while protecting clients'IPR?
As India stands as the hub of intellectuals with profound technological and English-speaking skills, increasing number of foreign companies seek to benefit from Indian R&D and IP services at reduced costs. Already working with several foreign companies from Europe and US, we see better prospect for offering our quality services worldwide in near future.
Infused with the philosophy of 'You grow, we grow', our team of professionals with extensive knowledge and global expertise
endeavour to deliver bespoke services to clients there by easing their efforts and bolstering growth. Understanding the gravity of time in IPR issues, we ensure that we stand by our promises on providing timely yet quality deliverables to them. Till date, we have never given fake promises to our clients regarding date of deliverables.
Right from conceptualization till commercialization of the IP, we assist our clients and stand as a one-stop-solution for all their IPR issues
As IPR entails patents, trademarks, designs and copyrights, what are the services you provide under these sectors?
Right from conceptualization till commercialization of the IP, we assist our clients and stand as a one-stop-solution for all their IPR issues. Be it garnering insights on white spaces, competitive research areas and new potential areas, analysing the competitor's patent landscape and conducting patentability searches to validate clients' inventions, we leave no stone unturned. We provide services from patent ideation till management which includes patent landscape, patentability search, patent drafting, patent filing, patent prosecution, freedom to operate search, patent valuation, patent licensing & assigning and patent litigation support.
For clients aspiring to secure the name for their product, services or business through Trademark Registration in India, we facilitate them with free trademark search report, trademark filing, trademark prosecution & litigation support, and trademark watch services (real-time identification of trademark misuse). On the other hand, we also protect our client's proprietary printed/unpublished works, be it literary, dramatic, musical or inventive through Copyright Law in India against infringers and other copyright breakers. Moreover, while designers create brand new and original masterpieces, we legally protect their zealous work through a fleet of design registration services that entail design search, design filing and design prosecution.
Further,our recently launched 'IP Basket' initiative provides a reliable IP exchange platform by enabling exhibition and transaction of unused yet highly potential IPs (patent or design) to a wide range of clients.

How do you ensure that your team delivers timely projects in tune with the technological trends? What are your future plans?
The mainstay of our services is our team of proficient and genuine staff & management (never a third party vendor) who balance the time and quality in project execution and delivery by playing the role of stakeholders. Prior to recruiting our employees, we ensure to choose the ones with a deep 'appetite for learning' and instil a strong stakeholding attitude in them. Provisioned with constant learning, training and upgradation of skill sets, they are well-equipped to work with clients from Europe, US, South Africa, Asia and India. Besides presenting all our clients with tailor-made solutions without adding any unnecessary financial burdens, we also assure to periodically remould each service with the advancements in technology, stay transparent in finances & procedures and respond quickly to their queries.

As a leading IP service provider company in India, we envision to provide quality services for companies and innovators while ensuring to implement correct patenting strategies and innovation decisions on a timely basis to eliminate any major fall backs. Also, we are aspiring to be the prime catalyst for India to outclass the three strong contributors to the world economy – China, US and Japan, pre-eminent with various great patent filings.

Key Management:
Suneet B Sabale, Founder & CEO
A registered Indian patent practitioner and recipient of Global Achievers Award and Young Entrepreneurs, Suneet founded Brainiac to translate his exceptional 13-year experience from the patent industry into stringent IP protection solutions.

Offerings:
• Patents
• Trademarks
• Industrial Designs
• Copyrights

Offices: Pune and Mumbai