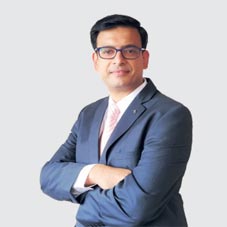 In the 2020 business climate, organizations are facing a more complex and competitive environment than ever before. As a result, the competencies of the leader who thrives in the modern-day business world is changing. Organizations are moving towards flatter structures, and they will need leaders who can thrive in a collaborative and cross-functional environment. To provide such kind of leadership learning, C2X comes in the picture. C2X is a training & coaching organization specialized in being trusted learning partners with leading Indian & MNC corporates, to address their ongoing learning requirements. The company has partnered with their client organizations in the entire learning & development value chain. Further, while having an exclusive conversation with CEO Insights, Ankur Dhanuka, Founder of the company, explains how they are committed to being a lifelong learning partner of any individual throughout the career span.
What is your core philosophy about Leadership Development?
At the core, we (at C2X) believe that a leader is the one who creates a positive difference. Therefore, everyone can play the role of a leader irrespective of their title or formal designation. Leaders rally themselves, their team and the organization to the next level of impact and performance. We contribute by empowering leaders with the needed tools, techniques, ideas and best practices.
What are some of the aspects that you cover in developing leaders for tomorrow?
We challenge our learners to look ahead, come out of the status quo mindset, think ahead and be a positive agent of change for a better tomorrow. We primarily look at leadership development through two lenses:
• One is through the lens of organizational development where
in strategic acumen, change leadership, innovation and resilience are some of the aspects addressed.
• Second is through the lens of people development wherein competencies like coaching, feedback, managing performance, execution and more are covered.
What is your approach and methodology for these leadership development programs?
Our programs are focused on both mindset and skillset. We create learning journeys (paths) and use a combination of interactions with stakeholders, pre-work, facilitation (now using virtual medium), assessments, action projects, group coaching, individual development plan and 121 coaching. Our methodology drives engagement, ensures peer learning, empowers users with tools, techniques, models, templates and checklists. Our subject matter experts along with our research team bring forth best-in-class insightful content. A combination of methodologies like role plays, group work, reflection exercises, videos, insights from leading books and white papers, case studies, learning from movies, polls, quizzes, etc. is deployed.
Leader is the one who creates a positive difference. Everyone can play the role of a leader irrespective of their title or formal designation
Enlighten us on various programs offered by C2X?
We conduct a varied number of programs in the domain of professional development like soft skills, leadership skills, executive coaching, sales training, strategy offsites and assessment centers. We run programs across a wide spectrum, right from the entry level to senior management level. We have delivered multiple training programs across India and Sri Lanka for our esteemed clients which includes MNCs, IT/ITES companies, banks, consulting organizations, e-commerce and manufacturing companies.
How have you changed the learning environment in the current COVID situation?
The adversities in 2020 have given us an opportunity to rediscover ourselves and we quickly shifted to
virtual platforms and online collaboration tools.

We understand the fatigue of being online all the time in today's era and hence have carved out short learning modules and deliver it over virtual medium. This helps those participants who are looking at quick actionable insights.

What are some of the challenges in training executives using virtual medium? How have you addressed those challenges?
Initially, it was quite challenging as everyone was getting introduced to a new way of working. We had to ensure that everyone is on the same page with respect to the virtual medium that we would use and whether the virtual tools are working in the client environment. At present, people are more familiar but we still follow a process to make sure the participants are comfortable with the learning environment.

Can you share something about the inception story of C2X?
C2X stands for Catalyst2Xcelerate. Passion for people development led to starting of this venture in 2012. Over the years more than 100+senior professionals sharing similar passion joined hands and contributed to the cause of learning.

We attribute the success of C2X to its founding team, team members and various subject matter experts. We express our gratitude to all our clients and 30,000 plus participants without whom this fantastic and mutually fulfilling journey would not have been possible. It is indeed a pride to continue to serve the clients till date with whom we started working in our first year of existence.

Ankur Dhanuka, Founder
Ankur is a highly qualified professional (CA, CS, MBA, DBF, NLP Practitioner) with two decades of banking and entrepreneurial experience. Following his passion for people development, he co-founded C2X in 2012. He moved his stream from finance to training, from being an equity analyst at an MNC bank to an entrepreneur. He echoes this strong belief that anything is possible which led him to start C2X too. He loves to share his experience and assists professionals, entrepreneurs and students to achieve their goals.

Services: Soft skills, Leadership Skills, Sales Skills, Executing Coaching, Strategic Offsites, HR Consulting.