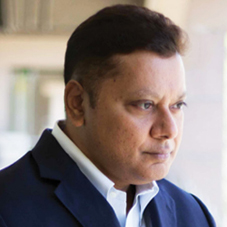 Innovative minds never sleep; they are always thinking of new ways to solve problems. Daily, disruptors are looking for the next industry that is ripe, anxiously waiting to unveil their market changing solutions geared towards challenging the status quo. Targets include every industry – from healthcare, food & beverage, banking & finance to hospitality and everything in between. To stay competitive, companies must be willing to invest in understanding their customers' evolving needs, as well as the changing business models that are being adopted in their competitive landscape. Disruptive innovation often comes from the periphery – areas that traditional players would consider as fringe or nascent and without clarity on their potential. This is the playing field where Cachet Innovation and Transformation, a Bangalore-based innovation consulting firm, thrives.
With a superior understanding of disruptive innovation and market needs, Cachet can help companies achieve growth by re-imagining sectors and creating new business models. Transcending traditional consulting services, Cachet offers a unique portfolio of services that extends into the practitioner realm, where it creates, owns and operates new ventures. Based on the agreed upon roadmap, some of these ventures remain as standalone entities, while others become growth ventures incubated inside large corporations.
As the Indian spin-off of Innosight, the world's leading innovation consulting firm, Cachet builds on its background to breathe life into the IP in the context of emerging markets, specifically India. "We have adapted and extended the underlying thought process and methodologies to the Indian context," explains Anu Kohli, Associate Director, Cachet Innovation and Transformation. This includes the work of late Professor Clayton Christensen – Innosight's Founder, illustrious author and the iconic management thinker who developed the ground-breaking concept of disruptive innovation. Anu adds, "Our approach to understanding consumer markets is based on the Jobs-To-Be-Done framework. It also helps us to discern the customer's view of quality and identify gaps that need to be addressed through business model solutions".
From Concept to Full Fledged Ventures
While Cachet provides Strategy Consulting and Market Research, it also augments them with creative services, smart recruiting and venture creation. These additional services evolved as the firm began helping clients achieve real world impact from business model innovation. "Typically, challenges are magnified when consulting solutions approach the implementation threshold," explains Venky Sridharan, Founder & Managing Director, Cachet Innovation and Transformation.
"What seemed like a structured, data and insight driven consulting exercise - involving problem understanding and solution formulation - starts to face internal and external roadblocks". He believes this is an inherent challenge with business model innovation, since targeting new opportunities demands creation or adoption of new business models. "When senior leadership brings us onboard, they are excited about the new opportunities and the new approaches to targeting them. However, we typically see a recurring theme: the rest of the organization is reluctant to change the status quo.
After all, they reason, this is the way the organization's current success was achieved," Venky adds. This is precisely why Cachet does not see the final report as its deliverable, but views it as a milestone and excellent starting point for delivering results via innovation. This approach helps in not only creating a robust growth strategy, but also in driving innovation so it can be translated into reality.
While the core principles are the same, innovation success varies from industry to industry. Cachet's approach of working closely with the client often leads to customized frameworks for that industry. As an example, the company recently tailored a novel framework that's unique to the food & beverage industry. The process begins with Market Discovery; the company leverages the Jobs-to-be-done methodology to gain a fundamental understanding of the market across the stakeholder landscape. Market findings are synthesized using a rigorous framework that involves examining circumstances of use, barriers to consumption, key trade-offs, consumers' view of quality and compensating behaviours.
"Using our framework, we are often able to highlight key insights, which can be instrumental in making a significant breakthrough," says Venky. This synthesis leads to the conceptualization of a business model that addresses the market discovery findings in a holistic way, which is explicitly shown using tools such as the Business Model Canvas. Cachet also conducts a Goals & Bounds exercise to ensure that the business model matches the company's vision, resources and constraints.
However, through the market discovery and synthesis effort, Cachet believes that every resulting business model will be built on key assumptions which need to be validated. This is why it is imperative that a market pilot be the next step. "We started with a concept, and Cachet built an entire company & team and took it to the market. Understanding how our product was being perceived and used in the market enabled us to make vital changes. We accomplished this without risking our brand in any way. That's a very valuable thing in the world of new product creation," says Rupesh Goel (Cachet's client in a former position and now Chief Product Officer, CropIn Technology).
The company approaches pilot ventures as on-ground operations designed for speed, minimalist in setup and focused on testing the concept and major assumptions. It also generates traction by iterating through multiple growth hacks. The venture incorporates actual customers with the objective of iterating and refining the business model via experimentation. Cachet has a systematic methodology by which all these objectives are accomplished before the business model is ready for scaling. Using this approach, Cachet has created many pilot entities which later became companies. One such entity tested a solution in the market, garnered feedback and evolved successfully and became the cornerstone of a nationwide digital health program.

Expertise in the Indian Market
Although the colossal Indian market presents a land of opportunities across industries, these spaces are fragmented and diverse, essentially a complex mosaic with multiple sub-markets. This complexity is further exacerbated by the lack of dependable data sources, as well as the presence of large unorganized portions in many major sectors, which are virtually undocumented. As the saying goes, everything you hear about India is true; however, the opposite is also true. To ensure that they gain the proper perspective into a specific market, Cachet devotes considerable resources to qualitative research and ethnography.

This intense approach provides more accurate data and insights than can be gleaned from mass market surveys and reports. For example, the Indian dairy industry is the largest in the world. And in some major states, 75 percent of it is highly unorganized.

Consequently, data is neither documented nor clear, even to industry insiders. Cachet studied this space via 250+ interviews & field studies and created a comprehensive report, which proved to be pivotal to a client's success.

"Our experience so far has been extremely positive. We have helped many clients successfully create specific business model solutions to navigate the complex Indian market across sectors as varied as healthcare, FMCG, dairy, digital platforms and retail. Cachet's journey in India has been exciting, challenging and replete with learning and self-evolution," Venky adds. He recalls a case where Cachet reinvented the channel strategy for a prominent Indian consumer player in the feminine health products segment. It resulted in a target segment which was fourfold larger and a projected 3x revenue that envisaged in the original launch plan.

The company believes its strengths in methodology and experience with multiple unorganized sectors make it an ideal partner for international firms seeking to tap various sectors of the Indian market. "The unorganized to organized transition is a big driver of growth in India across industries," says Venky. "The companies that understand where the emerging opportunities exist can dive into large areas of growth and expand their presence. In contrast, those that land in the known and populated spaces with undifferentiated business models usually end-up dealing with heavy price competition. They are disheartened, wondering why the Indian opportunity never seems as profitable as originally expected".

Cachet believes that the Indian market offers tremendous opportunity for international players in multiple sectors and will yield rich results for companies getting the correct view of the market, building business models based on that view, and having the right milestones and growth expectations.

Business leaders in today's world of rapidly evolving technology must always be prepared for the unexpected; they must also have the foresight to help clients prepare for their future. Cachet attributes much of its success to Venky, who amassed deep technical knowledge during his early career as a technology consultant. He later joined Roland Berger, a German strategy consulting firm. There, he was responsible for several growth strategy assignments for key clients in both the US and Europe.

Since 2011, Venky has been based in India, first leading the consulting practice for Innosight in India, and then making the transition to Cachet. He possesses vast experience with growth and innovation in multiple sectors in India, encompassing the new growth areas such as cloud computing, digital platforms and e-Commerce, and traditional ones such as healthcare, FMCG and dairy. He leverages his problem-solving skills to help companies solve complex challenges via innovation across business models, services and products with a sharp focus on catalysing growth.

High Calibre Network
Cachet's strategy of limiting themselves to a small number of high-quality client projects and having senior stakeholders closely involved in all phases of the engagement has enabled it to attain a high level of client satisfaction. "We are a boutique consulting firm by design, with our metric solely being client impact. We have the structure of an advisory firm which works closely with our client, building capabilities as we collaborate, building trust and relationships," Venky explains.

The company has a significant pool of industry resources across sectors who can be enlisted for specific ventures and cites several success stories across industries which are a direct outcome of this nimble approach.

"We supported a healthcare project at a flagship Indian hospital with 40+ resources over a period of over two years. We also built a dairy venture, including the facility, supply chain and brand. This was handled by a team of 18 professionals with a deep background in the dairy industry. This was only possible because we did not try to force fit generalist consulting resources into specialized industry roles.

More importantly, we envision ourselves as an extension of the client's team and treat their challenges as our own, which helps us address and resolve roadblocks on the path to growth via innovation," he adds.
Pushing the Envelope
Cachet constantly reinvigorates its own services to be more relevant to its clients. "One recent example is smart recruiting, as our clients faced mounting challenges in acquiring the skilled resources necessary to run new business models. This is only natural because new business models require new skills, experience and mindsets," Venky adds.
Cachet is also actively involved in adapting and applying the latest technology to its projects and ventures. Whether it is driving digital payments in unorganized retail or developing multi-modal platforms to help a client achieve its objectives in healthcare, the company strives to apply the latest solutions, pushing the envelope beyond the traditional line that is the current industry norm.
We have the structure of an advisory firm which works closely with our client, building capabilities as we collaborate, building trust and relationships
"At the end of the day, our core strength is helping clients with the best possible monetization of their offering. To get that right, we need to be spot-on with everything else – the consumer insights, the value proposition, the business model, and the judgement of the market. That's a big ask, but it's a challenge we thrive on," concludes Venky.
Key Management:
Venky Sridharan, Founder & Managing Director
Holding a Masters in Computer Science from the University of Texas, Venky also earned an MBA from the Ross School of Business (University of Michigan), where he was deeply influenced by Prof. CK Prahalad's insight on inclusive growth and strategy.
In addition to the deep experience he garnered during his stint as a technology consultant catering to Fortune 500 companies in the US, Venky also sharpened his management consulting expertise during his tenure at strategy consultancy firms like Roland Berger and Innosight, supporting clients across the US, EU and India.
Having previously lived and worked in US and Europe, Venky gained broad exposure to the corporate environment, as well as an appreciation of their cultures. These experiences have equipped him with profound insight into how to strike the right balance with multinational organizations to turn intelligence into action.
Location:
Bangalore
Services:
Cachet's impressive portfolio of services encompasses taking a panoramic view of its research, business model development and validation stages, and translating these into ventures running on the ground. These include:
•
Strategy Consulting:
Collaborating with C-suite and senior stakeholders on issues involving innovation at a strategic level
•
Creative Services:
Driving innovation by ideation and visualization of next-gen solutions
•
Market Research:
Primary research and ethnography based on the Jobs-to-be-done methodology with a heightened focus on actionable insights for business model innovation
•
Smart Recruiting:
Enabling organizations to hire, train & incentivize the right resources to execute innovation projects. This is critical because traditional skill sets may not necessarily be the right fit in early stage innovation ventures where metrics are undefined, failure rates are high, and versatility is paramount
•
Venture Creation:
Creating and running ventures on behalf of a company to test new business models and evolve them to maturity – either as a direct extension of the company or working at an arm's length to shield the organization from operational & brand risks. Not all companies are equipped to implement a new venture – or they fear it may damage their brand.
Cachet has the business acumen to create and test a business model – on their behalf – that will limit risk and is less expensive.
Case Studies
• Cachet supported a major client in revamping the OPD patient flow & experience at a leading Indian public-sector hospital. This was done by restructuring of infrastructure, processes, IT systems and on-ground support staff, and led to reduced wait-times for patients and better crowd management for staff. The OPD transformation effort received honorary mention from Prime Minister Narendra Modi, with a plan to replicate it at leading government hospitals across India.
• Cachet helped a leading player explore growth in the Indian dairy market. The company studied the unorganized space, and helped the client evolve a viable solution around its technology. Next, they setup a dairy plant, supply chain and brand for a detailed market test. The dairy plant was established in record time. The client was able to identify key improvements to their entire technology solution, which would have otherwise cost millions of dollars and a host of negative market implications if discovered via the traditional approach.
Cachet in the Spotlight
• Offers unique services which extend into the practitioner realm, where it creates, owns and operates new ventures based on its consulting findings
• Cachet builds on the Innosight methodology and brings it to life in the context of emerging markets, specifically India
• Developed industry specific frameworks and tools for clients, enabling them to create, monitor and drive innovation in their organizations. This is a combination of best-in-class approaches, industry specific elements and company specific areas of emphasis.
• Achieves high satisfaction rate, client retention and repeat business by purposely taking-on a limited number of high-quality projects and involving senior stakeholders in all phases of the client engagement