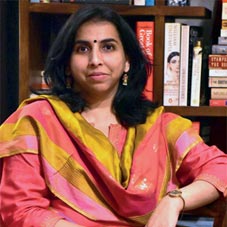 The corporate realm is moving at a rapid pace and organizations operating in all the various industry verticals are running with a profitability mindset. Giving back to the community is not even happening in most organizations with profit margin given more importance than community development. Changing such norms in the business world is Space2Grow. Space2Grow was founded with a belief that the role of non-profits and community based organisations is a key to accelerate impact. These organisations and social start-ups play a pivotal role in providing last mile benefits. Space2Grow believes that there is a need for impact investors and donors to journey with these organisations, to achieve amplified impact and sustainability. One of the crucial driving factors behind the growth of Space2Grow is its founder and a serial social entrepreneur, Chitra Iyer. Her industry expertise and experience has been a major catalyst behind the success of the organization.
To know more about her professional journey to find out how Space2Grow is making a difference, CEO Insights engages in a free-wheeling conversation with Chitra Iyer.
Give us brief details about your educational and professional background?
I majored in Economic Honours from Miranda House, DU while my Master's degree in Social Work is from the Tata Institute of Social Sciences (TISS). It's my alma mater that helped me shape my thoughts and give structure to them – t hat social work is not charity or mere activism but choosing the right approach to solve complex social problems. I have had a rich experience starting with my first stint as a fellow at Care India and then later at the British High Commission and Dr.Reddy's Foundation. In 2013, I co-founded a
social enterprise called Livelihood Initiatives for Empowerment (LIFE) – an organization where I was able to work with both the ministries at the GOI but also with corporate across the skills spectrum. I have also designed and pioneered a skill development program for survivors of human trafficking that was launched by the Honourable President of India in 2018 – while being part of an antihuman trafficking organisation.
As a woman leader, how are you influencing and inspiring others in and around your professional and personal stratum?
The only way one can influence or inspire is when one lives one's beliefs come hell or high water. I am no exception to that and my core belief is in doing work that impacts lives in a positive way, that creates value and maximises the impact even if it comes at the cost of the pecuniary benefits. I have continued to tow that vision and I continue to walk the talk. Without compromising on your family life or anything else you love! It's that work and that attitude that changes things and people around you.
The right vision of impact, a team that could work miracles and partnering with the right organisations is what helped me and my Co-Founder Anuj Singhal create Space2Grow
Tell us about Space2Grow and the various services that you offer and how do you uniquely run the functions of the company?
The right vision of impact, a team that could work miracles and partnering with the right organisations is what helped me and my Co-Founder Anuj Singhal createSpace2Grow. Space2Grow is all about focussed, 'roll-up yoursleeves' collaboration in service to the grassroots organisations and their causes. It provides a gamut of services including capital acquisition, strategic and operational advisory, program management and financial & governance support for CBOs, social start-ups, and non-profits. It also mobilises the donors/CSRs across the issues of Anti Human Trafficking, child protection, inclusive livelihoods and education. We think we are an 'un'consulting
firm since our vision for the causes and expertise are deeply integrated with those of our clients as well as that of the donors/CSRs.

We have also organised and led inclusive skilling workshops and webinars – along with government bodies and some good organisations. One of the key initiatives that we are really proud of was a series of "first responder' training programs.

How do you update yourself with the latest technologies and industry trends in order to keep your company inpar with today's cut-throat competitive world?
Competition is cut-throat when you don't believe even a little in collaboration. In my field at least, I subscribe to the thought that if you want to have a great impact through your ideas, working to your strength and complementing it with the others' is key. In the social sector especially, if competing with everyone and winning at all cost attitude overtakes all else, then it will never lead to maximising impacts.

But of course I keep myself updated – not just to increase my know-how but also to how to continue to be a good human being. I read and interact a lot with sector specialists – even if its over coffee. There are a few blogs and podcasts that push you to think differently and help in problem solving.

Do you have any advice or suggestions in mind for other peers or women who seek to fulfil similar dreams?
Building things from scratch is difficult. It's hard, gruelling, thankless work but let that not come in the way of your core belief, in your core work area and in yourself. If you believe in something – persevere, continue to believe in it no matter what till you hit your milestones. And own the success – you deserve it. Be at it, and the path will make itself clear.

Chitra Iyer, Founder, Space2Grow
Chitra has got immense industry expertise and wisdom and has been a cornerstone for the sustained growth of Space2Grow. She has held respectable positions in multiple reputed companies as well as carried out notable business ventures of her own.

Accomplishments:
Delivery of Training Program and Workshops for Skillng Anti Human Trafficking Child Protection and Education