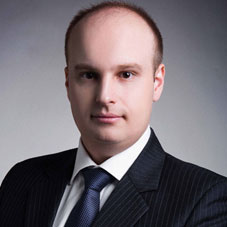 While leading one of the most influential FinTech firms in Dubai, Cristian Vlasceanu's success as the CEO of Centroid Solutions has not only been remarkable but also accentuated his identity as a specialist of cutting edge finTech solutions. Cristian's background in developing distributed applications, low latency services, database modeling, data structures, and algorithms has cemented his position as an industry stalwart and is currently engaged in guiding a team of skilled professionals who help clients optimize their trading environments. Despite his fully packed daily schedule, Cristian still finds the time to advise on new product developments as he firmly believes that there is always room for improvement. He is also well known for taking the time to build a personal level relationship with each one of his team members.
What motivates you as a new age leader? What are the challenges that you faced during this phase and how did you overcome them to reach your current position?
The FinTech industry is a very technology driven domain that is very fast paced and dynamic.It's very important tocontinuously innovate, develop and push, to remain in the frontline, and to be able to satisfy the requirements of our customers. This is what motivates and drives me as well as my team to stay relevant.
I've spent my entire professional career in the FinTech industry. After finishing my studies, I started my career with a startup as a software developer, where I had to be involved across all the aspects of the company starting with software development, customer support, pre sales activities, network and system infrastruc ture, design of the systems, and so on. I consider that phase to be one of the most important facets of my journey because it allowed me to see all the aspects of the business and deal with all these different issues. Equipping me with a very good overview and unique skill set to under stand what is important to succeed in this industry, all these challenges helped me to reach success as there was a lot of hard work and dedication that was put in every day to constantly learn, overcome obstacles and stay relevant.
To continue executing our vision, remain unique and have an upper hand over the competition, we need to constantly push ourselves and constantly redefine to further develop our system.
How does the company stand unique from its peers in the industry? What are its USPs?
Operating in a technology driven industry, we've identified that it's very important to create a comprehensive solution that can cater to multiple aspects and multiple challenges that our customers are facing. And when compared to our competition, I believe that our solutions are much more comprehensive and practical. To address the ongoing challenges of the industry, we have taken a different approach, and created a system that is allowing our clients to tackle multiple aspects of their business from one unified solution. This allows for optimization and efficiency, within a dedicated system, which completely outperforms separate solutions. Additionally, I believe that the challenge is to stay relevant, as every thing can change very fast in our industry. By constantly engaging with the customers and listening to their feedback, we can predict the upcoming changes as well as their impact on the future. To continue executing our vision, remain unique and have an upper hand over the competition we need to constantly push ourselves and constantly redefine to further develop our systems.
What strategies have you followed to overcome the challenges imposed by the pandemic?
With the onset of the pandemic, we've certainly seen acceleration in the adoption of technology, across all markets.This has been most evident within the FinTech space and the trading environ ment. There
has been a significant rise in customer engagement and demand for trading and investment products, compelling the brokers to expand their operations and cater to these additional requirements as well as the influx of interest. We have been fortunate to foresee this and had therefore already started to enhance our systems and solutions, from before the pandemic, to be able to provide better market access and span our solutions across multi assets. This turned out to be hugely successful, as it matched the requirements of our customers.

Tell us about some of the major achieve ments that gave you utmost satisfaction professionally?
One of the most important milestones for me was to reach the position of CEO. To me being a CEO and a leader of a company comes with great responsibilities, as we are responsible for the livelihood of everybody in the company as well as the success and business of a lot of other entities, our customers. While handling such critical systems, what gives me motivation and satisfaction is receiving positive customer feedback for our hard work. Doing a lot of research and continuously building new features for the customers, based on our understanding of what will be their future needs, nothing motivates us better than the validation from the customers after they have deployed and benefited from our solutions.

You are also known for building personal level relationships with not just the clients but also the team members. Shed some lights on that aspect.
It is very important to know everybody from your team, to trust them and rely on them fully. To be successful, you need to empower the people who are part of your organization, as it is always a journey for everyone. As I've started my career as a developer and IT person, I didn't have much experience when it comes to team building and management. However, I was able to learn this along the way, through the experiences that I've had, being involved in all aspects of a business, relying on my teams and helping them. To succeed, it is important to ensure that you put a lot of emphasis on your employees and your team.

Cristian Vlasceanu, CEO, Centroid Solutions
Cristian holds a Bachelor's degree in Computer Science from the Polytechnic University of Bucharest, Romania, followed by a Master of Science from the University of Amsterdam in the Netherlands. Apt in programming in terms of professional background, Cristian has given a fair share of his career to the FinTech industry. Starting his professional journey from the very bottom as a software developer and technical support engineer with a startup company at the onset of his career, he has demonstrated exponential progression to rise to the level of CEO of one of the world's leading fintech providers, Centroid Solutions.