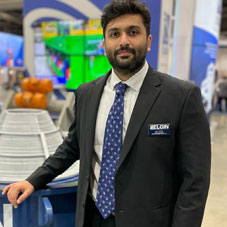 In the ever-evolving business landscape, leaders with strategic vision, unwavering determination, and a commitment to excellence hold the key to ushering in a new era of growth and innovation for their companies. Through their forward thinking mindset, such leader identifies emerging trends and technologies that drive progress. Their relentless determination enables them to overcome obstacles and inspire their team to reach new heights. By fostering a culture of excellence and continuous improvement, they empower their organization to embrace change, as well as, courageous and innovative ideas. Leaders like Dev Mehta embody these exceptional attributes, acting as transformative catalysts who propel their companies toward a future defined by resounding triumph and ground breaking innovation.
A dynamic leader and the Director of Kem-Tron Technologies India, Dev Mehta has played a pivotal role in transforming Kem-Tron into a thriving entity. Under his visionary leadership, the company has witnessed unprecedented growth, with the annual turnover increasing five fold in just two and a half years. This remarkable accomplishment stands as a testament to Dev's strategic acumen and ability to drive tangible results.
Below is an excerpt of Dev Mehta's exclusive interaction with CEO Insights magazine.
How has your journey been so far at Kem-Tron Technologies? What is the motivation that fuels your daily routines?
As the Director and General Manager of Elgin Separation Solutions' Indian operations, I have successfully overseen the transformation and remarkable growth of the company's footprint in Southeast Asia and the Middle East. In just two and a half years, we have seen unparalleled growth in our topline revenues. I lead a cross functional team across sales,
marketing, operations, and finance, we are all driven by our shared passion for growth and professional excellence. My earlier entrepreneurial experience and the absolute thrill of achieving triple digit growth fuels my motivation. Being able to witness the intricate interplay of key control points in order to drive transformative changes within the business brings a great of satisfaction along with constant excitement.
Being able to witness the intricate interplay of key control points in order to drive transformative changes within the business brings a great deal of satisfaction along with constant excitement
Could you tell us about the unique experiences the University of California offers and what did you learn from the campus beyond academics?
Attending UC Berkeley, the world's second-ranked university for chemical engineering and a top-ranked public university, was an immensely impactful experience for personal development. The diverse cohort of students from around the world brought a wealth of knowledge and perspectives, making it a constantly stimulating and invigorating environment. The university offered flexibility in course selection, allowing me to explore subjects like strategy, finance, and supply chain management which extend well beyond the domain of Engineering. We were constantly challenged not only by peers but also by academia, hence fostering critical thinking and allowing us to develop a new sense of interpretation of any problem. Beyond academics, Berkeley shaped my personality, and my overall confidence, and brought with it a global outlook.
Tell us about your flagship offerings and the value additions that customers can expect from your products and services.
Elgin Separation Solutions is a leading provider of innovative solutions in the field of separation technology. Our flagship offerings encompass a diverse range of cutting-edge products and services catering to various industries and markets. With a strong focus on efficiency and productivity, Elgin delivers state-of-the-art equipment
like centrifuges, shakers, vertical cuttings dryers, and tailored turnkey packaged systems in industries such as oil and gas, mining, wastewater treatment, horizontal drilling, tunneling, and environmental remediation. The advanced technologies enable precise separation of solids and liquids, maximizing resource recovery and minimizing environmental impact. Backed by extensive research and development, Elgin's flagship offerings have earned us a solid reputation as a trusted partner in the global market.

Tell us about your leadership approach, and the guidelines or methodologies you follow to lead your team.
My leadership approach is rooted in data-driven decision-making, where logic takes precedence over emotional involvement. I prioritize the holistic growth of the team as the business expands and strongly advocate for a flat hierarchy, making transparency crucial in the business between all stake holders. Challenges are approached with a logical mindset, carefully assessing priorities, and determining the optimal path forward. Keeping the team motivated and aligned with our ambitious goals is essential. Drawing from past experiences, I have learned to separate emotions and implement a balanced reward system, fostering success and maintaining a cohesive team dynamic.

What is the future destination you are heading towards?
The primary objective is to expand the business beyond our established markets. While our goal is to continue growing in our existing markets, we also aim to enter new markets and introduce innovative products in parallel industries. Personally, my goal is to advance to upper management within the organization and further develop the Indian operation to accommodate additional product offerings.Furthermore we strive to establish an extensive distributor network to reach various markets worldwide.

Dev Mehta, Director, Kem-Tron Technologies
Dev Mehta has had a diverse career spanning technology, strategy, and leadership roles. With an MS Degree in chemical engineering from the University of California at Berkeley, Dev with his strategic thinking and effective leadership, has consistently driven success across various domains, demonstrating versatility and adaptability in his career journey.