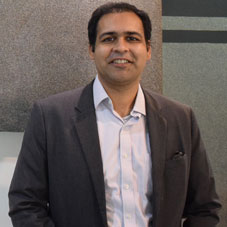 As one of the public Ivies, the University of California (UC) at Berkeley is celebrated for its consistent ranks and notable alumni. Charting the same path, one of its arms, the College of Chemistry, has also been a breeding ground for future ready entrepreneurs and leaders who have blazed the trail in every industry they forayed into. One such trendsetter is Moulik Ranka, a chemical industry veteran who has been instrumental in creating a sustainable society through his exceptional prowess, business acumen, and dynamic leadership executed in his family-owned specialty chemical company, Zydex Industries. Incorporated to create a greener planet through effective resource conversation and management, this 26-year old award winning company stands as a pioneer in redefining the domains of textiles, agriculture, pavement, and construction.
CEO Insights magazine recently got a chance to interact with Moulik, where in he spoke about his experience and endeavors. Below are excerpts from the exclusive interview.
Tell us about your academic journey and the unique experiences you acquired at the University of California, Berkeley.
After completing my schooling in Vadodara, India, I moved to the US to pursue my bachelor's degree in Chemical Engineering from the UC Berkeley College of Chemistry, which was and still is consistently ranked number one in the world. Hence, I knew that I was amongst the selected few when I got admitted there. The academic experience was extremely rigorous, wherein your innovative and creative aspects of problem-solving were always challenged, and going above and beyond was essential to success. But the lessons instilled by my parents pushed my brother and me constantly to understand the fundamentals of any concept, which helped me thrive at Berkeley. The combined education molded me to think outside the box and prepared
me for the real world, which is fraught with ambiguous problems.
Give a brief account of your professional expertise that propelled Zydex Industries to the forefront of innovation.
I decided to work in my family business for two years before returning for doctoral studies at the University of Illinois, Urbana-Champaign. Since graduating there, I have been actively participating in driving Zydex Industries forward. I joined its textile department, where I held a key role in introducing new products for pigment printing by modernizing the plant and the formulations. I was also responsible for blending innovation into inorganic chemistry. Paints, as an area, are synergistic with waterproofing, and we had always wanted to introduce a line. But, when our introduction of acrylic-based paints was deemed in effective, we transitioned to tailoring silicate-based mineral paints to suit the Indian weather and environment, which, in turn, alleviated the long standing challenges of the shelf life and limitations of the paint. The business has grown substantially since then and we have expanded our footprint into Bangladesh, Indonesia, and within the corporates in India.
Everyone is encouraged to be initiative-oriented & innovative in their field of expertise & to take ownership of day-to-day operations
What are the values that Zydex Industries follows to consistently maintain its mark in the chemical manufacturing industry?
Zydex's principle of thoroughly believing in sustainability guides us to evaluate technologies at the nascent stage and enhance sustainability either through reduced usage of raw materials or increased life cycles. While Epricon replicates the properties of reactive printing using pigments to reduce waste-water generation in the textile domain, we have significantly rendered water-proof and weather-resistant roads and eliminated the need for mining and transportation of stone aggregates by using only in situ soil, thereby strengthening the bonding of bitumen. In the agro sector, we have recently introduced organic bio-based fertilizer to help farmers avoid any yield drops. Our silicate-based paints, on the other hand, are designed to last more than
20 years.

What are the factors you take into account to ensure the smooth running of operations? How do you train the team to contribute to the company's progress?
We believe that people are our biggest assets and are proud of our SA-8000 certification, which induces social accountability in business. Mistakes in implementing new systems are never frowned upon, even when they can end up being quite costly. Everyone is encouraged to be initiative-oriented and innovative in their field of expertise and to take ownership of day-to-day operations. Till now, Zydex has invested in not only cutting-edge technologies to enable ERP,productivity, data visualization, and sales management but also in ecofriendly initiatives such as solar/wind power, rainwater harvesting, and CSR, through which we strive to educate and empower the lives of our citizens in remote villages with fewer access to resources. We have 13 depots across the country that allow us to distribute our goods across India efficiently.

Where do you see yourself headed in the coming years? What is your future roadmap?
Focusing on the domains of agro and paints, I am currently formulating a 3-year business plan to establish this line of products in the company. We are confident that our innovations will be welcomed in the large, retail-oriented market, which is marked by high competition and relatively high-priced products. Our future plans will also include expanding our market footprint for these innovative products abroad in certain key markets, like North America, where we already have an excellent position in the road networks, along with Southeast Asia and the MENA region.We are continually investing in land, buildings, and machinery to cater to the increased demand for our products.

Moulik Ranka, Director, Zydex Industries
With a bachelor's and a doctorate degree from eminent universities, Moulik Ranka brings in over a decade of chemical industry experience. Over his career journey, he has worked as a commercialization analyst in the office of Technology Management at the University of Illinois Urbana-Champaign, and as manager of R&D and product development at Zydex Industries before taking the reigns of the directorship.