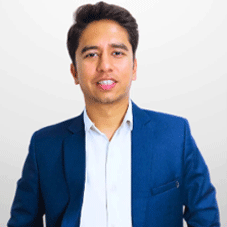 Success is not the absence of failure it is the courage to persevere through setbacks and emerge stronger than ever," this maxim truly reflects the journey of Vishal Ved, Founder & CEO of Rolling Authors. An aerospace engineer by education, Vishal is a visionary entrepreneur.
From inventing mind blowing tech products like self-cooling mobile cases & timer chargers for smartphones to exploring entrepreneurial ventures in the patent licensing industry, Vishal's path was filled with several hindrances, majorly funds. Toward the end of his quest for a business that doesn't require funds, he ended up in the writing world. Inspired by the literary legend JK Rowling and captivated by the fusion of creativity in Avatar the movie, he embarked on a writing career. With his debut novel, Tomarkus, and the Betrayed Planet, Vishal engaged readers across India, receiving acclaim and igniting the spark that would drive his mission. As aspiring authors sought his guidance, he recognized the need for reliable and quality services in the publishing realm.
He launched Rolling Authors, a revolutionary platform that fills that gap in the industry. Rolling Authors provides exceptional editing, captivating cover design, powerful book marketing, traditional publishing support, and even excellent ghost writing services.
Vishal's failures and setbacks have only fuelled his passion to uplift authors, providing them with the tools and support they need to flourish. Here is CEO Insight's exclusive coverage of Vishal's wise insights.
How would you describe your academic experience at the University of California, Berkeley?
Life at the University of California, Berkeley was truly transformative, encompassing both academic learning and personal growth. It was my first time studying abroad, and the atmosphere at UC Berkeley was incredibly vibrant and optimistic. Being part of the world's top public university opened doors for me to connect with exceptional individuals who had a wealth of knowledge and experiences to share.
Practicality and quick testing of ideas are among my most valuable lessons from UC Berkeley.The concept of lean methodologies resonated deeply with me. I discovered effective ways to evaluate whether a business idea had potential, and how to assess its feasibility through unit economics. This approach has been instrumental in shaping our business strategies, as we continuously analyze and optimize our investment decisions, marketing plans,and overall profitability. Unit economics has become an integral part of our decision-making process, guiding us to make sound and informed choices.
Vishal Ved is on a remarkable endeavor to encourage authors, spark creativity & turn literary fantasies into tangible success
Moreover, the university taught me how to effectively materialize ideas. Prior to my time at UC Berkeley,I had faced challenges in executing my ideas successfully. Even on a smaller scale,I was able to implement ideas efficiently due to the lessons I learned from there.
Define Rolling Authors as an organization and one-stop destination for book publishing needs.
Rolling Authors is an organization that truly stands out in the market. What sets us apart from the 99 percent of other self-publishers is our unwavering commitment to providing authors with exceptional quality services. We firmly believe that without delivering top-notch services, our mark in the industry would be non-existent. We respect the fact that self-published authors have the right to choose their service providers, and if we fall short of meeting their expectations, which rarely ever happens, they are free to choose another provider.
We fully understand that our survival and continued growth are dependent on providing author support that is unmatched.
Under one roof, Rolling Authors offers a comprehensive range of services. It doesn't matter whether an author wishes to self-publish or pursue traditional publishing we're here to help every step of the way.
It has been a privilege to work with renowned personalities and even provide ghostwriting services to celebrities. Our expertise extends beyond ghost writing we also offer professional editing, robust book marketing plans, end-to-end traditional publishing support, and
captivating cover designs. Authors seeking marketing support and guidance can rely on us for comprehensive guidance.

What are the guidelines or methodologies you follow to lead your team?
My leadership approach is centered around a simple principle valuing feedback from my team. Putting myself forward as the smartest person in a room is not something I believe in. Even newcomers can provide valuable insights, so I always keep myself open to feedback. To foster growth, I take a two pronged approach. Firstly, I demonstrate how things are done, setting an example. Then, I give my team the opportunity to take the reins while providing support throughout the process.

We have continuous processes in place to ensure that quality is never compromised. Whether it's sales people performing quality checks or maintaining effective client communication, we maintain a vigilant approach. At every step, I personally engage with the team, from designers and editors to ghost writers and the sales team. It's crucial for the entire team to benefit from my extensive experience guiding authors across India and the globe. It's my responsibility to work closely with them, acting as a mentor and partner, rather than just standing back and pointing directions.

Where do you see yourself headed towards in the upcoming years? What is your future roadmap?
In the next five years, we intend to dominate the industry as the leading service provider, known for our exceptional quality and timely delivery. Our focus will be on becoming the number one service company in India while expanding our presence globally, including the United States, the United Kingdom, and Canada. We are confident in our team's capabilities and plan to enter these markets within the next two years.

On top of that, we hope to nurture a vibrant author community by offering valuable resources and assistance. We are committed to supporting authors beyond our clientele with engaging newsletters, targeted email campaigns, an active social media presence and our informative YouTube channel.

Vishal Ved, Founder & CEO, Rolling Authors
Vishal Ved holds the world record for "The youngest author to write a fiction novel without human characters and earthly lifeforms (i.e., a 100 percent alien fiction novel)" with his best seller "Tomarkus and the Betrayed Planet