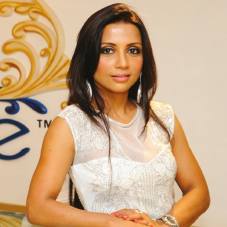 One of the most inspirational quotes of Steve Jobs is "The way to ratchet up our species is to get better things to more people products with spirit and creativity". The story of Dimple Nahar, Founder of 2Divine & Director of Nahar Group, goes in sync with the pith of this quote, as she has always been driven by bubbling creative instincts. Before her entrepreneurial journey began, she was a quite fainéant person who wanted to immerse herself only in fun. Yet today, she has evolved into a woman of substance brimming with creativity and skills in fashion design, textile design, interior design, pottery and various other arts. Besides, she also realized that every person ought to have a career in life to remain motivated every day.
This realization and extensive propensity for creativity propelled Dimple to establish her own store 2Divine. In fact, she is a prime mover in the fashion industry who is catering to right from teenagers to all age groups with Diamond Jewellery, Fashion Accessories, Costume Jewellery, Haute Couture to Home Decor and a lot more, all under one roof. With florals, embroidery and other crewel works inspired by nature and handmade, 2Divine stands as the go to store for people who are scouting for some thing Indo western at affordable prices. Since her store's inception, she always felt good about herself every day waking up to a profession with an exuberant team and whose combined efforts are driving her store towards the zenith.
Dimple has articulated a great deal about her professional journey along with the magnificence of her store, with CEO Insights.
Brief us about your inspiration along with the hardships faced before the establishment of 2Divine.
Since I was much inclined to learn the nuances of business, I pursued B.Com, while I was also working as an intern at my father's company, which involved over seeing accounts, administration, maintenance and other brackets.
Later on, I got married and started doing handicrafts, designing garments, bags, footwear, jewellery and a lot others to keep my idle mind busy. Mean while, every time I sat at my husband's small store, I always wished owning a big store and felt that I wasn't delivering my best. When we shut down this store, I also realized that I was just keeping myself creatively busy and not generating any revenue. Instead, I aspired to emerge as a woman of substance from the shackles of running a family, coping up with a bad marriage and other problems.
Since her store's inception, Dimple always felt good about herself every day waking up to a profession with an exuberant team and whose combined efforts are driving her store towards the zenith
Hence, I wanted to do something out of the vacant space spanning 7,000 sq.ft., which my father owned for a very long time. Since none of my family members managed to do anything there, my father gave it to me thinking that even I won't succeed with it. Basically, I partitioned the entire space into two, gave Avanti and Yash Birla a part of it to run a salon, and started generating revenue from it. It was here I learnt a great deal about managing people. Initially I took help from my friend Bobby Mukherji and made a space for any retail business. Then, as the space had a lot of leakages and damages due to the first rains of monsoon, I recreated the space through rent and my deposit money. Being a Krishna follower, I used a peacock theme, redesgined the space through my interior skills and launched 2Divine. The name 2Divine was planned through my numero logical skills i.e. the total of 2Divine is 2+36/9 = 11, which is a master number.
How did you manage to overcome the challenges while settingup your store?
The first challenge was to create a logo that echoed my sole purpose of giving back to the society and spreading Krishna consciousness to people. After a lot of agencies having tried and failed, I came across the beautiful carving of two peacocks with lotus in the centre while sitting at the temple. This was exactly the logo design! Since I was not a designer, the other biggest
challenge was in buying stocks from designers like Neeta Lulla, Ramona Narang, Mayyur Girotra, Surily Goel, and others, while I had to keep the prices reasonable. It was also hard for me to convince them that I had no intention of replicating their designs whatsoever, but instead engage in long term business with them.

That's when I started my own production unit on a larger scale, wherein I had to be a store owner and designer. Despite no help from my family as they weren't from the retail background, they stayed extremely supportive. It was also easy for me to manage my money with the accounting experience I possessed.

What are your current and future plans for 2Divine?
At 2Divine, we currently take-up corporate orders along with bulk orders for weddings and other occasions. I'm also largely involved in charity, where in a part of my monthly profit is allocated for social causes, while I oversee our charitable hospital at Rajasthan. During this Diwali, I'll be organizing a fashion show solely to raise charity. For the future, I'm planning to start men's & kid's lines along with online stores, with my daughter's help who is well versed in digital marketing.

Meanwhile, I stay abreast of the fashion industry trends by being active on social media, to seamlessly cut down costs and time. Recently, I've become a member of JITO, wherein I attend their monthly programs for women empowerment. I've also been a judge for their annual show Le Mark School of Art & Design.

Dimple Nahar, Founder
Dimple is a woman of substance, a prime mover and a muse for the budding artists and philanthropists today.

Hobbies: Singing, Yoga, Exercising, Shopping, Travelling, Painting, Cooking, Social Work for Animals & Kids and Learning about Spirituality & Wellness

Favourite Foods: Indian Street Chat, Sattvic Food and Fresh & Healthy Vegetarian Food

Favourite Travel Destinations: Bali, Europe, Dubai, London & Beach Resorts

Dimple Speaks: "Don't ever give up on your dreams and always aspire to be whatever you're good at. Explore your hidden talents, work on your own self, try to be creative and give your best"