Kanika Jain: A Forerunner Celebrating Women's Everyday Fashion With Exotic & Comfort Garnished Creations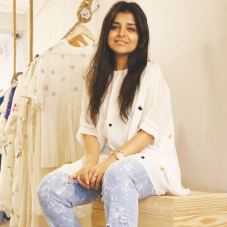 With the on set of globalization and exposure to media, the contours of Indian fashion is witnessing change and today shares the same ramp with top designers of the world. This revolution is not denoted in mere terms of pastels and textiles, weaves and embellishments, but in terms of its creators as well. Majorly dominated by male designers, the fashion industry is now rolling dices in favor of female designers who constantly trump the fashion world with ravishing & trailblazing contributions to redefine it by fighting against all odds to construct their dreams into reality.
One such maven is Kanika Jain, the Founder & Creative Director of Kanelle a women exclusive fashion brand. In her quest for spot-lighting women fashion, Kanika has rubbed shoulders with international fashion moguls and represented leadership & sheer feminineglory in shows like the NY Fashion week, Lakme Fashion Week and many others. The excerpts of an inspiring journey which she exclusively shares with CEO Insights are cited below.
Tell us about your journey as a fashion entrepreneur and the inspiration that fueled your passion for the industry.
My journey as an entrepreneur with Kanelle has been long and exciting at the same time. Having learnt many facets of my business throughout my journey, it has been a great learning process. My journey has been very informative and
extremely educational and working with various craftsmen has taught me a lot. Yet when it comes to my inspiration, I would say that Kanelle was born out of my sheer passion for creativity. Moreover, growing up in a place where I saw and learnt from my mother who with her keen sense of understanding textiles made me very naturally dive into the fashion field.
Having learnt many facets of my business throughout my journey, it has been a great learning process
Seeing my mother dress in beautiful textiles while growing up always made me curious to learn about everything she wore. So, for me the love for fashion and textiles started from there on and led onto becoming a business eventually. Aside this, I am a voracious traveller and love meeting new people, which have greatly influenced my ideologies and my design aesthetics.
What is Kanelle all about and what do you aim to address through your collection?
The fashion industry in India is at a stage where it is witnessing massive changes. From creators starting to work more with Indian textiles using Indian embellishments, Indian fashion has been highlighted on the map for westerners to look out for. In this digital age, not just companies but individuals are also becoming brands themselves and going places, which definitely is the need of the hour.
Kanelle is more than just a label. It was born in 2011 with the vision of bringing to women timeless trends handcrafted with love. The name Kanelle it self is a combination of 'Kanika' & 'Elle', which signifies 'Kanika's creations for Her'. This
clothing line is targeted to women who love fashion and believe in defining their own sensibilities through their style by wearing fashion every day. So through Kanelle, we cater to women not just in cosmopolitan cities, but also to ardent fashion lovers from tier II cities.

What were the challenges you faced/face in the pursuance of your fashion journey and how have you grown over them?
The major challenges started as soon as I decided to start my own business. From finding the right space, to hunting the best craftsmen, maintaining records and keeping things organized. I consider myself a self taught designer as I learnt every bit of the trade on the job. LCF(London College of Fashion) taught me a brief of everything in fashion, but learning to design and develop a cohesive collection, market and sell it was a part of some of the main challenges I faced in my initial years of business. But each time I learnt something new from the artisans and craftsmen I work with, they truly revived excitement that I experienced in my yester years of learning from my mother about crafts and textiles. Even while facing challenges, I have always had this drive to look forward and achieve my dreams, and that's how I have grown over these challenges by progressing through my learning.

Success is always backed by support & motivation. Tell us about the support you received .
During my initial challenging years, it was my family that gave me encouragement and motivation to push myself to work harder and achieve goals. My mother with whom I work together literally supported me every day and with such a supportive family, it is quite easy to manage a smooth personal & professional life. This is how I have always had this drive to look forward and fulfill my dreams come what may.