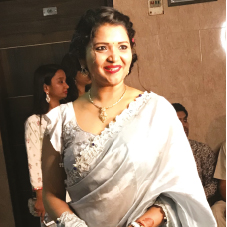 Nowadays, every parent wants his/her child to look stylish and stay fashionable. Being adaptable & dynamic in its operations, the Indian fashion wear market has earned a reputation as the best zone to do business in India. To become an irreplaceable brand in such an industry, one needs to be unique and creative. Kirti Agarwal (Founder & Designer, Kirti Agarwal Pret n Couture) is one such innovative designer whose venture, Kirti Agarwal Pret n Couture, stands unique with her creative collections adored by celebrities globally.
Kirti Agarwal Pret n Couture, offers the entire gamut of subcategories including formal, casual, ethnic, Indowestern Kids wear, women's ethnic wear, women's casual wear and hair accessories across various price points. Today, supplying her designs worldwide, Kirti has made her collections available on leading online portals such as Little Muffet, First Cry, Aza Fashions, Kalki Fashions, Mini Firgun and so forth. In an exclusive conversation with CEO Insights, Kirti looks back on her journey, shares about her family & favourites, and reveals her future plans. Here are the excerpts:
Your designs bring people's imagination to reality and people love their look, which your outfits give them. What inspired you to establish Kirti Agarwal Pret n Couture?
Since childhood, I have been very fond of being stylish and to dressup uniquely. My inspiration has always been my mother who supported and encouraged me to start my own venture in designing. Special thanks and greetings to my husband and father for supporting me during any crisis and motivating me in all respect. The fact that I couldn't find the best designer clothes for my daughter triggered me to start my venture into kids wear in 2016. Hence, my daughter is my biggest inspiration.
Commitment also played a very important role in my journey; I had to get the things done at the right time with quality and perfection
Kindly tell us about the peaks & valleys you have encountered during your entrepreneurial journey.
My journey started with a bumpy ride; but I believe in taking risks to achieve my goal. Apart from the marketing challenges, setting up a team who could understand my requirements was a Herculean task. Today, I'm proud to say that all leading multi designer stores in India have my collection such as Style Creche, Petit Royale, Peony Kids Couture & so on. My outfits have been worn by many celebrities such as Neha Kakkar, Aakriti Sharma, Nia Sharma, Myra Singh, Divyanka Tripathi, Ruhanika Dhawan, Arjun Bijlani, Daboo Ratnani's Kids, Anita Hassanandani, Karishma Sharma and Nitanshi Goel to name a few.
Please throw some light on your traits that gave you the determination to reach various milestones.
I have always had the right mindset to accept failures and success. No
matter what, I have always ensured honesty with my customers. Commitment also played a very important role in my journey; I had to get the things done at the right time with quality and perfection. I set priorities and try to stick to a schedule daily and stay away from distractions. I always want to be inventive and up to date. Besides keeping myself associated with multiple fashion shows in India, I also constantly follow social media (Instagram, news & others)for latest trends in apparel industry.

Tell us about your hobbies, favourite cuisines and travel destinations.
My hobbies include designing & dancing. My favourite cuisines are Italian & South Indian food. I love Europe where fashion is given impor tance and we imbibe their crafts into my designing. I love traveling to places where there is greenery, peace and relaxation.

You stand as the best example making justice to the statement 'Innovative minds leadsto unique creations'. What suggestion would you offer for the budding designers in the industry?
While it's imperative to have a unique concept in mind during designing, one should also make more wearable & sale able garments.This would help budding designers to grow financially and achieve success at a young stage. Dealing with your juniors & labourers with a positive approach would ensure team unity & building, whereas handling customers tactfully & calmly would ascertain customer satisfaction. And finally do your best and the best will return to you.

What is your future roadmap?
In the near future, I am looking forward to raise funds via Fashion shows for people with special abilities.