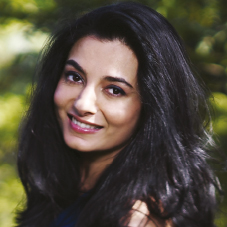 When Komal Sood became Femina Miss India 2nd Runner Up and went on to represent the country at Miss International Pageant in Japan in 1992, her fashion sagacity won millions of hearts across the world. But little did she know that she will be a brand in the fashion world creating fashion statements. Today, her label Kommal Sood has carved a unique space for itself in the fashion world and is the result of culmination of Komal's quest for crafting ensembles with reference to ancient heritage and construction with a modern twist.
Her appreciations for wedding tradition and evening attire combined with her training in fashion retail, merchandising and production speak of the success and growth her company has achieved. Komal currently heads the creative design team. She speaks her heart out with CEO Insights to share her wisdom and journey that still stays unparalleled.
From winning beauty pageant to the world of fashion, what led you to rule the world of fashion?
My journey with fashion started with a 'Passion for Fashion'. My vision combined with hard work, destiny and luck have brought me this far. I have learnt to believe in two phrases there is no shortcut to success, and there is no free lunch (chuckles).
I have been surrounded by fashion all my life as my family runs a fashion house for men called Burlington of Kolkata. After the beauty pageant, I started modelling, and became TV anchor for Zee TV for a series on highend homes. I graduated in Arts from Sophia College and later to cultivate my knowledge of design, I joined Jenson and Nicholson in Kolkata in 1996 followed by another degree from NIFT, Kolkata. To further perfect my knowledge in fashion, I
attended a course in pattern making and corsetry at Central Saint Martin's College of Art and Design in London in 2009.
Komal's appreciations for wedding tradition and evening attire combined with her training in fashion retail, merchandising and production speak of the success her company has achieved
How did you learn the nitty gritty of the fashion world? Did your family business play a role in this?
A lot. I began my training in fashion retail, merchandising and production at my family business and started creating my own designs by following the expertise of the men's wear team to create embroidered Achkans for women from 1996 to 1998. I even worked in my family accessory business, which led me to work with Mantero, a leading Italian fashion house who designs for YSL, Ungaro, and others.
In 2005, I launched my label Kommal Sood, which became an instant hit, drawing attention and praises for the refreshing view of glamour and modern design in highend luxury pret and bridal ensembles. It attracted international buyers from Europe, US and the Middle East. Currently, my label showcases two collections a year Spring/Summer and Autumn/Winter, and sells in exclusive multi designer stores across India, and at my own flagship store in Kolkata.
Coming from a family of fashion business back ground, I had ready made strategy, real estate and infrastructure support at my disposal, which drastically nullified my challenges towards establishing the business. My challenges are training and the upkeep of labours in this part of the world, and the ongoing process of management.
Indeed, Kommal Sood today stands as the epitome of refinement and luxury in fashion. What according to you is the secrete success sauce?
Our dedicated craftsmanship is the rock on which the label is built. The essence of the brand is chic
youthful glamour and sophistication with a tilt towards sustainability, which efficaciously crafts a space for itself among the customers.

We have a platoon of fashion interns in and out throughout the year. They bring freshness and energy to the work environment, and help us keep youthful fashion sense alive.

Brief us about the spectrum of apparels that your brand offers,and its positioning in the market.
The silhouette emphasis is on occasional wear, and the label presents collections in the wide spectrum categories of Indian & Fusion wears (Sarees, Lehengas, Indian Gowns(new silhouette category), Indo western and Tunics), and Cocktail dresses, Gowns, Tunics, Blouses, Shirts, Tops, Trousers, Skirts, Jumpsuits, Shorts and chic ready to wear apparel. To-day, Kommal Sood is positioned in the Designer Store market of India's apparel industry and we participate in national and international Fashion Weeks, trade fairs and even show case on runway.

Being a densely populated country with one of the largest youth barometers and a growing aspiring class, it is a great time for designer wear to thrive in sales in India. But at the same time, I believe in approachability in price. Without taking away the quality and aspirational value of the designer wear, the market price should be fair and reachable. We have also launched our first line of fresh, citric and fruity fragrances in perfumes called Lychee Blossom.

Komal Sood, Founder
With years of experience, Komal has transformed the way people view fashion by bringing world class fashion at affordable price.

Hobbies: Trekking,Hiking, Cycling, Yoga & Wellness Retreat Cuisines: Indian Home made Food, Thai, Chinese, Mediterranean & Italian

Destination: Wellness Travel in Asia & Europe

Komal Speaks: "The aspiring entrepreneurs should begin with passion and stay passionate, while keeping a financial strategy at place. Put your signature on your brand, which will make consumer association with the product more natural and strong".