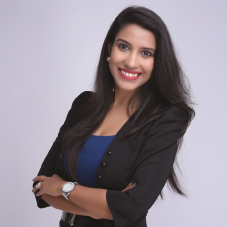 The 'Desi' connotation attributed to mostly India's ethnic attire has taken on a global spree even glamorizing some of Hollywood's famed personalities. Known for the magic spell like charm it adorns on its wearers, Indian ethnic wear has definitely impacted the global fashion sense over the years. However, the draw back strings with lack of indigenous fashion-gurus profiling ethnic wear on global podiums. Recognizing this lag, Ritika Gupta, Executive Director, kalki fashion.com ameliorated family run KALKI Fashion by digitalizing its presence to take Indian ethnicity to an international rostrum.
Speaking of her soul filled journey as a fashion buff ever since she started at KALKI, citing her challenges, hobbies, expertise and more, Ritika reveals her 'secret to success' in an exclusive converse with CEO Insights, the excerpts of which are here below.
What were your reflections on the purpose of establishing KALKI Fashion as an ethnic brand, and how has your entrepreneurial journey been?
KALKI was incepted to become a premium, affordable and wearable contemporary ethnic fusion wear brand, taking advantage of market lags. It began its journey with the launch of its first store in Worli (Mumbai) in 2007 as an Indian ethnic and fusion wear brand epitomizing the spirit of Mumbai, the city it was born.
The KALKI journey had begun much before I joined the business, with my father in law being in the fabric commerce for around 40 years. The offline stores were setup by my brother in law and Shishir, my husband, and I stepped in much after, which was a huge advantage for me. By 2009, we had two main stores both in Mumbai Santacruz & Worli (currently four stores). In 2012, we wanted to take KALKI global and took on an online presence, thus kalkifashion.com was born.
Once you find yourself doing what you love, you become fearless to pursue dreams especially when others around ridicule you this in itself becomes a drive
I am currently associated with kalki fashion.com and mostly cater to performance marketing, strategy for growth and profitability. Initially, we made a lot of mistakes, but every mistake taught us lessons and we believed that 'failure was just a mindset'. Since e Commerce was very new to us engineers, Shishir & I, we spent a lot of time self learning, and conversing with entrepreneurs. I also tookup two courses in digital marketing from IIM Kolkata and Digital Vidya, which helped us strengthen our digital presence across the world, but we also understood that one can never really be completely ready; one has to just do it and learn along the way.
Narrate to us your journey, knowing that there are not many women leaders in the fashion industry.
I understood that it's all about empowerment and knowing your worth. Being a woman, you should know that your capability and with dedication, there will be successful payoff. Once you find your self doing what you love, you become fearless
to pursue dreams, especially when others around ridicule you this in itself becomes a drive.

I was fortunate to have people who were ready to stick their neck out for the company's mission. With all this and understanding that customers need brand connect, we have always delivered quality, customized products and assurance of quality, which is why we were awarded 'Most Trusted Brand'in 2017 by International Brand Consulting Organization.

On a personal level, introduce to us the Ritika a side business. How do you keep your self aligned with work and personal life?
Also tell us how has your family supported your pursuit? I really love to dance and that helps me destress. My hobbies are reading and I also workout at least four times a week, as I believe that a healthy body and mind is the secret to success. In terms of support, my family has been supportive throughout and I owe everything to my husband who inspires and empowers me. I have learnt to work hard and never give up from my father and father in law, both of whom built their empires from scratch. Therefore giving-up was never in my blood leading to the success I encounter today.

Ritika Gupta, Executive Director
An ardent digital marketing enthusiast, passionately driven towards globalizing Indian ethnicities and contemporary blended clothing line, offering personalized experiences for global customers

Interests: Reading and Dancing
Favourite Cuisines: Mexican
Favourite Destinations: SanFrancisco, Italy, & Switzerland

Ritika Speaks: "As females, we put a lot of pressure upon ourselves to be perfect and seek a lot of external validation all the time. It's high time we stop pressurizing ourselves, as I feel it is important to be happier than perfect".