Shiny Cinderella Ashwin: A Fashion Enthusiast Pioneering In Affordable & Acing Quality Western Party Wear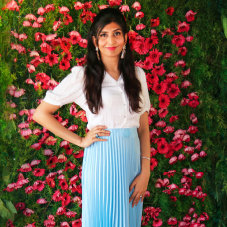 Ethnic wear was by far the most predominant choice of clothing for Indian women, so much so that Sari became inextricably synonymous with the Indian fashion sense. Yet gradually, with today's modern day population gravitating towards western(Hollywood) influences, evident shifts in choice of attires among women, especially for pompous occasions have been witnessed. Regardless of this inclination, India has always fallen short of availability in variety and affordability of western party wear. Eyeing this opportunity, Shiny Cinderella Ashwin introduced a putative woman's paradise in India's South under the brand name Diadem, only to size down woes of the majority seeking westernized party outfits.
What started off as a mere 200 sq.ft. sized store four and half years ago, Diadem today has two 3000 sq.ft. plush boutiques in Chennai's most celebrated shopping arenas offering women and kids wear. Aiming to address the lag with a range of elite and economic collections, Shiny in an exclusive conversation with CEO Insights reveals her success was no bed of roses, but her ardent devotion and commitment helped in fulfilling her dreams. Draw inspiration from reading below the experiences of this promising pioneer.
You are an engineering graduate. But what drove you to fashion?Highlight the inception story and the journey till date.
Yes, I am a software engineer by qualification, but destiny had other plans for me. During my campus selection, I got a job at HCL, Noida but I could not pursue as I got married here in Chennai. It was by then that I realized a huge gap in meeting the demands for western party wear as it was not ubiquitous
in India, and initiated my business soon after. To strengthen my foundation, I took up an MBA programme at IIM-Bangalore and realized the flaws in my business execution and ensured to alter them. Along with this, my experience from being surrounded by a business oriented family helped me succeed.

I realized that my core strength was my unique designs and hence I began focusing on bettering that without paying heed to what people said. I aimed at only quality-based clothes that also made the wearer feel comfortable, which most party wear outfits lack. I made sure that every dress under my brand gave the customer a dreamlike look right from brides and teenagers to even kids. This was how Diadem brought in a revolution that made customers only come back for more endearing experiences.

What are the various apparels and accessories you offer at Diadem, and how do you retain customer satisfaction?
We have all party wear for kids and women and an exclusive bridal collection as well, but we don't have a collection for men. Our collections range from clothes, shoes, accessories and more. To offer an engaging experience, we have efficient fashion stylists at all our stores who understandtheir need and offer suggestions to pick the best outfit for the occasion. As our outfits are mostly Hollywood inspired, it needs lot of explaining to clients to ensure they pick the right match of cloth, and accessories.

We even customize the designs according to the need of the customers, which has attracted huge positive response. Many top Indian actresses and TV artists have worn our designs for their portfolios and shoots, thus adding up to our brand name. Diadem has also found cover in several magazines for its unique assortment of garments.

Quality defines your key game. How do you ensure the same in every piece at your store,and how do you keep up with changing trends in the fashion industry?
Fashion is eternal, but styles are fads, which changes with each passing day. But I believe whatever suits you is your fashion statement. Hence, we design dresses that seem created specifically for the person wearing it, whether its party wear, bridal wear or kids wear.
Being in this business for quite long, I can now understand very well the mind of consumers and I know the blueprint of what a bride, teenager or kid (right from two years) would need and the quality they look for. Hence, we always ensure to have new fabrics and collections that are sourced and processed from our excellent back end team. We import our collection from Turkey, Korea, Bangkok and China and we also have dedicated factories in these countries that make dresses for us based on the designs I personally sketch.

Family support defines success & failure for entrepreneurs. How has been your support system throughout the journey?
You are absolutely correct. I wouldn't have been what I am without the support of my mother and husband, who have been the pillars of my growth. My business requires a lot of traveling overseas, and in my absence, it's my mother who took care of my three kids. On certain occasions, I extend my business trips to personal trips to spend quality time with my family.

What is your plan to up the game of Diadem in the world of fashion?
I want to take this brand to Bangalore and Hyderabad and bridge the gap between affordable and quality western party wear dresses in India. Further more, we have 99.9 percent women working at our factory currently and I'd really like to give jobs to women who have talents and want to earn. Hence, we will start expanding and aim to launch three more stores soon.

Shiny Cinderella Ashwin, Founder & Designer
Shiny is a fashion enthusiast aiming to revolutionize and introduce affordable and quality acing western party wear dresses and Indian bridal wear to the Indian population with ingenious designs and imports from Turkey, Korea, Bangkok and China.

Q U I C K F A C T S
Interests: Reading, travelling and spending time with kids

Favorite Destinations:
Germany,China & Bangkok

Shiny Speaks:
"Everyone has the same 24 hours in their lives, and it is a hectic life for every entrepreneur. But despite struggles, if it's some thing you love doing then the struggle only pay off in the end".