Dr. Aalap Shah: An Innovative Leader Setting New Benchmarks In Indian Pharmaceutical And Life Science Domain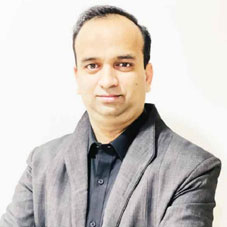 Displaying consistent growth since the past few years the Indian pharmaceutical and Life Science market is expected to rise at a CAGR of 22 percent shortly. Witnessing profuse opportunities in this promising sector, Dr. Aalap Shah launched Crittherbs Pharma with strong determination and vision to be successful in the field of Veterinary. Worked as a consultant Homeopath and in the IT sector before the establishment of Crittherbs Pharma, Dr. Aalap was intrepid and skilled enough to demonstrate exemplary proficiency in both fields. As an Innovative, Creative and Positive leader of the current generation, Dr. Aalap has emerged as an inspiration to many budding entrepreneurs who aim to make it big in the Veterinary Medicines and Human Herbal Medicines sector.
Engaging in an exclusive interaction with CEO Insights, Dr. Aalap Shah shares his journey as one of the premium trends etters of the Indian pharmaceutical and Life Science domain.
Explain your current role & responsibilities at Crittherbs Pharma. How are you leveraging your experience and expertise across your operation sat Crittherbs Pharma?
Working as a Managing Director in Crittherbs Pharma, my roles and responsibilities include the process starting from planning to execution of Production and Marketing. I make sure that I and Crittherbs Pharma are going in the right direction i.e.progress as a company and as well as successful MD.
Believing animals are the same as Human beings, we value and respect animals. For that purpose, we promote the use of Home Herbal Feed supplement preparations, as these are safe and without any documented side effects as compared to modern animal healthcare systems. Me along with my Wife Dr. Jayshree Shah (BHMS, CFN, PGD PPHC) and My Sister Dr.Kruti Shah (BAMS, MBA), try to make such a formulation as doctors
that will benefit Veterinarians, Nutritionists, Farmers, Product sellers, distributors and everyone associated with us.
What inspired you to establish Critt herbs Pharma and how has been your journey so far?
My family has a long history in the business of Veterinary Manufacturing. I was inspired by Abdul Kalam sir, who has very correctly said that 'You have to dream before your dreams can come true.' From the days when I was studying Homeopathy, I had a dream to do something unique in the field of veterinary. That moment came when we started this company back in 2018 and so far, I can say that all the users who use our products are satisfied. From where I have started, I would say I am happy with myself and there are many milestones to be achieved in the future.
Difficulties in your life do not come to destroy you, but to help you realize your hidden potential and power, let difficulties know that you too are difficult
What were the major challenges that you encountered during your professional journey till date? How does your vast industry experience help you to overcome those challenges and chalk out business modules for Crittherbs Pharma?
There are many companies doing marketing for veterinary and to survive was the major challenge I faced, where I had to compete with corporate companies and small local companies. But I would say because of my determination and most importantly support from my family especially from my wife I have been able to sustain myself and grow.
I have worked as a consultant Homeopath and in IT as Sr. Business Analyst. Both the fields were different than what I have studied and what I have worked in the USA. The major thing that I learn during this transition is that if you are determined to do there is nothing that can stop you! During this tenure, I met different kinds of people and worked in different cultural environments that helps me to grow and create a more creative environment in my company.
Brief us about the various products that your organization provides. Tell us about your R&D and infra
structural facilities and the various technological implements you utilize for these undertakings.
We are doing manufacturing and marketing veterinary medicines along with the marketing of Human Herbal medicine throughout India. Our products are unique in terms of formulations. We have feed supplements as well as injectable ranges for veterinary. We do have two manufacturing Plants for manufacturing which are WHO GMP certified plants. We believe in quality products and make sure that whatever we manufacture meets the standards.

As an MD, what strategies are you devising to reach a stronger position in the Life science & Pharma domain?
From the day I decided to launch Crittherbs Pharma, I took the most important role as Marketer and entirely looking after the company's marketing. I go out in the field with my team to meet the doctors on regular basis for technical discussions with veterinarians and understand their needs to provide unique solutions that no one has offered. This has given a strong identity to me as well as Crittherbs Pharma. In the upcoming years, we are determined to provide unique products in both the veterinary and human segments.

With skills and strengths which are unique from the others in the industry, how do you inspire and motivate your team?
Being a self motivated Person who wants to go the extra mile. With a long vision, I do not believe in work that is done under any kind of pressure. One must have inner hunger and enthusiasm to achieve something for them selves and the same thing I tell my marketing team. As a company's MD, I have to see that company is doing good but at the same time I take care of my team as if they are my family we called it Crittherbs Family.

Dr. Aalap Shah, Managing Director, Crittherbs Pharma
After completing his Bachelors in Homoeo pathic Medicine and Surgery in 2004-2005, Dr. Aalap started working as Consultant for 5 years handling more than 1000 patients. To pursue master's degree, he went to San Francisco state University in 2010 and completed his MPA (Master's in Public Administration with Emphasis in Healthcare) in 2013. After working with Infosys form 2013 to Nov 2016 as a Sr. Business Analyst in CA, USA, he has been working as an MD in Crittherbs Pharma from 2017 onwards where he extensively deals in Veterinary medicines and Human Herbal Medicines.