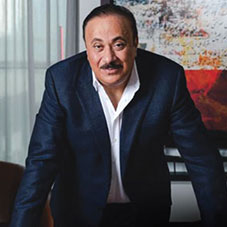 The 2008-2011 economic slowdown is one of the biggest financial crises that the world has ever seen. The financial crisis followed by a global recession brought the world to a stand still with many organizations, and startups, shutting down their business. SGP Capital Holding AG,a financial accountancy services company, survived the storm due to the effective leadership ability and business acumen of its founder and Group CEO, Dr. Ahmed Al Zaiter. A true visionary leader with an acute sense of business acumen, Dr. Al Zaiter has since led the firm into becoming one of the leading diversified investment companies providing a wide range of services, such as Audit & Accounting, Business Consultancy, Taxation, HR & Payroll, Hospitality and CFO Services to its clients. Under his able leadership, the firm has imbibed a customer-centric attitude as its core value.
In an exclusive interview with CEO Insights, Dr. Al Zaiter shares about the milestones achieved throughout his professional journey, the culture and strong values established within the organization, and much more:
Tell us about the milestones in your professional journey reflecting your evolution as an industry leader.
What makes me feel on top of the world is when our clients are happy or appreciate our effort. While the whole world went through a tough time during 2008-2011, we went from strength to strength and survived it without asking for help from the government or banks, something I am proud of. Even though we lost some clients and banks wanted to restructure our financial status, we pulled through and learned our lesson. So instead of borrowing from banks, we built our capital reserve. Even when the pandemic came, we were one step ahead of some of the governments at all of our respective global offices.
As the Swiss government reacted very quickly regarding its citizen's safety, we followed the same module and implemented the same by mid-February 2020 itself by implementing the work-from-home model, providing all the necessary materials to the staff, covering their medical needs, and so on. During that phase, while most of the firms were either facing losses or shutting down, we experienced revenue growth of 30% and our profit margin growth of 17% and were employing more people rather than laying them off. We are also planning to review and increase our staff's salary every six months to mitigate the issues of rising costs due to inflation.
How are the solutions provided by SGP Capital Holding AG fulfilling customers' demands? Give us a gist of the technology framework behind these solutions.
In the 90s, when the .com hype was building up, came up with the possibility of working online with an old partnership to kill distance. Usually, clients need accountants around them and don't prefer to travel long distances to meet their
accountants. While the old partnership-firm had around 17 branches across the UK during that time, I planned to technically expand our services and reach through the internet similar to what the.com is doing now. So we started to develop something called Internet accountants, a software that allows two individuals such as the client and the accountant work together from both sides while the internet worked as a folder to keep the data, information, filings, and so on. However, when the software came in 2008, it required more funding and attention and as a result of that, we had to put it on hold. But we technically resurrected it back again because of the pandemic.
The strength of my leadership is in my ability to gain the respect and trust of people and to make them believe that I am leading them in the right direction
Presently, we are utilizing the software after upgrade and modifications to take care of the low workloads in our USA offices that are not required to be done by CPAs. We are shifting and taking care of those workloads in Dubai while delivering high quality service to our clients that are also cost effective As a result, we just obtained new work worth another million dollars last month. So from a technical point of view, we are around 25 years ahead of the industry.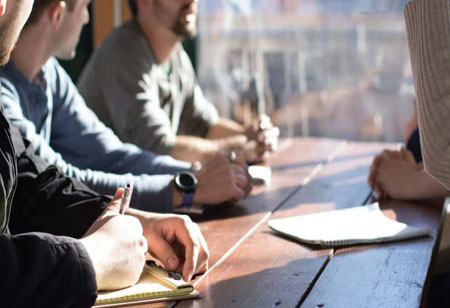 Describe the culture that is established within the organization. What are the strong values you have laid forth for the organization?
We are the local community accountants because we deal with the community. As a global firm, we are in almost every single region, and as a result of that, we have a multicultural workplace. While the hierarchy system in the firm is mostly for authority and decision-making, we have a flat organizational structure that encourages free space for feedback and concerns. Even a trainee can walk into the CEO's office and share his concerns or feedback instead of bottling up. We promote the idea of One Big Community within the organization. Being a multicultural firm, we also have a fair policy in place that respects and accommodates individual laws and regulations based on regions, such as extending the number of holidays based on regions, which helps us earn our staff loyalty. We make sure our staffs are happy and are working together.
You possess over 35 years of experience in audit, financial accounting, investments, and business growth industries in the United States, Europe, and the Middle East Regions. Shed some light on your leadership approach.
I am a good listener when it comes to people sharing their suggestions or feedback about something. We make the necessary changes to that idea based on requirements, and if it works, I always make sure to acknowledge the person responsible for that idea both through compliments as well as financial rewards and for me, that's
what leadership is all about. It's more about showing and earning people's respect than demonstrating your power or authority. Good leadership is about managing your employees successfully.

Even when it comes to our clients, I am very disciplined as well as hard on them. Because at the end of the day, if anything goes wrong in their business, it's not just about losing their fees, but more about me failing them. So part of leadership ability is about managing people, whether your staff or clients, from different communities. As previously said, it makes me happy when the clients are satisfied with what we have achieved for them. The strength of my leadership is in my ability to gain the respect and trust of people and to make them believe that I am leading them in the right direction.

What are the future market changes and opportunities you foresee? Which of these opportunities do you wish to grasp to achieve your main goal? What is your piece of advice to individuals stepping into this space?
Currently, we are heading for IPO, which is a new phase for the organization. We are also planning a few strategies regarding diversifying the firm to become an investment company rather than an accounting company. While we have done alterations in services in the past, such as hotel management and online services in the form of internet accountants, which are different from accounting, we are currently heading towards creating our own banking,investments and wealth management. I am also trying to bring in a new approach, where we will not just look after our clients but also the next generation to whom they will pass their inheritance and legacy.

The advice I would like to give to individuals stepping into the finance market is to have a long term commitment to the sector that will help them gain experience and knowledge as much as possible. Being an extremely dynamic industry, where rules, regulations, policies, and compliances are continuously changing, you always need to stay updated. I just got my qualification in investment, and I am still learning securities at 58. Work hard and Love your job because that's what helps you achieve success.

Dr. Ahmed Al Zaiter,Group CEO, SGP Capital Holding AG
Dr. Ahmed Al Zaiter is a Visionary leader, a renowned businessman with strong business acumen, and the founder & Group Leader of SGP Capital Holding AG, a Leading Global Diversified Investment Company. He has almost 35 years of professional experience in diverse fields, such as audit, financial accounting, investments, and business growth in industries across the United States, Europe, and the Middle East Regions. A devout family man, for Dr. Ahmed Al Zaiter Family always comes first. Educated in the UK and USA, he has done his BSc in Engineering Management from USIU, MSc in Financial Institutions from OSU, MBA in Administration, Ph.D. in Accounting and International Taxation from BU, and Chartered Wealth Manager from GAFM.

•Hobbies: Playing football, Swimming, Travelling, Spending time with my daughter
•Favorite Travel Destination: Southern America
•Favorite Cuisine: Italian, Japanese
•Favorite Book:
Da Vinci Code by Dan Brown