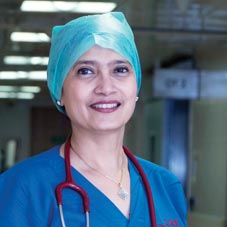 You joined Ruby Hall Clinic as a Senior Registrar in the ICU. What was your inspiration to build your career there? As a COO, what is the kind of future that you envision?
Right from the time I was a young girl, I've always wanted to become a doctor. Growing up, I saw my father don the iconic white coat and the my brother follow in his footsteps. Their hard work, sincerity and passion spoke volumes and left a lasting impression on my young mind. I knew then that it was my calling too. When I joined the ICU as a Senior Registrar at the hospital, it was my mentor, Dr. Prachee Sathe, who made a lasting impression on me. No question was ever too unimportant, and she never hesitated to repeat herself whenever doubts arose. Most importantly, she taught me the true meaning of compassion and how to treat not just every patient, but every member of their family, and my team, with equal care and warmth. It is these values that I hold so dear to me, and working at a place that encourages these very beliefs is the cherry on the cake!
As the COO of Ruby Hall Clinic Wanowarie, it is with pride that I can say that we are a hospital that's slowly but surely revolutionising the way healthcare is provided with state-of-the-art technology and quality care.
From harnessing the most advanced equipment in the form of the Einstein Vision 3.0, gamma scanners, linac bunkers and digital mammography machines to launching an innovative suite of digital and financial health services; from implementing groundbreaking employee programs such as work-from-home facilities for our women staff to achieving significant gains in patient satisfaction scores as well as employee engagement by focusing on building a culture of respect — we've done it all. We're a hospital that puts our patients above all and truly deliver nothing but excellence in healthcare.
Being a clinician myself, I was able to place myself on the other side of the table and encouraged open communication between my entire team
What were the major challenges that you encountered during your professional journey and how did you manage to overcome them?
When I was first offered the role of COO at Ruby Hall Clinic Wanowarie, there were a lot of people who assumed it was the end of my career as a practicing anaesthetist. Moreover, I wasn't just a COO, I was the first woman in the hospital's history to enter the prestigious C-suite. Ruby Hall Clinic Wanowarie was fairly new and needed to break even to be financially successful, which would require all my attention and time. Nevertheless, I decided to take it up with full force whilst continuing my anaesthesia practice. Was I tempted to curb my confidence and ambition? Yes. But then I thought to myself — why should I hide that beacon of light? That's when I decided to own it!
The job of a doctor, and particularly one who handles management as well isn't easy for anyone — but for women trying to juggle work with family life, it's no longer a daunting task if you know how to manage your time well. I decided it was now or never and gave it my all. Being a clinician myself, I was able to place myself on the other side of the table and encouraged open communication between my entire team. Nursing too was an important focus for me. Ultimately, I bundled it all around providing excellent care to my patients at economical prices with a number of specialised clinics and unique initiatives. Today, our patient and clinician satisfaction
levels have never been better, but I believe we're just getting started!

Where is Ruby Hall Clinic Wanowarie positioned in the current healthcare industry of India?
At Ruby Hall Clinic Wanowarie, we're actively pushing to adapt to the changes we see in the industry. Right from harnessing the most advanced equipment to the introduction of day care surgeries; from making healthcare financing a reality to the introduction of electronic patient records and countless super specialties, we're doing all we can and will continue to do so in the future. It is our vision that Pune should become the global healthcare destination, recognised for its contribution to heal the world and we'll do all we can to make this vision a reality.

Family plays an important role in every person's life. How has your family supported you in your career so far? Also, how do you manage to balance between your personal & professional life?
By virtue of my job profile, long shifts, unpredictable hours and physically demanding work are not uncommon in my schedule. However, I've always believed that family support plays an important role and I'm fortunate to have a very understanding and encouraging family. My husband and daughter have stood by me through thick and thin, encouraging me when I've needed it the most.

But for me, I am lucky to have not just one but four pillars of strength — my family, career, health and friends, who have stood by me through thick and thin. I do my best to prioritise and give equal importance to each one of them. Bomi Bhote, our CEO, has also played an essential role in making me what I am today. I attribute my learnings as a leader to him, without whom none of this would have been possible.

Dr. Manisha Karmarkar, COO
Dr. Manisha started her journey with Ruby Hall Clinic in 1995. The hospital's CEO, Bomi Bhote, saw potential in her to be a leader and she, after two decades, was given the challenging role of COO at Ruby Hall Clinic Wanowarie. She embraced the challenge with two hands and the rest, as they say, is history!

Favorites:
• Hobbies: Fitness workouts and Reading

• Travel Destinations: Scandinavian countries