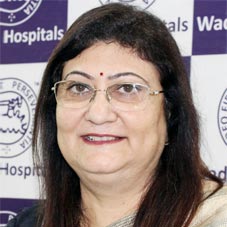 For over 90 years, The Wadia Hospitals have provided exceptional services for Paediatrics, Obstetrics and Gynaecology, making affordable healthcare accessible to people from every section of society. Leading the charge as the CEO of Wadia Hospitals, Dr. Minnie Bodhanwala has demonstrated phenomenal records in the hospital's societal works. Dr. Minnie is a woman of great feats. Testimonial to her exemplary achievements, she has a myriad of titles and accolades to her name.
Dr. Minnie is a visionary and ethical enterprise originator, nurturing and executing new ideas, and engaged in multiple projects, recreating the branding for organizations, business verticals. Along her journey, she earned rapid promotions, quickly establishing footing and influencing significant improvements in market strategy, employee engagement, cost & risk control, IT automations solutions and revenue & operating performance. In a rendezvous with CEO Insights, Dr. Minnie gives a detailed account of her achievements and also, Wadia Hospitals' endeavors in the Indian healthcare segment.
Tell us about your accession in Wadia Hospitals as the CEO, and how has the journey been so far.
I got the opportunity to work as the CEO of Wadia Hospitals in November 2012 when the Hospital was undergoing a major crisis situation. I took this as a challenge and slowly started working towards streamlining the transformation of both the hospitals. Other than the operational challenges, the infrastructure of the hospital being a heritage structure has been a challenge as well in terms of stability and expansion of services. In fact, when I had taken-up the challenge, both the hospitals were operational under one building, as other building of Children Hospital had undergone structural damages in 2007-2008 and was not safe for patients. My initial mission was to get the Children's Hospital functional and increase the scope of services with improved quality of patient care and ensure safety for all patients. I can say proudly that I have achieved the same, and today, we have a fully functional Paediatric hospital with 525 Beds.
Primarily, my responsibilities are focused towards strategizing and achieving the objectives and strive harder towards the vision and mission of the organizations. I also dedicate a lot of time for positive change management and team building across all the departments. I would describe myself as an individual who is striving for impact and focused on results, I always believe in a realistic approach for the everyday challenges I face, and that has helped me achieve the most difficult tasks with precision.
What inspired you to take-up entrepreneurship? And what were the initial challenges that taught you the basic lessons of entrepreneurship and helped you achieve the success that you had in the later phase?
I had come across several instances where I would take entrepreneurial roles in my early years of dental practice and teaching. One such opportunity was when I was associated with Impact India Foundation for their 'Hospital-on-Wheels' project to handle functionalities as a Coordinator Surgeon to set-up the First Dental Unit on the Train. I guess this was the turning point in my life, where I realized that I could reach a larger number of people and create much more impact in the society as a healthcare professional, and thus
got more inclined towards the entrepreneurial aspect of healthcare. Also, I had always felt that though our country has no scarcity of talented doctors, there was definitely a need for better healthcare management in our country. The gap was because not all non-medicos could understand healthcare that well, a doctor could definitely understand the entrepreneurial aspect better. Nevertheless, I dearly miss teaching my students and treating my patients. Yet, I always make it a point in my management practice to visit the hospital patients every day and interact with them as to how we could serve them better. Over the years, I have worked with many esteemed organizations. My current role as the CEO of Wadia Hospitals is more than eight years now; as rightly said, we were successful in bringing-out a positive transformation here and wish to achieve much greater heights.
We all are acquainted with the fact that there are no shortcuts to success. I have always believed in building systems and implementing them to achieve the desired results. Understanding problems and being creative in solving them is something that has impacted the way I work and helped me achieve success in whatever I do.
Dr. Minnie is a visionary and ethical enterprise originator, nurturing and executing new ideas, and engaged in multiple projects, recreating the branding for organizations, business verticals
Give us succinct insights on Wadia Hospitals' operations and care services.
The Wadia Hospitals comprise of two dedicated super specialty public hospitals, the Bai Jerbai Wadia Hospital for Children (525 Beds) and Nowrosjee Wadia Maternity Hospital (400 Beds). The hospitals see an influx of more than four lakh patients on an outpatient basis and more than thirty thousand patients on an inpatient basis annually. Both hospitals serve the underprivileged section of the society for more than nine decades now.
Our children's hospital is the first dedicated Paediatric hospital established in the country and the largest as well. Today, the hospital provides more than 30 super specialty services under one roof. We have centres of excellence in cardiac surgery, neurosurgery, nephrology, hemat- oncology, bone marrow transplant and many more. We proudly host the largest NICU in Asia and one of the largest in the world with 155 beds. We also have a nodal centre for clubfoot disease in Maharashtra and soon will start with our own Cath Lab, MRI centre and a Bone Marrow Transplant unit. We are also looking forward to establish an advanced Cancer Treatment Unit And Organ Transplant centre. The state-of-the-art I.V.F (A.R.T) center at NWMH is the first in India to achieve QAI accreditation for IVF services.
Our maternity hospital specializes in offering affordable Obstetrics and Gynaecology services to women across all the sections of the society. The hospital also specializes in providing IVF care at a much-subsidized cost and also has a human milk bank to help the children who are not fortunate enough to get it. The maternity hospital is undergoing a major transformation as well for structural stability and strengthening of services being a nine decade old structure.
Looking at the current pandemic and its long lasting impact, how are you preparing your hospital to deal with it? What technology changes are you adopting for serving better?
The impact of COVID 19 pandemic on healthcare sector is extremely substantial, as we are at the forefront of it. The entire healthcare sector is concentrated on prevention, diagnosis, treatment and containment of COVID-19 infection, and this is affecting the timely diagnosis and treatment of other chronic diseases.
With the patients facing problem in movement and fear of COVID 19 spreading across hospitals, the condition of these patients might end-up worsening their condition, which will in due course, increase
the overall burden of diseases on our healthcare system. With more focus of public hospitals on the COVID 19 situation, the low socio-economic group patients which are highly dependent of the government set-ups for all their medical requirements are getting impacted the most including the emergency acute conditions, which would in-turn influence the quality of life.

No one is certain of what's yet to come; but looking at the coming time, we are planning tactically with the correct gears and associates to positively help the society. We are adopting strategies like reallocating resources and by embracing new digital modalities for providing healthcare.

In your journey over the past, which milestones bestowed you the utmost satisfaction – both as an individual and a healthcare leader?
Of the many milestones, becoming the CEO of the two charitable Wadia hospitals, The Bai Jerbai Wadia Hospital for Children and The Nowrosjee Wadia Maternity Hospital, Mumbai, the first mother & child concept serving the underprivileged of the society since 1926 is the biggest milestone for me. During this journey, I have travelled from strength to strength, adding several feathers to the cap. During this time, the hospital has also begun a Human Milk Bank and a clinic for children suffering with multiple disabilities and vision impairment; the list goes on. The IVF clinic initiated by the hospital is a 'First of its kind' milestone for a Public Trust hospital. Creation of the dedicated Nodal Centre for Clubfoot treatment in Maharashtra, as well as a dedicated clinic for Cancer, Malnutrition, HIV, TB, Epilepsy, Occupational Therapy and other ailments. Being the force behind the unique initiative – Little Hearts Marathon – that aims to spread awareness for prevention of cardiac diseases among children with cardiac diseases whose parents cannot afford the forbidding medical bills that often accompany the treatment. This point in my career has been extremely fruitful.

What message do you want to convey to the aspiring entrepreneurs and industry leaders as well.
Ability to accept challenges & take risks, team building and having a realistic approach to things are some of the qualities one needs to have. It is never in the blood you learn; from your experiences & mistakes and master your skill set accordingly to achieve your goals.

"My message to the industry stakeholders is that each one of us should focus on adding sustainable value to the healthcare delivery system. These times are tough for the nation"

My message to the industry stakeholders is that each one of us should focus on adding sustainable value to the healthcare delivery system. These times are tough for the nation, especially the healthcare industry who is at the forefront of it. More than exceptional growth, we should look forward to sharing more stories of operational success and its impact on the community at large. We should closely work with market-led functions for medical management, stakeholder relations, data & analytics, and finance to ensure sharing of best practices, expeditious resource deployment, and reporting consistency. I am very positive and hopeful that together, we can envisage a great future for the healthcare services in our country as we re-imagine and transform healthcare together.

Achievements & Accolades:
• Member Board of Management by International Society for Quality in Healthcare (ISQua).
• Appointed as President VOH (Voice of Healthcare) Women Empowerment and Leadership.
• Advisor to Impact India foundation by UNDP, UNICEF and WHO.
• Advisor to the Modern Education society which operates seven colleges in Mumbai and Pune, Advisor for Britannia Nutrition foundation and Advisor to Sir Ness Wadia Foundation, F. E Dinshaw Trust and F. E Dinshaw Charities.

Offerings:
• Super specialty public hospital - Bai Jerbai Wadia Hospital for Children (525 Beds)
• Nowrosjee Wadia Maternity Hospital (400 Beds)
• Centres of excellence in the field of Paediatric Neurology, Paediatric Neurosurgery, Paediatric Surgery, Nephrology, Hemat- Oncology, and Bone Marrow Transplant.
Headquarter: Mumbai