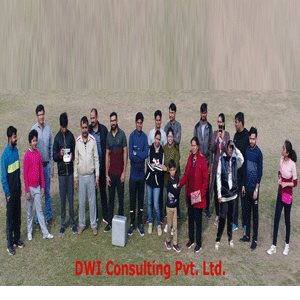 One of the central government's marquee initiatives aimed at smartifying 100 cities, Smart City mission probes into a plethora of opportunities for technologically sound infrastructure & consulting companies. But ever since the initiative's launch in 2015, tech-companies with sparse strategy formation & planning experience are mushrooming-up in every nook & corner of the country. It's of paramount importance for government bodies to on-board the right consultant having not just the tech-prowess, but most importantly the planning & designing experience to engender a flawless smart infrastructure. This precisely is the rationale behind DWI Consulting Pvt. Ltd. silently becoming one of the most preferred Smart City consulting & solution provider, among municipal & state bodies across North India.
It is an undeniable fact that the raw Indian cities are nothing like the smart cities around the world that merely entailed the latest update. We need to plan & build from the scratch. A perfect combination of veteran town planning experts and IT wizards with decades of experience, DWI is well on top of recognizing & resolving the India-centric challenges en route, wherein its competitors often hit the wall clueless. This justifies its list of reputed clients, including different state agencies & municipal bodies like Lucknow, Varanasi, Cuttack, Dehradun, Haridwar, Gangtok & Nagpur Municipal Corporation.
By integrating its strategic intelligence with IT backbone, DWI aggressively participates in the Smart City mission, serving with everything from Urban Smart City Planning & Development to Project Management Services. To fetch more about DWI's success anecdote, CEO Insights interviews Saurav Sen, General Manager, DWI Consulting.
You are a two decades experienced Smart City planner with Geospatial expertise. How do you channelise this experience & expertise towards the Smart City mission through DWI?
My experience in environmental planning is quite handy in acquainting government agencies in
different states with the need for eco-tourism & eco-sensitivity as well. My exposure in international projects in Urban Mapping and Information System for past 20 years helps me to aware our clients about the best practices followed globally. Experience aids significantly in subsidymanagement and revenue enhancement, which is one of the major challenges while planning smart & sustainable civic infrastructures within urban areas. I have a bunch of wizards as my colleagues as well. Dinesh Ahlawat, an Urban Development & Municipal Revenue Enhancement expert and Akshat Jain, a Transport Planner & Mobility expert who has served various concessionaires & lenders by preparing feasibility studies for the roads/highway BOT projects, have been remarkable with their contributions. Interestingly, most of our team members are from reputed planning management schools from different parts of the country.

"We constantly educate the clients in terms of the underlying challenges involved, which take deep rooted knowledge, experience, and expertise to solve"

Challenges in infrastructure development are heaping-up, starting right from market competition to having the right talent and ensuring timely delivery. How do you tackle these constant challenges?
The players are heating-up the market, but with limited knowledge & capabilities. Hence, we constantly educate the clients in terms of the underlying challenges involved, which take deep-rooted knowledge, experience, and expertise to solve. This, in turn, creates a predominant in-house challenge: retaining the experienced resources. Hence, by constantly addressing their problems, providing the right training, and bestowing ample exposure, we ensure that our talent pool is intact.

Timely delivery also constitutes a significant challenge. For instance, few smaller municipal bodies want to complete their project in merely a couple of months. It has been a repetitive story that the newborn Smart City solutions providers would immediately accept the condition and start with the project to only later realize that they need to extend the date. But we start with our survey & a complete analysis, and created a presentation that elucidated minimum requirements (including time) to do justice to the project and minimize the risk. We are eventually well appreciated by our clients. It's important to have the right assessment and planning to finish the projects on time.

What about the innovative muscles of your company? How do you evolve abreast of the dynamic technologies and use them for the
benefit of your clients?
The Drone-based GIS solutions shine among our latest innovations. The Drones capture visuals around the city, which are combined with the field information to create Geographic Information Systems (GIS) and 3D model of the Area of Interest. For instance, if it's a building, Drone captures its geographical location & physical structure, while we collect attributes like age of the building and ownership information through on-field actions and then integrate the data to perform a GIS-based analysis. We have also developed a process to verify & authenticate the on-field survey. Usually people do it manually, but we have automated the major wedge of the survey using Drones, which save time and cost, alongside making it transparent to our clients by providing them auditable database.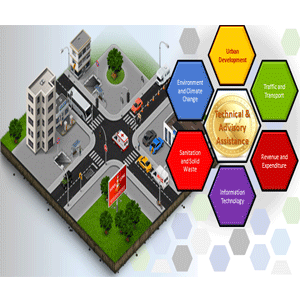 What are the future plans set for your company?
With the introduction of a futuristic Drone policy in the country, we currently focus on Drone & AI-based solutions that find a sweet spot in upcoming Smart City projects. Also, with World Bank providing long term loans, developing & even developed countries are engendering smarter cities; we want to make our mark in the international arena, and hence we are looking for global partners both from planning domain and technology sphere.
Key Management:
Dinesh Kumar Ahlawat & Akshat Jain (Directors), Saurav Sen (General Manager)
A groups of Smart City planners from School of Planning and Architecture (New Delhi) with two decades of experience, including international experiences. While Dinesh boasts excellence in urban revenue management, Akshat delves intransport infrastructure development, and Saurav capitalises on his geospatial expertise and environmental planning.
Office:
New Delhi
Offerings:
•Urban Smart City Consulting, Planning & Development
•Municipal Revenue Enhancement
•GIS Services
•Software Development
•Project Management Services