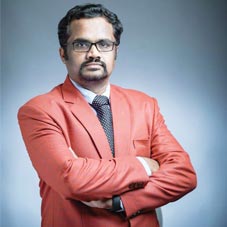 Over the recent years, the Software as a Service (SaaS) market in India has been maturing significantly. In fact, a joint report released by Google and US-based VC firm Accel states that India is projected to become a $10 billion worth industry by 2025. There are various factors driving this growth such as low risk, quick decision making, cost effectiveness, well-informed customer base, and many others. Poised perfectly in this fast-growing SaaS domain is Coimbatore-based eNova Software and Hardware Solutions Pvt. Ltd., which outclasses as clients' most reliable technology solutions partner! The company provides SaaS with the core objective of balancing between customers' expectations and their problems, be it regulatory, statutory or general business problems. Today, it stands out in the market by achieving the perfect balance and also adapting to everyday changes.
The beloved Director of eNova Software and Hardware Solutions has spoken in length about the company and its excellence with CEO Insights. Here are the excerpts!
How is your educational and professional expertise helping you in crafting efficient business modules for your company?
I pursued B.E in Computer Science from Kumaraguru College of Technology, MBA in Finance and International Business from University of South Carolina, and PhD in Marketing from Bharathiar University. Post my education, I have spent almost 25+ years in technology as well as SaaS. I've also earned certifications such as Certified Project Management Professional, Certified Information Security Manager, Certified in Risk and Information Systems Control, Level 1 LOMA-Life Office Management Institute/FLMI-Fellow Life Management Institute Certified,
and SAP BI Certified. These certifications coupled with my previous experiences have always been helping me in balancing customers' expectations and problems besides running the business successfully.
What is your company's USP?
We build enterprise applications at a very nominal fee with our own standards, quality of service and delivery methods. Before customers contact us for their problems, we ensure to know their problems and deliver them requisite solutions. We are proactive in identifying what is needed and what might go wrong through seamless monitoring. This way, we keep our customers extremely happy and never lost a single one since day one of our operations!
We are proactive in identifying what is needed and what might go wrong for our customers through seamless monitoring. Most of all, we keep our customer first
Cast some light on eNova's services portfolio.
We offer diverse services such as Business Consulting, Technical Consulting, Managed Services, Governance, Digital Marketing, Web/Mobile Applications, and Training to our customers. We hold strong expertise in Education and Automobile vertical where we deploy systems and processes that can resolve the bottleneck areas of our customers. Moreover, we can't just be a vendor who sells the software but think from customers' standpoint about the kind of experience they might face with the software.
Even during Covid-19 lockdown, we leveraged cloud and built a HR Management Solutions Model that can keep the entire HR department engaged with each other. This way, we have been easing customers from their challenges through next generation thought process and application building. In turn, customers can focus on their core business areas and thus, enhance efficiency, internal processes and other aspects effectively.
What kind of technologies or tools do you deploy while offering these services?
We deploy automated monitoring and testing of these services while our applications are extremely secure. Besides multiple confidential users, we have served the Government of Tamil Nadu during Covid-19 with a system that identified stranded workers from diverse states of India. This system has been working effectively since then!

How do you stay abreast of ever-evolving customers' demands?
There is always an open channel between us and our customers. Besides strong presence in diverse verticals, we also have dedicated experts who stay abreast of the trends and advancements not only in the business front but also the technology front. This way, we build systems in tune with the evolving trends way ahead of our competitors. Further towards achieving utmost customer satisfaction, we have developed a fantastic support system where customers' expectations are met and their concerns are resolved on time.

Walk us through your company's future plans.
We will be working on data analytics and meaningful models that can help our customers in improving their sales and revenue. We will also be unveiling an automated evaluation system powered by Artificial Intelligence and Machine Learning across the education vertical that is poised to take the teaching and learning to the next level.

Dr. Kumar C, Director
Kumar is a well-versed business leader with extensive success in business transformation at all levels. He owes this success to his hard work that lead to profound expertise in technology and information security.

Quick Facts:
• Office: Coimbatore, Chennai

• Services: Business Consulting, Technical Consulting, Managed Services, Governance, Digital Marketing, Web/Mobile Applications & Training with some of the top products like Education ERP Novaportal, Operations ERP, NovaHRMS, NovaLMS, and others.