WovV Technologies: Customer Focused And Insights Driven Solutions To Accelerate Your Business Growth

Whether you are a startup or an established organization, you should count on a SaaS-based solution to streamline sales operations, build stronger relationships with customers, close more leads, and scale your business in an efficient, professional manner. With these amazing benefits one can organize and grow the business size and operations in a timely way. The exponential demand for analytics and business intelligence to make a better business decision has led to the frantic emergence of SaaS companies. Among plentiful of them, WovV Technologies is listed among the top brands with its meaningful insights and the inner workings that steer nothing but success and growth.

The Founder & Director of the company, Arvind Kothari forms the most accurate picture of a great leader. He is almost a superhuman in his ability to communicate an inspiring vision, to design an effective corporate strategy, and to consistently achieve performance targets, all while ensuring each and every employee knows that they truly matter to the organization. Along with the Co-Founder Manish Pandya, he has made the company exceptional in many ways like integrity, intellect, drive, emotional intelligence, organizational culture, and operational skill.

CEO Insights was much privileged to have an exclusive conversation with Arvind Kothari to know more about his brainchild and his strategies in piloting the organization.

Kindly introduce WovV Technologies to our audience. Highlight the best about the brand.
WovV Technologies is a business productivity SaaS company providing cutting edge Products and Technology Services. We are among the Top 20 Global SaasStartups empowering users across 3000 locations in 50 countries to digitize their operations, get real-time decision driven analytics, and improve productivity. We count on global fortune 500 companies as our customers for technology services and products.

As a flourishing brand, we have developed a patent-pending aPaaS platform & framework through artificial intelligence and cloud computing. We as a team are determined to create innovative products that establish and transform businesses and brands.
Most importantly, we are proud to be a well-funded and constantly evolving SaaS Company that works with an ambitiously crafted vision.
Elaborate on your offerings that drive success to your global clients.
At WovVTech, we have beautiful products designed by design fanatics. Our product portfolio includes a range of products each one designed for specific needs such as WovVRA for Revenue Assurance, WovVBI for Business Intelligence, WovVIA for Inspection & Audit, WovVXM for Experience Management, WovVBiz for Billing Banking and Accounting Automation, and WovVFlow for Workflow Automation.
We have a patent-pending Application Platform as a Service (aPaaS) framework that leverages Artificial Intelligence, Machine Learning, and the power of Cloud Computing
In terms of services, we offer custom and efficient technology services to customers ranging from startups to enterprises. We combine technology, strategy, design, and intelligence to solve complex business challenges with consulting, design COE, front end COE, back end COE, database administration and management, testing COE, analytics COE, project management COE, blockchain COE, mobility COE, AI/ML COE.
We have a patent-pending Application Platform as a Service (aPaaS) framework that leverages Artificial Intelligence, Machine Learning, and the power of Cloud Computing to reduce the coding required for applications and platforms. aPaaS serves as the technological framework that powers applications across multiple verticals.
Tell us about the high-performing team of WovV Technologies
Great products that help our clients experience the difference in business efficiency are designed and developed through exceptional teamwork. Our expertise in successful execution and managing projects enables businesses to market their product on time and within budget.
We are a bunch of expert strategists, creative designers, and skillful developers who are focused on building experiences that give an identity to distinguish your business through top-notch execution. Our range of immersive digital products and innovative platforms displays our creativity as well as dedication to delivering the best design experience to our valuable clients.
Our teams share a common joy of creating a meaningful solution. We believe this joy translates into an undying passion for improvement at every step. We care about those we work with and those we serve.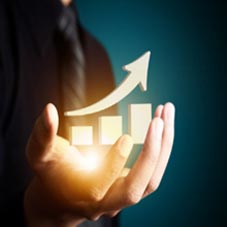 Why should one choose WovVTech?
Customers form the core of all our solutions. We start with our customers and work backward. We love to understand and reach out to our customers at every step of the process. In a collective mission to improve customers' life daily, every warrior in the team takes ownership & accountability and owns their own battles to win the war. Our solutions are built to scale at a global level to handle business challenges that appear in unique forms in front of you, therefore, offering the best.
Arvind Kothari, Founder and Director, WovV Technologies
Arvind comes with more than 21 years of management & entrepreneurial experience with responsibility of managing and turning around independent large units at companies like TCS, HCL, and Reliance CA, CS, ICWA, ACCA(UK).
Locations:
Mumbai, Vadodara, US, Canada, UK, Singapore
Additional Offerings
• Ready to deploy mobile apps with loyalty
• Marketing ROI and effectiveness
• Procurements and rating system
• Loyalty and Gift voucher management system
• Digital Signage management system
• 360-degree collaboration app for property owners