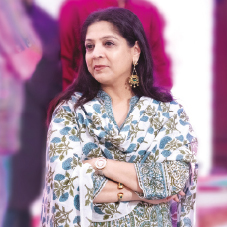 "Leadership is not about a title or a designation. It's about impact, influence and inspiration. Impact involves getting results, while influence is about spreading the passion you have for your work. In the process, you're bound to inspire team mates and customers". Robin S. Sharma eloquently elucidates the enormous possibilities that passion could open-up for you. Exemplifying a similar philosophy, Farida Gupta (Founder of the apparel brand 'Farida Gupta') took the plunge and incorporated her eponymous label in 2011.
Farida's love for designing is no secret. Starting-out at a very young age, her entrepreneurial journey originally began in the late 90s with a fewfabric swatches, a sketchpad and a vision. Making a mark in the industry soon thereafter, her label has continued to blossom over the years. Most recently, they were awarded 'India's Most Innovative SMB on Digital' in 2017. CEO Insights engages in an exclusive interview with Farida.
What inspired you to create an eponymous label? How has been the journey before and after the labelling?
Rolling back the clock to the late 90s, I embarked on my journey with two embroidery girls in the living room of my flat, where I taught them the nuances of hand-embroidery. Amazed by their eagerness to learn, I was determined to bring their flair to the fore. What ensued was one of the most remarkable phases of my professional life; one that involved countless solo journeys, shuttling between exhibitions and rural parts of the country, and reaching out to artisans from all over. What had started off as a labour of love soon began to present boundless potential to be able to create avenues of employment opportunities. As a result, I channelled my focus towards setting-up my own label.
Presently, we have created employment for a plethora of local artisans whilst bringing affordable luxury to women across the world. Our forte lies in Indian ethnic wear for women. Usually tailored in hand-woven fabrics, our block printed outfits strive to strike a balance between comfort and style. In terms of embellishment, hints of hand embroidery work such as sequins work, mirror work, and thread work make their way onto our styles on the regular.
Usually tailored in hand-woven fabrics, our block-printed outfits strive to strike a balance between comfort and style
What were the major challenges that you encountered during the establishment of your company?
When I started-off, I was subjected to the usual rigmarole. Raising capital did not come easy I still remember the times I struggled to avail favourable credit terms, all in the name of pursuing my dreams. Anotherchallenge I had encountered came a few years there after. There was a time when I was supplying to some of the biggest buying houses in India, creating styles as per their design language. Even though the business was thriving at the time, my conscience was not at ease I felt I was compromising on my creativity. In a bid to revive my own identity, I decided to start working exclusively on my own label. Having to cutdown on production was an obvious consequence of my decision. Reassuring my team of worried artisans when the quantity of work had dipped was a testing time for me right at the brink of my independent journey. One of our ongoing challenges, one that we are always up for, is to continue to offer the same high-quality products and services that we are known to deliver, as we scale.
Where is 'Farida Gupta' positioned in the current textiles and apparel industry of India, and what are the opportunities that you foresee?
The label was conceived as a heartfelt attempt to promote the heritage crafts that India is celebrated for since time immemorial. Despite an overwhelming response, in our own eyes, we've only startedout. Aspiring to empower at least 10,000 artisans and 5,000 marginalised women by
2025, we have a long way to go.

To know there are other brands out there that are also working in their own ways towards the larger cause of artisanal employment if anything, is only reassuring. We've always enjoyed healthy competition it tends to keep us on our toes. As for collaborations and partnerships, we'd love to join forces with an entity that shares and respects our vision of creating avenues of employment and offering affordable luxury to millions of women around the world.

Family plays an important role in every person's life. How has your family supported you in your career so far?
I can't emphasise enough on my family's contributions right through my journey. There was a time when I would be on the road for weeks shuttling between exhibitions across the country, with my mother accompanying me wherever I went. From setting-up stalls at exhibitions to carrying suitcases full of clothes, to even attending to our customers, I can never thank my mother enough for her invaluable support. At the same time, had it not been for my understanding children and supportive husband, I wouldn't have been able to follow my dreams whole heartedly. I must add that my extended family has also played an instrumental role in every step of the way.

What would you advise the budding entrepreneurs in the same segment?

I've always been an ardent advocate of the 'never say never' spirit. One thing I can tell from experience is, everything is attainable. Persevere. Follow your heart. If you love what you do, you're already halfway there!

Key Management:
Farida Gupta, Founder
With a post graduation from Jawaharlal Nehru University, New Delhi, Farida started pursuing her passion from a very young age. Presently, her eponymous label has created employment for a plethora of local artisans.

Favourites:
•Hobbies: Loves reading books and watching movies.
•Food: Enjoys most Indian regional cuisines. Being born into a Bohra family her loyalties lie with Bohri food.