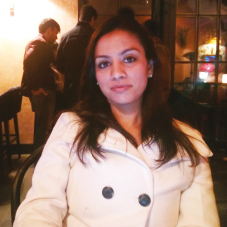 The beauty of grit and determination is that if you hold to it strongly, you can win any war. The story of Garima Chadha, CEO, Apt Design, is all about this grit and determination that brought her early recognition in the world of global fashion. With crystal clear vision and lot of learning on the way, she has crafted Apt Design as one of the world's leading garment manufacturing units that work only with high-end fashion clients like Roberto Cavalli, Just Cavalli, BluMarine, Patrizia Pepe, Max Mara, Trussardi Jeans and many more.
Let us rendezvous with Garima to know more about her journey, her passion (i.e. fashion) and her thirst to keep learning.
From graduating in Fashion in 2006 to starting your own export house in 2009, your journey to entrepreneurship has been very quick but exciting. Can you throw some light on your journey?
Yes, my journey from a professional to being an entrepreneur has been short but full of excitement and learning! I was absolutely clear about my aspirations since my early childhood. Hence, I pursued a four-year course in Fashion Designing from one of the most prestigious fashion institutes of India, NIFT. Post this, I worked for various designers, an export house and a buying house as well for the next three years. At export house, I learned the nitty-gritties of the fashion world and the industry at large, apart from applying the tech knowledge that I garnered from my graduation, while the buying house taught me to deal with various agents to get the job done.
You started as a manufacturing unit, but then quickly moved to become one of the most in-demand export houses in the fashion world. Tell us about your secrete sauce that led to such success.
I co-founded Apt Design along with Ashish Chadha, now my life partner, in 2009 with just two machines. Ashish and I were the only two employees of the company then and we used to do every bit of work that was involved in the process right from drawing patterns to cutting the garments to even sewing them. But our earlier learning played a pivotal role in comprehending the needs of the customers, who today want fast fashion and faster delivery, which align with the changing global fashion.
Whatever complicated things other factories fail to deliver comes to us, and we are champions in not just handling them, but delivering the exact product within the set timeframe
It is this art of ours that led us to create some of the fashion marvels for our then-clients, who then blazoned our stories through word-of-mouth. Later, a friend of ours in this industry contacted us for our expertise with his fashion orders. We helped him through his order and have never looked back ever since; all of it within just six months of our inception. Understanding the need of the hour, we quickly turned into a high-end fashion export house delivering world class high-end women fashion garments to global fashion giants akin to Roberto Cavalli, Just Cavalli, BluMarine, Jasmine Chebar, Red Valentino, and many more.
Among the many export houses, what makes Apt Design the one place to go for every high-end women fashion?
We are famously accustomed for doing what other export houses fail to do! Whatever complicated things other factories fail to deliver comes to us, and we are champions in not just handling them, but delivering the exact product within the set time frame. We are known to 'deliver what we promise'.
Also, unlike other family-run export houses, despite them not being from the fashion background, we come with the formal education and bring hands-on experience to the table having worked with other
firms. We have literally risen from the ground, and precisely for this reason, we very well understand the needs of our clients for strong fashion sense and faster delivery. Today, we only work with highfashion buyers and even do runway & catwalk features for them.

How do you keep yourself updated with the latest industry trends?
Our work itself is a learning platform. Working with high-end global fashion customers who send their needs, helps us stay ahead of the market and the trend. As the Italian fashion is way ahead than any other country, we follow our Italian customer trends to serve our customers in the US, Australia and others.

Family plays an instrumental role in every entrepreneur's life. Did they have your back throughout this journey?
Absolutely! When Ashish and I started, we were almost like kids and best friends. But we were very committed to our work, and this professional commitment soon transitioned into personal one. Hence, we never had a gap in understanding each other, as we were very clear about our aspirations and have grown-up living them together. Today, we have a son who is six and a half years old, and my mother-in-law shares responsibility of taking care of him, allowing myself to resolute to work, although I always try to leave my office by 5.30 pm to spend some quality time with my son.

You have been in the industry for long and garnered immense knowledge. What would be your piece of advice for the budding entrepreneurs?
Fail, fail fast, and learn even faster. Believe in yourself, and keep doing the hard work success will surely follow.

Key Management
Garima Chadha, CEO
A Fashion graduate from NIFT, Garima is a fast learner who takes inspiration from every aspect of life. She believes in hard work and being committed to the cause to serve customers the best.

Favourites:
•Hobbies: Work and to create something meaningful & interesting daily, apart from spending quality time with her son.
•Cuisine: European.
•Travel Destination: Italy.