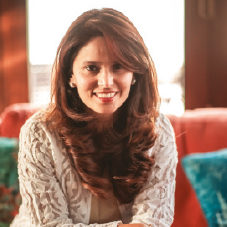 There has never been a better time to be an entrepreneur. Conversely, there has never been a more challenging time either. Building a fashion enterprise is one of those things. It can be equal parts exciting, daunting and exhilarating. And it is for sure not for the faint hearted. But with the digital boom, online marketing, umpteen resources and a plethora of information, the odds are in the favour of those who brave the uncertain path of building their own brand from scratch.
Meghna Gandhi, Founder & CEO of Ribbon Candy is a prime example of 'if you can't find it, build it'. An MBA in Finance and a former J.P. Morgan investment banker, Meghna came-up with the idea of handmade accessories and apparel for little girls when she identified a gap in the local market on the birth of her daughters.
A mompreneur, avid marathoner, mother of two daughters, and a life long student, Meghna opens-up about her journey with CEO Insights.
From banks to bows, buttons & little girl apparel, was the transition easy? How did you come-upwith the business idea?
My formal training is in the field of finance. I have an MBA from NMIMS, Mumbai. After a successful run in investment banking, I moved to Baroda when I got married. Entrepreneurship was heavily ingrained in me since childhood. I have watched my father launch his own business, learn, fail, grow and be successful. It makes quite an impression.
At the same time, I have always been passionate about creating. I love hand made stuff. Given a choice, I will buy a product that is handcrafted. Ribbon Candy was born partly out of this desire to launch my own brand, and partly because of an experiment that I did when designing birth announcement boxes upon my elder daughter's birth. I wanted to do something out of the box pardon the pun. I watched
tutorial videos online and learned
how to make little bows and trims to decorate the boxes.
The birth announcement was a hit and one thing led to another. I soon received enquiries for the designs. I put those DIY skills to good use, watched some more videos, and Ribbon Candy was born selling hand crafted hair accessories. Soon, I realized that there was a gap in high quality, comfortable and well fitted casuals & party-wear for little girls. Ribbon Candy started its apparel line for little girls, and our USP is natural fabrics such as cotton and linen, that are skin friendly and breathable.
At Ribbon Candy, we choose to wrap-up our work day by 3.30 pm so that even my staff can maintain that elusive work-life balance
What were some of the major challenges or hurdles you faced as an entrepreneur?
I had no background in the hair accessories or apparel business. The foremost challenge was to understand a completely new line of business from the technical and crafts perspective. I often feel like I am still learning the ropes. Considering that we are a completely bootstrapped company, scaling-up the business has always been quite challenging. Through all this, my family and friends have been very supportive. My husband Satyen has been a rock.
There is an emerging consciousness for socially responsible or sustainable fashion. How do you ensure Ribbon Candy meets the criteria?
We source all the raw material locally and ethically. Our workshop employs local women and offers an encouraging environment for them to learn and grow. With factors like attractive wages, flexible timings and training, I would say one of our core strengths is our ability to empower local women. To minimize waste, we ensure that every dress is sold with accessories made of the upcycled, surplus fabric from the outfit. The cardboard sheets used for packing the apparel also double up as colouring sheets.
The fashion & apparel landscape is highly competitive.How do you keep-up?
As an entrepreneur, one must test-out new things & ideas and see what works for the market or segment you are in. Step out of your comfort
zone and constantly upskill yourself to take your brand to the next level. Recently, I have been accepted as a fellow for the Women Entrepreneurship and Empowerment (WEE) foundation's entrepre-neurship training initiative by IIT Delhi and Niti Aayog.Be it business development, raising capital, digital marketing, eCommerce or branding, the rules of the game are fast evolving, and one needs to be a step ahead to survive in this climate.

Do you think there's undue pressure on women entrepreneurs to do it all?
Yes, both the superwoman syndrome and the pressure are real. But every woman needs to set her own benchmarks for personal and professional success. At Ribbon Candy, we choose to wrap-up our work day by 3.30pm so that even my staff can maintain that elusive work life balance.

Along with bringing-up my daughters, expanding my business and taking care of social commitments, I make time to pursue my passion. I have run several half marathons over the years, and I train seriously for these. I also take-up online courses and spend time reading & networking or blogging. Ultimately, it is about the art of prioritizing.

KEY MANAGEMENT:
Meghna Gandhi, Founder Ribbon Candy
A multifaceted entrepreneur and mother of two, Meghna is a classic example of a right brain and left brain balance. She's a go-getter who is as comfortable with embroidery and tatting as she is with running marathons or crunching numbers. Inclusivity and sustainability are at the heart of her venture, and she takes immense pride in the Ribbon Candy team of empowered women who have been a part of her journey.

Advice for Budding Entrepreneurs:
It is never too late to become an entrepreneur. Everyone has an idea no matter how big or small worth converting into a business plan. It is not an easy journey, but a fulfilling one. Don't fear failure, and take calculated risks. Above all, don't ignore your self in the journey. Stay motivated, happy and take care of your mental & physical health to deliver your best.

There is great promise in the Make in India brand India has beautiful resources, excellent craftsmen and technicians. We just need to understand the parameters of international quality control, and our products will thrive in the international market.