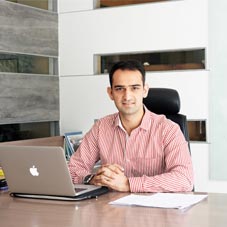 The fast track growth in real estate is sure to propel it towards becoming a $1 trillion industry by 2030. As soon as in 2025, it would contribute 13 percent of the country's GDP! Rising household income, rapid urbanization and emerging nuclear families will continue propelling growth in all spheres of real estate encompassing, residential, commercial, and retail. In consequence, more and more developers would try to capitalize the market, while only a few will emerge and create an impact!
Featherlite Developers, the real-estate arm of the 55 years strong Featherlite Group, is one such 'emerging builder' that has been leaving its mark through its spectacular constructions since its inception in 2006. Decorated with prestigious awards like CNBC Award for the 'Best Affordable Segment Project' and the IGBC award for its flagship offerings, The Address, Featherlite Developers is ably led by its Chairman, Jawahar Gopal, its Managing Director, Manohar Gopal and its' CEO, Raju Gupta, who has over 25 years of expertise in the construction field.
Featherlite is amongst the few organizations accredited with esteemed international certifications such as ISO 9001: 2008 (Quality Management Systems), ISO 14001: 2004 (Environment Management Systems), ISO 18001: 2007 (Occupational Health and Safety Standards), and BIFMA (Business and Institutional Furniture Manufacturers Association), and its Developers division is adherent to regulatory compliances namely Ashrae Standards for HVAC, NBC standards, and the IGBC Gold for its newest offerings. CEO Insights had an exclusive interview with Aditya Chellaram, Executive Director, Featherlite Developers, in which he spilled the beans pertaining to the company's USP, technological advancement and the road ahead.
Acquaint us with a few of your major projects in both residential & commercial space.
'The Address' is our flagship
offering in the commercial spaces segment. Situated in the vicinity of Cessna Business Park, 'The Address', Bangalore is a 100,000 square feet building with two retail units and floors of office space measuring 12,982 sq. ft. each. Its prime IT location and upmarket finishes make it most suitable for household brands and SMEs alike.

Being an instant hit, we carried the legacy forward by building another 'The Address', this time at Pallavaram, Chennai. This 5.5 lakh sq. ft. A-Grade IT Park is the new IT Corridor of Chennai. Apart from top-of-the-line A Grade build, this projects is designed for zero water discharge and offers amenities such as common conferencing area, skygym, food court, ATM and others, thus offering a perfect blend of play and work in one space. Trident, Vantage, Spectrum, and Vista are few of our other smaller commercial projects in Bangalore.

Coming to our residential projects, 'Featherlite Vaikuntam', our flagship in Urapakkam, Chennai was awarded the prestigious CNBC Award for the 'Best Affordable Segment Project'. Located in the midst of lush greenery, the project is already home to 380 happy families.

Tell us about your academic & professional background and your major accomplishments.
I am a BA in Business Economics from UCLA with a Real Estate Finance minor and a year of exposure to Industrial Leasing in CBRE, LA. Possessing over seven years of real estate experience in India and the US, I have worked with international enterprises like CBRE and JLL, as well as established Indian Real Estate firms such as The Wadhwa Group and Redwoods Projects, before joining Featherlite Developers.

Currently, as the Executive Director, I am in charge of sales, marketing, business development, finance and HR in the firm. During my tenure here, I have leased-out the Group's marquee commercial asset, 'The Address', Bangalore, besides marketing for 'Vaikuntam' and 'Swargam'.

Enlighten us about the technologies that you leverage to come-up with your world-class projects.
We have implemented a plethora of technologies to realize diverse goals and 'standardize' our offerings. From HR Management Software to Work From Home technologies like BaseCamp and Zoom, the Covid19 crisis has pushed us to adopt technology rapidly and implement across the organization. With respect to our newer offerings, we have an integrated IBMS for air quality optimization, water
monitoring, and monitoring of all assets like DG Sets, Chillers and others. We have also chosen a lower U value high performance facade based on IGBC gold standards, used visual recognition & IoT for visitor management and to ensure a contactless entry into the premises.

I personally believe that our industry has been slow in the adoption of technology in business. Various tools to monitor construction progress, sales and marketing have been in the market since the last 4-5 years, yet real estate organizations fail to implement it. Having already implemented the ERP systems into our enterprise, we have been working tirelessly to digitize all the records, be it HR, finance, or legal. Actually, my goal & role in the organization is managing people, building processes, and implement technology!

Kindly brief us on the revenue growth and future roadmap set for your firm.
While our company has been growing at a rate of 10-15 percent YoY since the last five years, we expect a 50 percent YoY growth over the next two years, as we expect to double our rental portfolio with the new products we are delivering. With plans to develop over one million square feet of commercial and 500,000 square feet of residential space in the next few years; our top line is sure to see even greater incremental growth. Moreover, with our other investments now bearing fruit, we expect to see an overall growth of 50 percent in our bottom line in the next fiscal year as well.

Having already developed 500,000 sq. ft. of commercial & 600,000 sq. ft. of residential space, we aim at achieving our target to develop 2.5 million sq. ft. area within the next five years on our own land banks, finances for which have already tied-up by way of LRD's on our existing assets.

Aditya Chellaram, Executive Director
A BA in Business Economics from UCLA with a Real Estate finance minor and a year of exposure to Industrial Leasing in CBRE, Los Angeles, Aditya now handles sales, marketing, business development, liasoning, finance and HR at Featherlite Developers,

Offerings:
Commercial Projects: Featherlite Trident, Featherlite Vantage, Featherlite Spectrum, The Address (Bangalore), The Address (Chennai)

Residential Projects: Swargam and Vaikuntam
Office Locations: Bangalore (Head Office), Chennai (Branch Office)